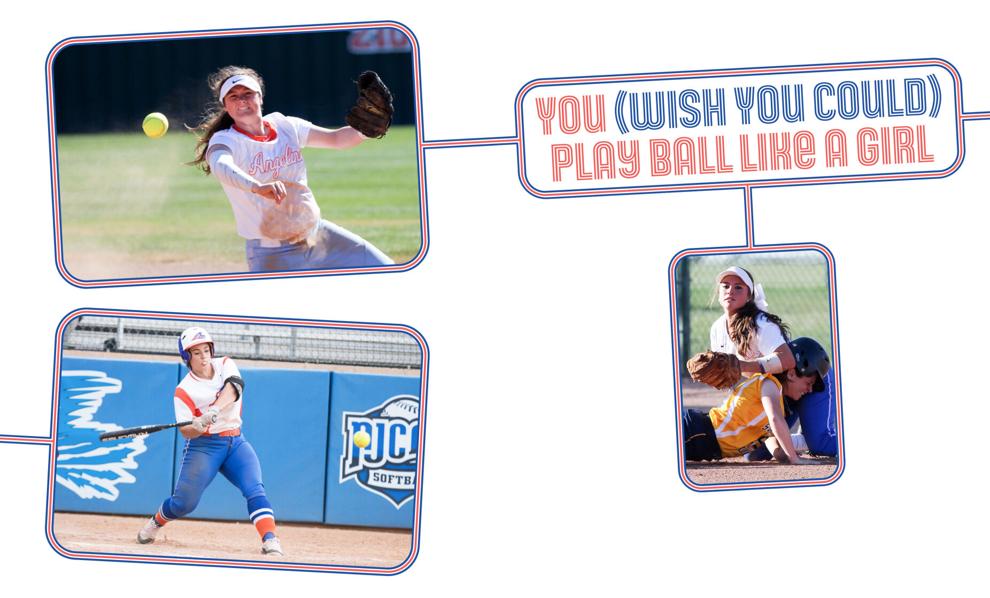 Long before the movie "The Sandlot" made them famous, the words "You play ball like a girl" were exactly the insult the actors portrayed — especially among us young boys, who felt the game of baseball was the sole and holy shrine of boyhood. Mixing girls with our beloved sport was grounds for a noggin bop.
Boys and baseball went together like grass stains on a new ball.
When spring finally broke through every year, the first items we boys dug around in our gear to find were our gloves and bats. My brothers and I would perform our own version of spring training in the backyard, complete with batting practice (where we learned directional hitting just trying not to break windows), sliding practice (we played in a pasture, and those weren't base bags we were dodging) and fielding practice (we lost our neighbor's 5-year-old kid in a big bush when he made an ESPN-worthy running catch).
Within days, our neighborhood games started. Sometimes with enough kids to field a full team, but most often rosters filled with those ghost men who scored all our runs. The competition was fierce, whether it was against casual neighbors or our best friends. We forgot about inning limits. We just played until it was too dark to see outside, or until one of us hit our only ball into the pasture next door containing the bull we thought was Satan incarnate.
We ate, drank and slept baseball.
The best thing about baseball?
No girls.
Yeah, we were little miniature chauvinists running around those base paths. Each of us a card-carrying member of the He-Man Woman Hater's Club. As a young guy with four little sisters, baseball was my only remaining sanctuary, especially since my sister Darlene had already shown she could catch bigger and more fish than we boys could.
Ah, baseball. Take me away. I graduated Little League and carried my passion right into Pony League. I went to my younger brothers' Little League games when I wasn't playing across town.
Then, disaster struck.
A couple of girls in my small hometown decided they wanted to join a Little League team. Remember, this was the mid-'70s, and the youth leagues we see nowadays — especially those offering girls' sports such as softball — were rare. If they wanted to play, Tanya and Robin would have to be on one of the boys' teams.
What ... who ... why ...? We couldn't even grasp the concept. Girls? On a baseball team?
It couldn't be, we thought. We huddled and commiserated during our pasture games, convinced the world was ending. Our logic was impeccable: You don't see any girls on baseball cards. You don't see girls playing baseball on TV.
Dang it. It's Mickey Mantle, not Minnie Mantle. Willie — not Wilma — Mays.
We hoped it was a joke. We hoped those girls would lose interest before they ever joined a dugout.
Nope. Both Tanya and Robin were added to teams.
Suddenly, our all-time insult, "You play ball like a girl," wasn't as bad as "You play ball WITH a girl."
The girls' new teammates acted about the way one would expect — at first. Disgust. Avoidance. No one wanted to sit next to a girl in the dugout. You know, because of cooties.
But I remember a game when one of the girls reached base, and the boy covering the bag there got a little rough with the tag. Before the coaches could react, the girls' teammates — the ones who didn't want her on the team — were flying after the boy, ready to avenge their teammate.
Same as family, right? I can pick on my sister, but I'll knock your lights out if you do.
I don't think either of those girls played much after that year. Maybe they found another passion, but most likely they just realized there weren't any opportunities for them to play the game. Our high school didn't offer softball. In fact, I wouldn't see my first high school softball game until decades later.
Oh, the curveballs life throws at us. Way back in 2001, I began covering sports on a part-time basis for The Lufkin Daily News. I was pumped to learn I'd cover football, baseball and basketball — and get paid for it.
I'd get paid to go to baseball games. How could a guy get so lucky?
Then came the big bomb drop: I'd be covering girls' high school softball, too.
Wait, I remember thinking. That's a real thing? Girls with their own leagues? Since when? I knew the movie "A League of Their Own" was based on factual history, but nobody bothered telling me girls still had their own game.
Within a couple of pitches at my first game to cover, I was hooked.
Yes, it's a little different. Bigger, yellow ball, shorter fences and pitchers use a different motion — but it's still baseball at its core. The ladies I witnessed out on the field were showing the same love for the game I'd shown when younger.
There was nothing "girlie" about their approach, either. They generated the same grass stains and dirt stains with which I'd tormented my mom's laundry days. The girls made plays like pros. I remember seeing a young girl flying after a ball slam into the outfield fence hard enough to shake the ground in the bleachers. She made the catch, and she didn't cry just because she'd smacked the fence. (I'm pretty sure I would have. Looked painful.)
I thought girls cried more.
Over the years, girls and softball have carried me to state and national tournaments. Right here in East Texas, we had the Huntington and Hudson softball teams win rings. (I never won one as a baseball player.) The Angelina College Lady Roadrunners won a national title in 2014 and finished as national runners-up in 2019. (I never even played in a playoff game.) I hate that I got here too late to see Central win its title in 1997.
I was right there on the field for those titles. Every year, I get to chase those ladies around the diamonds across the state as they pursue their own championships.
And get this part: You know what it means having to cover both softball and baseball games?
IT'S LIKE HAVING TWICE AS MUCH BASEBALL.
Have I died and gone to heaven? Is this the real life?
Above all, I've learned I could only dream of playing ball like some of these girls. Years ago, while working on a story about a player with a Division I college team, I had an opportunity to take batting practice against a nationally recognized pitcher. I played baseball, I thought. How hard can it be to hit this girl's little underhanded pitches?
She threw me maybe 10 pitches. I didn't come close to making contact on nine of them, mostly because she threw so hard I didn't see 'em. The one I'm claiming as "contact" was a ticked foul ball probably no one else heard but me.
Right about then, I wished I could hit like a girl.
Some of my favorite memories of my favorite sport now have girls in 'em. The time Lady Roadrunner Sage Martinez, our shortstop, played in the World Series in Utah; an opposing player tried twice to take out Sage's knees on what looked to me like dirty plays. Did Sage get mad? Nope. A couple of plays later, the girl tried to steal third base. Sage was there to take the throw and make the tag. In the photo I got, Sage looks all sweet and innocent — until you notice she's got the other girl in a headlock.
Girls? Tough?
You're danged straight. But they're still girls. I got another pic of Lady 'Runner Rachel Agnello smacking a ball and driving in a key run — all while blowing a bubble with her gum.
I've got pics of diving catches, walk-off grand slams and every other kind of play causing me to fall in love with the sport in the first place.
They all ... um, this is embarrassing ...
They made me wish I could play ball like a girl.
The sport is in full bloom this spring, from T-ball all the way up to the big girls. Those softball diamonds have become the girls' best friend, and it's worth a trip to watch a game wherever you happen to be.
And if, by chance, someone happens to say to you, "You play ball like a girl" — hold off on the noggin bop.
Just say, "Thank you," instead.