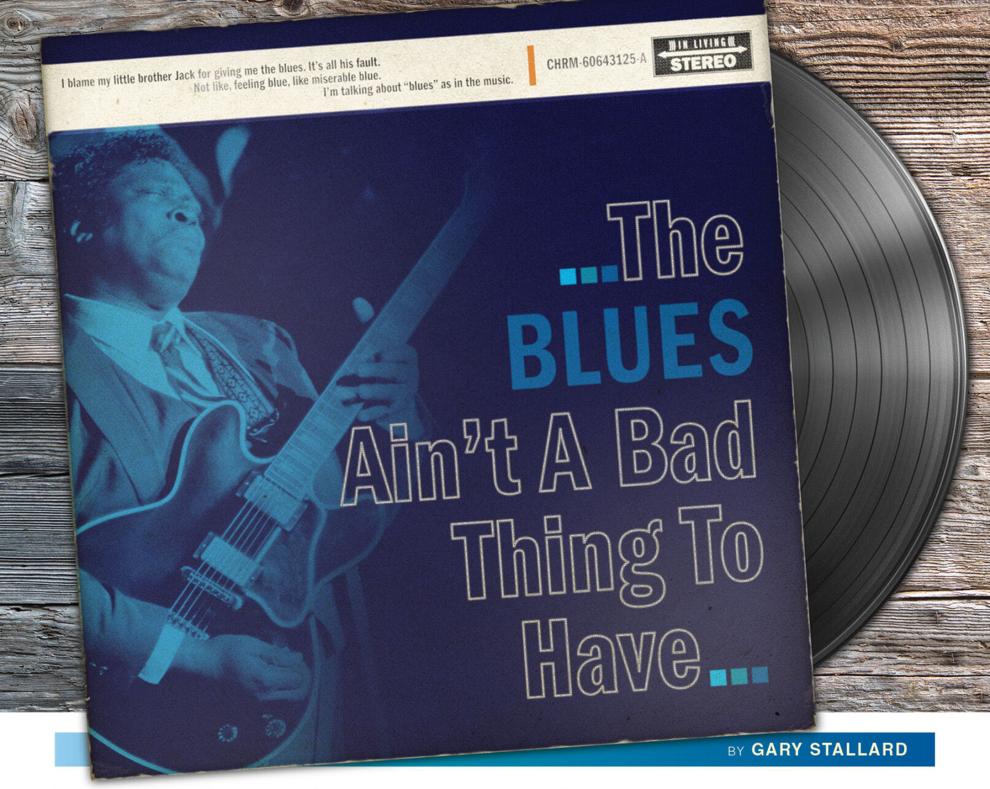 I blame my little brother Jack for giving me the blues. It's all his fault.
Not like, feeling blue, like miserable blue.
I'm talking about "blues" as in the music.
I grew up a total head banger when it came to music. I needed it loud and rebellious so I could get loud and rebellious. From Led Zeppelin to KISS to Van Halen to everything else with raucous guitars and drums, it was my kind of music. I never grew out of it completely.
As a kid, I certainly couldn't listen to any "old" stuff. If my parents liked it, by default I had to hate it if I wanted to be considered cool among my peers. My dad loved Johnny Cash. My mom loved Elvis.
Lame. Had to be, if they liked it.
Same with blues music. I didn't hear much of it growing up, mostly because I jammed my ears with heavy metal. Blues was old news, and I was too cool.
Imagine my surprise when, later in life, I found my brother's dirty little secret.
He liked the blues, and the blues was cool.
I have no idea where he developed his taste for B.B. King, Buddy Guy, Stevie Ray Vaughan, John Lee Hooker and all the others. I was stationed in Memphis, Tennessee, for a short while. I strolled Beale Street and heard the blues music, and while I didn't mind sitting and listening, I never really connected with any of it. (I'm still embarrassed to admit it.)
I didn't influence Little Brother's musical tastes one little bit. He found those blues all by his lonesome. So when Jack and I lived together for a short time as adults, our one shared jam box in our apartment's living room didn't blast out my metal.
Nope. That sucker crooned us into our moods with the blues.
It didn't take Jack long to convert me into a fan. I ended up blowing entire paychecks to add to our — well, mostly his — blues CD collection.
Then came our chance to see the legendary B.B. King in concert. It was right around Jack's birthday, and I couldn't think of a better gift than tickets near the stage. (OK, they were for me, too, but Jack didn't need to know that.)
We sat just a few rows from the stage, and Jack was fired up from the opening acts: Dr. John and Little Feat, along with a host of other blues artists.
As much as we enjoyed the openers, we were really just waiting for the King.
I'd brought my camera for the occasion. This was before digital photography, so I had a couple of extra rolls of film. I was gonna hook Little Brother up with some pics.
Then I found out there was no photography allowed. The security guys let me hang onto my camera with the warning I'd get tossed out on my booty if I used it.
I really, really tried to comply. I knew the film would get confiscated if I shot anything, but I was determined to get my little brother another birthday present.
When Mr. King broke into Jack's all-time favorite, "The Thrill is Gone" (it's actually my ring tone now), I couldn't stand it.
I devised a plan and let Jack in on my scheme. I'd shoot a few pics, unload the real film roll for Jack to hide in his pocket while I loaded another roll. If they confiscated it, they'd get a blank roll.
Danged if it didn't work. I snapped five or six quick pics, jammed the roll into Jack's waiting hand, and acted completely shocked when security escorted me outside while taking my roll of film.
For years, Jack had that blown up picture of B.B. King performing "The Thrill is Gone" on his wall. I'm still proud of how we managed to pull that off.
We attended any blues concerts we could find, noticing most of the great ones took place in the summer. We hit an outdoor arena in Houston for a real blues fest featuring a ton of Jack's favorites – including Buddy Guy and B.B. King. That trip was memorable not only because of the artists, but because Jack's wife Rachel and our friend Mike Zimmerman's wife Jackie were pregnant at the same time. We set them up with blankets in the lawn and made sure they were comfortable.
Sadly, a couple of jack donkeys decided to stand up in front of everyone despite the pregnant ladies' sweet requests for them to move down a little.
What ensued was the stuff of family legend: Jack, former defensive tackle; brother Randy, a police officer; and me, a Marine — all converging on the two idiots in an effort to get them to get out of the way.
Believe it or not, they moved. Otherwise, they were gonna get a whole different kind of the blues. Don't go blocking Buddy Guy or B.B. King.
Finally, I had to attend a business conference in Chicago back in 2012. My wife has always wanted to go to Chicago. She's a hard-core Bears fan, so of course she came with me.
Know who else is in Chicago? Buddy Guy.
On one of our nights out, we walked to Mr. Guy's club, "Buddy Guy's Legends." I just wanted the chance to say I'd been there.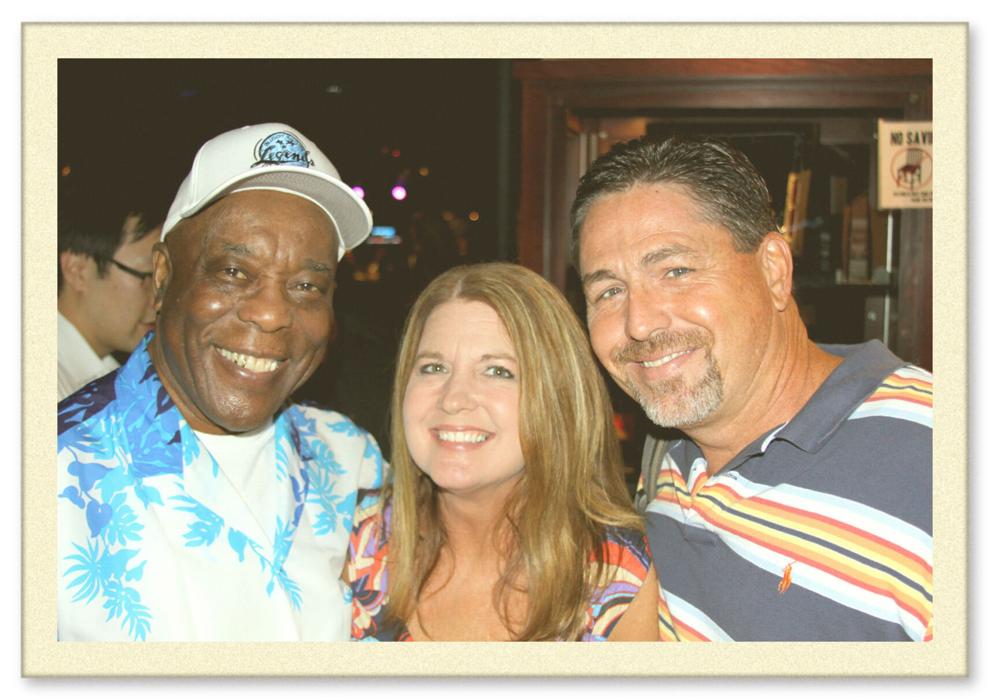 Inside, we found where they were selling Mr. Guy's biography right near the front door. I bought a copy just for Jack, and a young bouncer asked if I wanted it signed. I explained we were from out of town, so we wouldn't be able to wait.
"No, you can get it signed tonight," the guy said. "Mr. Guy is here."
Thought I was gonna pass out. I was breathing the same air as Buddy Guy?
Sure enough, the bouncer came back through the crowd, escorting the Guy with the brilliant smile and a million stories. He signed the book and agreed to let us have our pic taken with him.
I put my arm around him, but he gently pushed me away.
"I don't want to stand next to you," Buddy Guy said. "I want to stand next to that pretty thing." He was talking about my wife.
In any other bar in any other time of my life, those would have been fightin' words.
But when Buddy Guy compliments your beautiful wife, you beam like a fool during the pic. He managed to charm the both of us, and my lady's smile stayed lit for weeks.
I don't know why they call 'em the blues. The lyrics may speak of loves lost and broken hearts, but the musical delivery is more like "I'm sad and mad. I'm gonna pound this here guitar and you're gonna like it."
Weird. None of my blues memories are sad. As many concerts and performers as I've chased over the years, I can't remember a single time ever leaving with an actual case of the blues. In fact, that stuff pumped me right up.
Summer is concert season nearly everywhere, meaning one can find some blues if one looks hard enough. The big venues are great, but let me tell you, there's something about the smaller locales that just fits the blues aura. Fewer rules, and a dance floor big enough for all us people who couldn't disco for a paycheck but can shuffle out our blues like pros. The names on the stage might not be recognizable, but trust me, the feelings they're conveying through the blues will be.
We all get the same color blues in some form or fashion. It's not like we can avoid it. But hearing someone else singing our own lives right out loud is like salve for the soul.
Give it a shot. You just might find out just what Buddy Guy meant when he sang the following:
"Somebody asked me, why I live the blues. I said the blues is all around me; I just find something I can use."