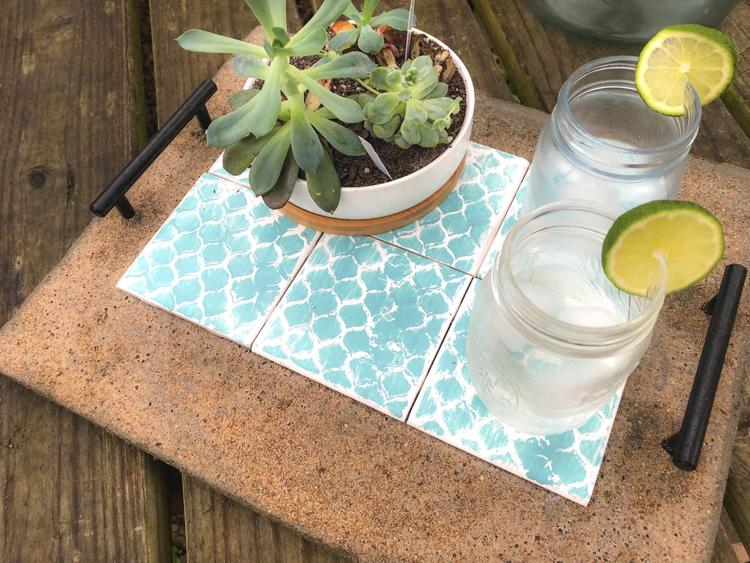 Spring is upon us and I am anxious to get our outdoor space ready for entertaining. This concrete tray DIY is just the ticket to get my décor on the right track for entertaining, and all while being budget friendly. So, it is a win-win!
Things you will need:
One sheet of 3-inch x 8-foot common board:
• Two 14-inch sections
• Two 9½-inch sections
2- x 2-foot plywood:
• One 15½- x 9½-inch section
• 10 pound bag of quick-setting concrete
• 14 – 1½-inch wood screws
• 2 - 4-inch long drawer pulls
• 2 - scrap pieces of wood
• 22 rubber bumpers (4 for each tile coaster and 6 for cement tray)
• 6 - 3/4-inch nails, 18 gauge
• 6 - 4-inch x 4-inch white tiles
• Acrylic or spray paint
• Measuring tape
• Mixing bucket for concrete
• Mod Podge
• Sandpaper
• Stencil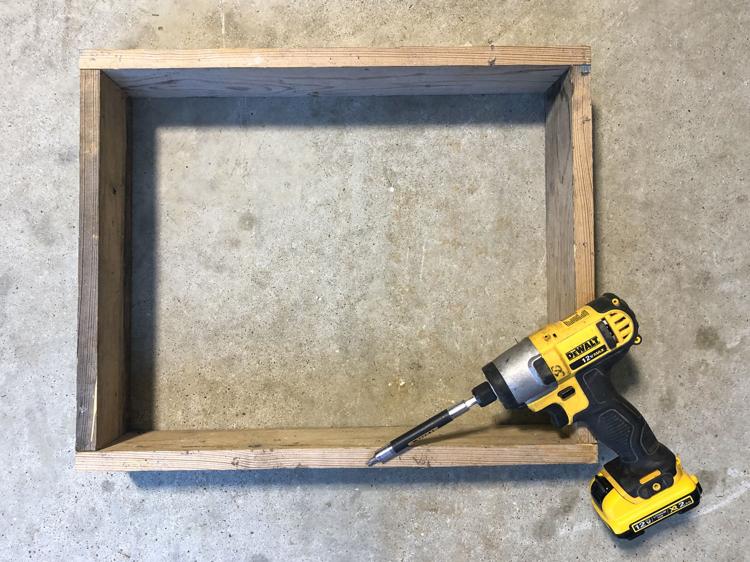 Instructions:
1. Begin by measuring and marking the cuts as listed below.
On the 1- x 3-inch x 8-foot common board:
• Two 14-inch sections
• Two 9½-inch sections
On the 2- x 2-foot plywood:
• One 15½- x 9½-inch section
2. Make the marked cuts on the common board and plywood using a circular saw.
3. Set the two 14-inch sections vertically on the table. Place the two 9½-inch sections vertically at the top and bottom of each of the 14-inch sections to form a rectangle. Pre-drill holes using the 1/8-inch drill bit and secure frame with screws. Place plywood on top of the frame and attach with screws.
4. Prepare handles for insertion into cement by attaching the smallest supplied screw into each and securing tightly.
5. Place the tiles on a scrap piece of paper, drop cloth or cardboard. Tape a stencil of your choice on top of the tiles. Using spray paint or a brush, paint over the stencil with paint or spray paint that sticks to tile. Let dry completely and apply topcoat. I used Mod Podge.
6. Mix 80 ounces of cement with 20 ounces of water in pail and stir well until completely mixed. Pour the cement into your mold and distribute evenly.
7. In order to ensure proper placement of the tiles, place them on top of the concrete tray frame and measure all four sides so there is an even distance. Then mark that placement both on the cement tray frame and the 1×3 cross pieces (all four overlapping sides).
8. Insert handles and place tiles, pushing into the concrete slightly. Make sure they are centered and that the screws are covered by cement. Allow cement to set for an hour or more.
9. Once set, flip the frame over and remove the screws in the plywood. Remove the plywood by prying apart from cement. Flip over again and remove the screws from the wood frame. Remove the frame by prying apart or tapping with a hammer. Attach vinyl bumpers to corners of the bottom of the tray.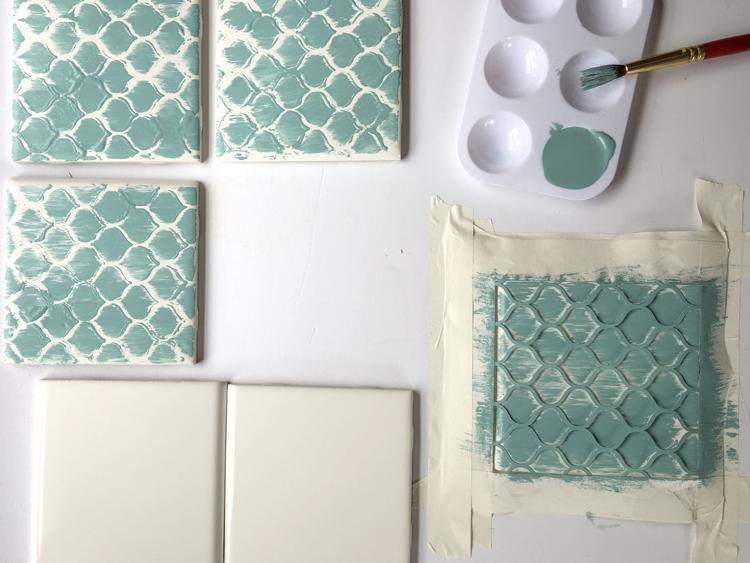 We hope you give this DIY a try and share your creation with us!
XO, Ashton