On Valentine's Day, my husband, Zac, and I like to keep it simple and have a romantic night in. He's always in charge of the main course, and I am in charge of dessert. To make your Valentine's Day dinner even more special, add a nice bottle of Champagne (or for us pregnant women, a nice bottle of sparkling grape juice). You can re-create this unique floral ice bucket to hold your bubbly and make a statement piece on your table. All you'll need is a few containers and fresh cut flowers.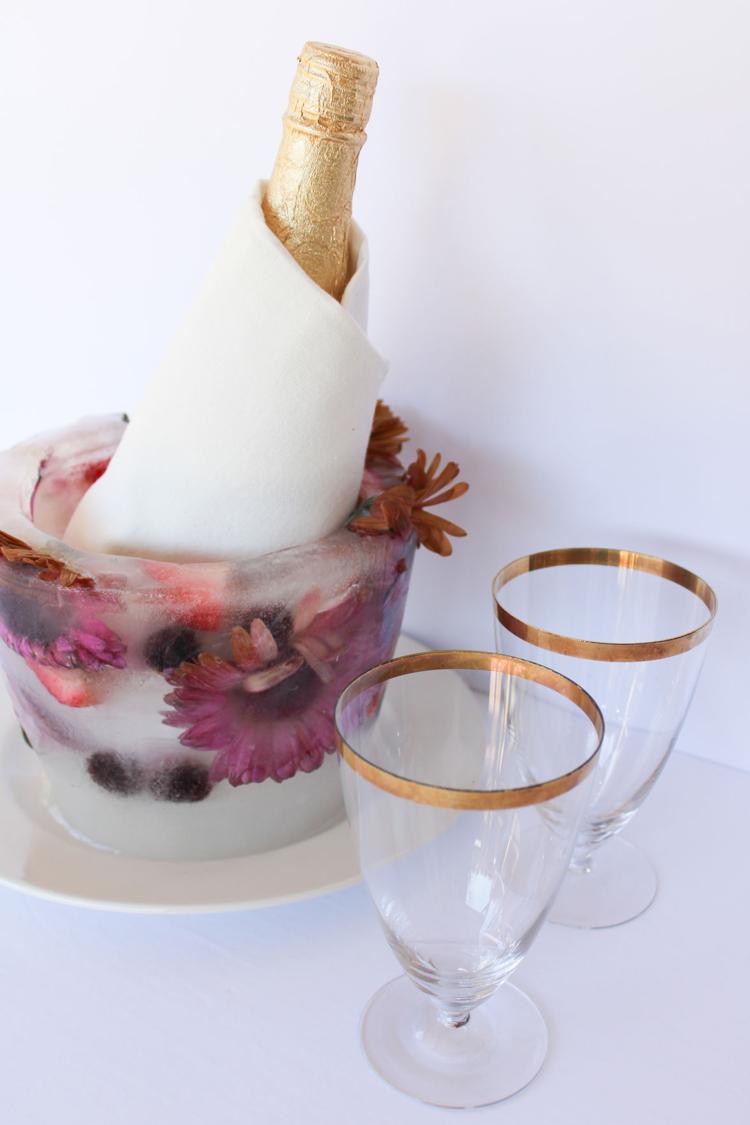 What you will need:
• One 1-gallon bucket
• One 1.5-quart bucket
• Cut flowers, greenery and fruit of your choice
• Scissors for trimming stems and branches
• Heavy rocks
• Water
• Enough space in the freezer for a 1-gallon bucket
Step by step:
1. Pour about 2 inches of water in the largest bucket to create a base of ice. Freeze for at least 4 hours.
2. Place heavy rocks in the smaller bucket, then put it on top of the frozen base. This will keep the bucket from floating up when additional water is added.
3. Add fruit, greenery and flowers between the larger and smaller buckets and fill with water. For greater creative control, and since some items tend to float, I worked in layers, completing a few inches at a time. Of course, this will make the project take longer, but your result may be more visually appealing.
4. Freeze flower ice bucket for 8 or more hours.
5. To remove the smaller, interior bucket, fill it with hot water. Twist the smaller bucket and gently remove.
6. Run hot water over the outside of the larger bucket. As it loosens, carefully turn it upside down to slide out your fabulous creation.
7. To display, set your gorgeous flower ice bucket on a tray, making sure to place a towel underneath to absorb any moisture from melting.
We hope you enjoy this DIY. Be sure to share your creations on the Charm East Texas and Sister Sage Co. Facebook pages. I hope you all have a lovely Valentine's Day with the most special people in your lives.
XO, Ashton
For inspiration all month long, visit Ashton's blog sistersageco.com and follow @sistersageco on social media.