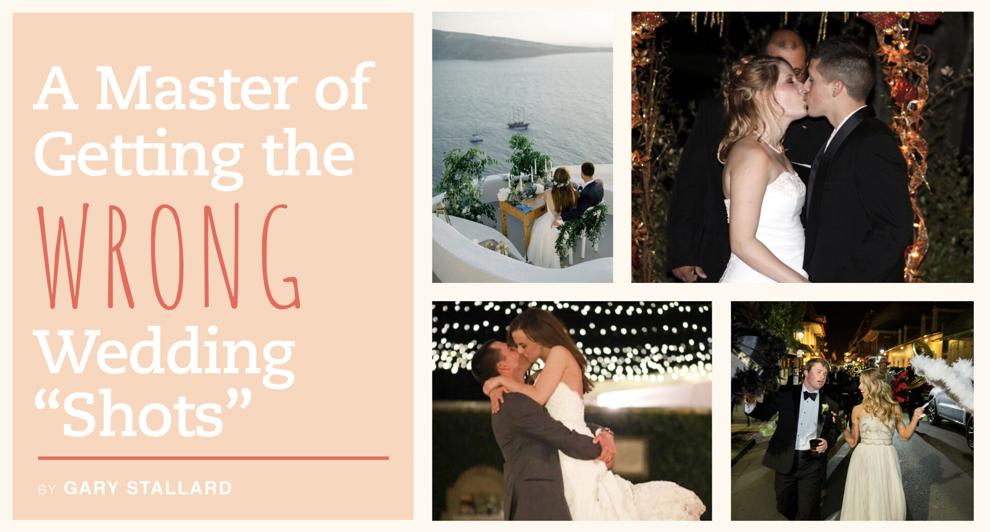 I couldn't have been in a more perfect position for the shot.
Right in front, slightly crouched, my camera ready, my finger on the shutter release button. When the first punch flew — a real beauty of a right hook — I was ready.
Sort of. I wasn't shooting a boxing match. At least, I hadn't signed on to shoot one.
This was a wedding — or at least it was supposed to be.
I wasn't sitting ringside. I was in front of the altar, watching the soon-to-be (or so we thought) husband and wife exchange vows and form their forever union.
"Forever" lasted just long enough for the young would-be bride to discover her betrothed had spent the night before the wedding with one of the bridesmaids. I don't know who decided to wait until right before the vows to drop such a bomb on her, but she retaliated with a bomb of her own — right upside the guy's head.
I was in position, but I didn't get that particular shot. I was just as shocked as everyone else there, including her victim. I mean, who thinks of shooting fight pics inside a church?
I recovered quickly enough to get a few pics of the rest of the brawl. The whole thing escalated into a free-for-all between bridesmaids, groomsmen, friends and family members. I wasn't worried about anyone punching me. I can take a punch. I just didn't want my poor, innocent camera to suffer any collateral damage.
As the scene unfolded — instead of the "Thrilla in Manila," I was witnessing the "Beheading at the Wedding" or the "Falter at the Altar" — I noticed the bride's father sitting calmly in a pew, legs crossed, a bemused expression spread over his features. As bystanders attempted to bring peace, the dad motioned me over to sit next to him.
"You get all that?" he asked, gesturing toward my camera.
"Most of it," I laughed.
"I'll pay you extra for those," he said. "I told her not to marry the sorry (so-and-so)."
The experience taught me something I already knew: I'm not cut out to be a wedding photographer.
Yes, I have a camera. Yes, I have a fancy lens. And yes, I shoot pics as part of my job.
But the vast majority of what I shoot involves sports. If my subjects aren't dribbling a ball, swinging a bat or trying to tackle each other, I'm pretty much useless as a photographer. Had I known ahead of time I'd be shooting a real fight at a wedding, I'd have used a better lens.
Nevertheless, I am, on occasion, asked to shoot a wedding for a family member or friend. I work cheap (for no less than a six-pack), which is the only possible explanation for their requests.
I'm just not good at it. I know my limitations. I've tried, but weddings just ain't my thing. I don't have the type of equipment to bring such a dream day to life. Mostly, though, I just don't have any real sense of creativity when it comes to producing images worthy of the occasion.
The Bride Brawl should have been the end of my foray into wedding pics. Nope. When my daughter Jaime asked me to shoot photos of her reception, I may have cringed a little. Not because I was worried about her attacking my future son-in-law Terry, but because of the pressure involved. My own child trusted me to capture some of her greatest memories. I considered asking her to have a football-themed wedding to give me a chance to shoot things my way.
Nope.
Tag, Dad. You're it.
Thankfully, the venue was beautiful enough so even I couldn't screw it up. Much. I got some decent photos for her, and she seemed happy with them (at least she said she was).
Well, except for one shot I missed. I totally blew it on one of the more traditional wedding photos, just because I'm Dad.
You know the garter ceremony? The bride stands or sits, the groom kneels before her as she lifts her gown over her knee and then he removes the garter.
I mention "lifts the gown over the knee" because that's the only way I've seen it done.
Jaime sat, Terry took a knee and the crowd cheered them on. I was ready with the camera — until Terry threw me a curve ball.
He didn't wait until Jaime peeled back the hem of her gown. Dude went plowing straight up her — my daughter's — dress like he knew where he was going.
Yeah, I missed the garter pic. It's hard to shoot around a dropped jaw. My finger twitched, but not because it was on the shutter button. It was because it was the same as my Dad/trigger finger.
All this only a few minutes after I'd had to watch the maggot plant his lips on my little girl's. So what if the preacher told 'em to do it? "You may now kiss the bride," my fat booty. There should have been a warning: "But not in front of her father." Thankfully, I was smart enough to let my daughter Jordan shoot the ceremony pics. I'd have blown those, too.
There are so many other personal photography screw-ups I could mention here. You know the "First Look" pic? The one of when the groom first sees his beautiful bride making her entrance? Most of my attempts at the shot made the poor guy look constipated. I wasn't in the right spot.
The bouquet toss? It's sort of an action pic, right? I should have been able to nail it.
Nope. I managed to give the poor brides at least five extra chins. Angles, Stallard. Angles.
What was I supposed to say? "My bad. I'll do better at your next wedding"?
By the time our other children were planning their weddings, one of my best gifts to them was this advice: "Don't ask me to shoot wedding pics. Hire a professional."
Thankfully, they listened to me. Yes, professional wedding photographers are more expensive (I may be the only one who works for adult beverages) but there are several reasons for it.
First, they have the right equipment. The right cameras, flashes, lenses, reflectors … all of it. The stuff ain't cheap. A lot of the pros have more than one photographer shooting throughout the ceremony and reception. They've got every moment covered. They know what they're doing. In many cases, it's what they do for a living.
Mostly, they have "the eye." I have two eyes, but I don't have that one.
The wedding pros have an innate ability to envision a photo before they shoot it. They think of — and see — things the mortal eye just doesn't consider.
They're masters of capturing the moment.
Our kids listened to me. Thank God. Aimee and Carter were married in New Orleans (Carter's parents were married there), and their photographers (Theresa Elizabeth Photography) caught every little detail, from the preparation to the wedding itself to the "The Second Line" — a tradition in Nawlins weddings. I'm not swift enough on my feet to have chased all those shots.
Jay and Ashleigh wanted to get married in Greece. Yes, I shot some of their "pre-wedding" in a Houston courthouse, but their main ceremony took place in Oia, Santorini Island. They discovered photographer Sotiris Tsakanikas, who delivered postcard-worthy work. I'm talking stunning stuff here. I can't imagine how many ways I would have screwed up those photos after traveling so far.
When Erika and Lucas held their wedding, they recruited the late Stephanie Davis. Good Lord, the woman was special. She possessed "the eye." Every little moment throughout the wedding, whether it happened before, during or after, Stephanie and her crew caught it. Her sweet, accommodating nature made a tough photography job feel like a true blessing.
Stephanie passed away shortly after our kids' wedding, but I'm forever grateful for the memories she left us as priceless gifts.
Photography is a weird endeavor. So many different niches. I'm in awe of those who are able to shoot specific moments, whether it's prom pics, a wedding pic, a pregnancy shot or whatever. It takes an innate talent to shoot specific pics.
It's why I'll always encourage anyone wanting a special memory captured forever to find those who specialize in those very moments.
Leave me out of it.
Unless, of course, there's a fight at the altar on the agenda.
A right hook is the only "shot" I can possibly get right at a wedding.