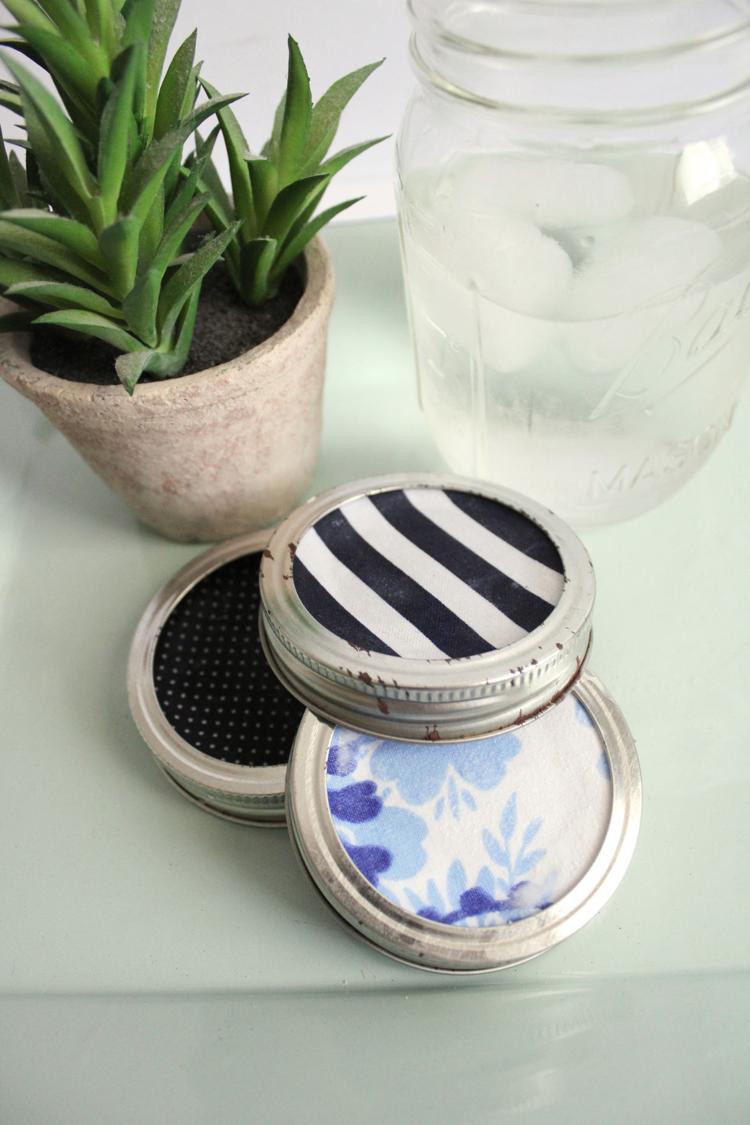 Spring is in the air, which means festivals, markets and trade days are about to be in full swing! There is something about attending outdoor events in the spring that jump-starts my creative side. I was inspired to make these fabric Mason jar coasters while attending a market and thought they would be the perfect addition to our outdoor space. I added in blue tones to accent my new throw pillows and to brighten up our porch.
What you will need:
• Cardboard *not pictured
• Fabric
• Mod Podge
• Paint brush
• Pencil
• Scissors
• Wide-mouth Mason jar lids
Step by step:
1. Remove a lid from the wide-mouth Mason jar. Trace this lid onto the cardboard and fabric.
2. Cut out the circle traces. *Note: you will need one cardboard circle and two circles of fabric for each coaster.
3. Apply a layer of Mod Podge to the backside of your jar lid. (The non-shiny side.) Press the cardboard on top.
4. Apply a layer of Mod Podge to the other side of the jar lid. (The shiny side.) Press a fabric circle to this side. Allow 15 minutes for both sides of the jar lid to dry.
5. Apply an additional layer of Mod Podge to the top of your fabric. Allow 15-20 minutes to dry.
6. Apply a layer of Mod Podge to the top side of your cardboard. Place a fabric circle on top and press down.
7. Apply a layer of Mod Podge on top of the fabric that's now covering your cardboard. Allow 15-20 minutes to dry.
8. Gather the metal jar rings. Using the Mod Podge or a hot glue gun, apply a layer of glue around the inside edge of each jar ring. Press the fabric-covered lid into the ring and allow time for the glue to dry.
Once you've finished assembling the pieces, I'd recommend giving your coasters about a day to dry before using them. When it's all done, you can kick back on the porch, take a sip from your favorite beverage and enjoy your cute new coasters!
We hope you enjoy this DIY. Be sure to share your creation with us on Facebook or Instagram.
XO, Ashton
For inspiration all month long, visit Ashton's blog sistersageco.com and follow @sistersageco on social media.