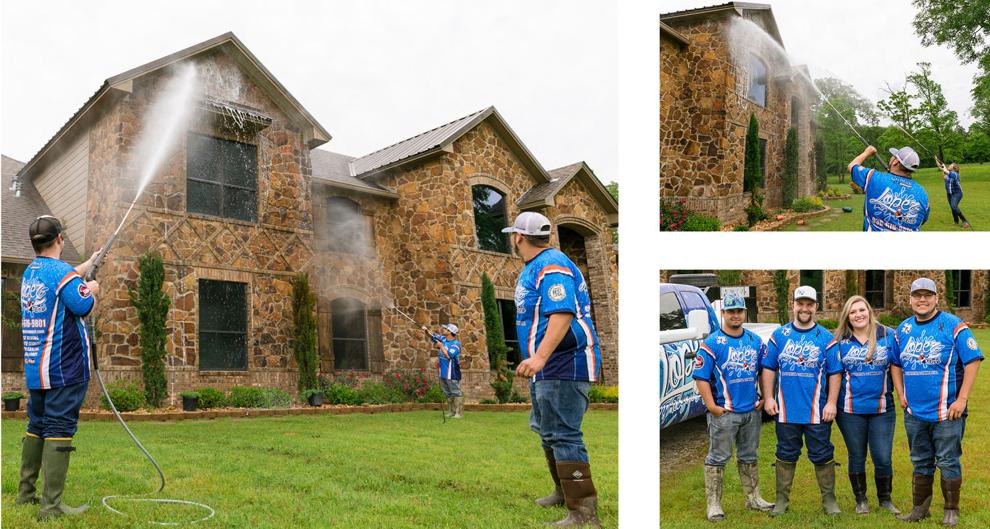 Pressure washing has gone soft. According to Francisco Lopez, owner of Lopez Pressure Wash, high-pressure power washing is an old and outdated method that can cause damage to your home or building surfaces while also delivering inferior results that don't tend to last long.
SoftWashing is a newer cleaning method that uses low pressure and a dedicated pump to apply a specially formulated, water-based, biodegradable, disinfecting cleaning solution. Lopez said it is very different from the power and pressure washing equipment most people recognize. The cleaning solution he uses kills organic matter such as mold, mildew, bacteria, algae, fungus, moss and more that can grow on your home. That built-up dirt and grime not only makes your home look worn, it can actually cause potential damage.
SoftWashing delivers relatively the same pressure as what comes out of your water hose to break the tension of the surface being cleaned. Lopez said his equipment pumps out 16 gallons of water every minute for an overall cleaner result.
In fact, the Asphalt Roofing Manufacturers Association prefers this eco-friendly, low-pressure cleaning process for cleaning asphalt roofs because it can prevent shingle damage.
"We use a safe, low-pressure method and let our soaps do all the work," Lopez said. "It won't harm your plants, and it continues fighting long after we're gone. It leaves the surface brighter for longer. There's a science to it. There's so much more to it than just water and pressure."
Lopez, his wife Ashley and their two employees, Cody Warner and Josh Hoot, said taking care of people's biggest investments, whether it be their home or business, as well as seeing the results of their labor is always worthwhile.
"People are happy with it, and that makes a really big difference, seeing that people are actually happy with the results we are getting," Ashley Lopez said.
The Lopez team services all of East Texas with professionalism and efficiency. It is recommended that you wash your house once a year — from the roof to the concrete or decking around your home — to help lower your electricity bill, extend the life of your roof, increase your property value and enhance total curb appeal.