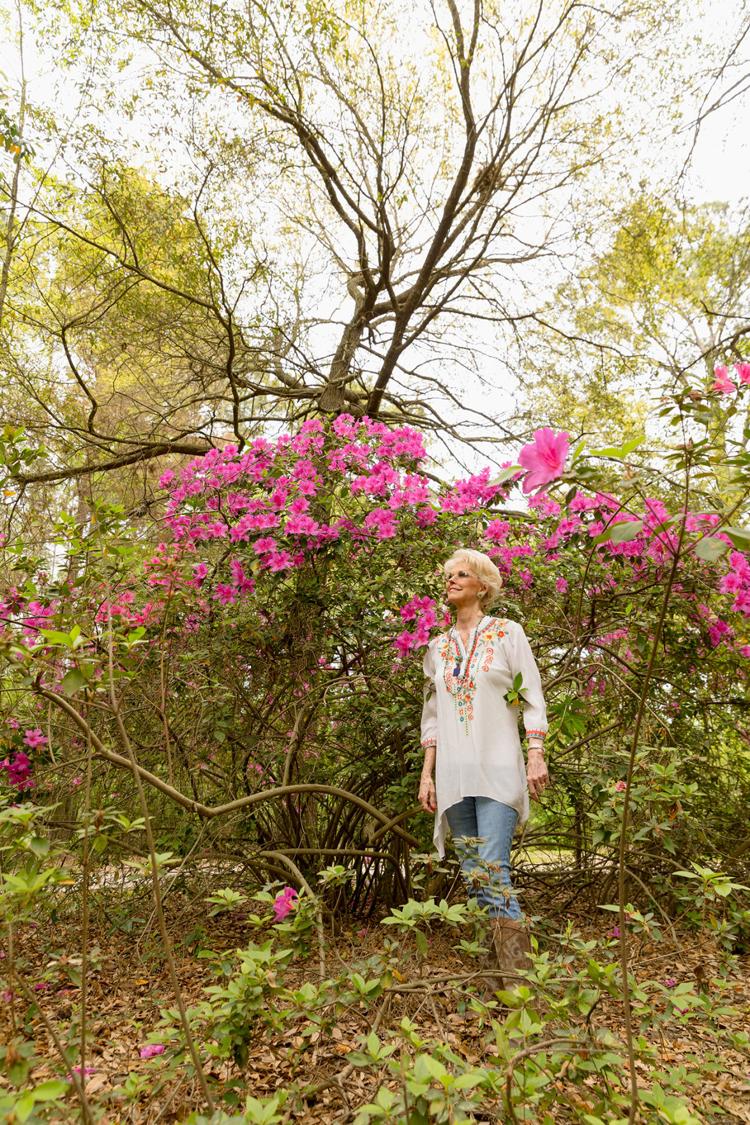 Bob Flournoy built a beautiful Spanish-inspired home for himself and his wife, Genie in 1969. However, that beauty did not simply end with the completion of their home.
"Everything that's not a pine tree I planted," Flournoy said. "It just turned out to be the perfect place for azaleas."
Within five years of building their home, he decided to start landscaping.
"I've always loved azaleas and even Camellias, but I had a fellow that had a bunch of them that he was getting rid of," Flournoy said. "It was some nursery over in Louisiana that closed down, and he must have bought a thousand — I mean big azaleas. So he gave me about 200 or so, and they just did so well out here."
"You can't just plant one plant," Flournoy said. "You won't even know it's there. Most of the azaleas that I have are Formosas. Of course, the white ones are not. There are some other colors in the back that are different types, and they have been bred to be different colors."
Over the years the azaleas have flourished.
"They love pines, they love the sandy soil that's here, it's well drained," Flournoy said. "Just really in spite of me, they continue to grow."
According to Flournoy, when azaleas are young, they require more attention and water. However, you have to make sure not to over water them. Flournoy said the most important thing is the soil they are planted in — they require sandy and acidic soil with proper drainage. Flournoy's pine trees have helped the azaleas over the years by providing more acid to the soil in the area, he said.
"Azaleas seem to last a long time," Flournoy said. "I think it's because there are a lot of buds and they don't all come on at exactly the same time. Although they only bloom during late March, they will continue to be green throughout the year.
"This kind has one season, but there is one kind they're producing now called Encore that will bloom a couple of times a year."
There are 31 breeds of Encore azaleas that bloom for three seasons. Because they do so, they need more sun than most azalea breeds. Flournoy said that the indigenous azaleas he grows need a location that provides dappled sunlight all day or a mixture of sun in the morning and shade in the afternoon.
Our Charm team loved the fuschia-colored Judge Solomon azaleas. We were in awe of the collision of colors combined with the landscaping and hardscaping designs.
Flournoy said his wife played possibly the most important role in making of their personal oasis.
"She tells me where to put everything," he said. "She's the master of the gardener."
Which makes a lot of sense considering she has spent the last 20 years with the Lufkin Landscape Task Force, working on beautifying our city one project at a time.
The two really have created quite the hidden treasure in our area. Azaleas, Camellias, magnolias and many more sweep over the area like a beautiful painting brought to life.
"They're so beautiful, and you just have to realize only God could have made a tree or an azalea," Flournoy said. "Isn't that amazing?"