The custom-built home of Matt and Diana Harkins sits prominently on 38 acres of land on a quiet farm road in Corrigan, secluded by the surrounding pine trees. The Harkins designed the home together, while Randall Petty with Petty Construction brought their home dreams to life.
As you drive down the long wooded driveway and arrive at the home, you will immediately notice how the brick, stone and wood on the exterior create a color palette and texture that make the home stand out. The front of the home boasts two large, intricately designed iron doors that lead into the foyer.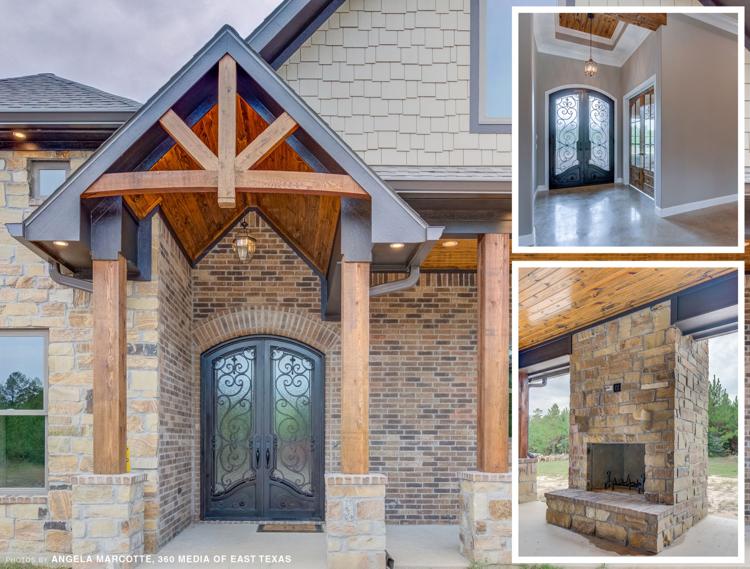 Once inside the front doors of the 6,745-square-foot home, you will notice the French doors to the left that lead into the office. To the right is the living room, complete with vaulted ceilings and large windows running the length of the back wall. Matched with the light neutral tones, the natural lighting opens up the space. In contrast, the brick and wood textures so beautifully done on the exterior are brought inside with a fireplace that gives the open area a cozy feel.
The open-concept kitchen seamlessly sits to the right of the living room. This space was designed to the specifications of Diana Harkins and has a mix of metals, exotic granite and high-end appliances that flawlessly come together in a minimalist farmhouse chic look.

The hallway that leads to the master side is lined with a custom, built-in mudroom bench. Once inside the master bedroom, you will notice the shiplap wall and double-sided fireplace which separates the sitting areas from the bedroom. The bathroom matches the luxurious look of the home with its walk-through master shower and drop-in bathtub.
Directly across from the master bedroom, the hallway leads up the stairs to a massive room and hidden bedroom that includes a full bathroom.

Back down the stairs and across the living room, on the west end of the home there are two identical guest suites, making the home perfect for visiting family or friends. When those people do come to visit, they will be met with a home that is perfect for entertaining or enjoying conversation on the back patio near the custom fireplace.
We adore every aspect of this home, if there is a home that you are dreaming of while reading this, call Randall Petty with Petty Construction at (936) 414-9230.