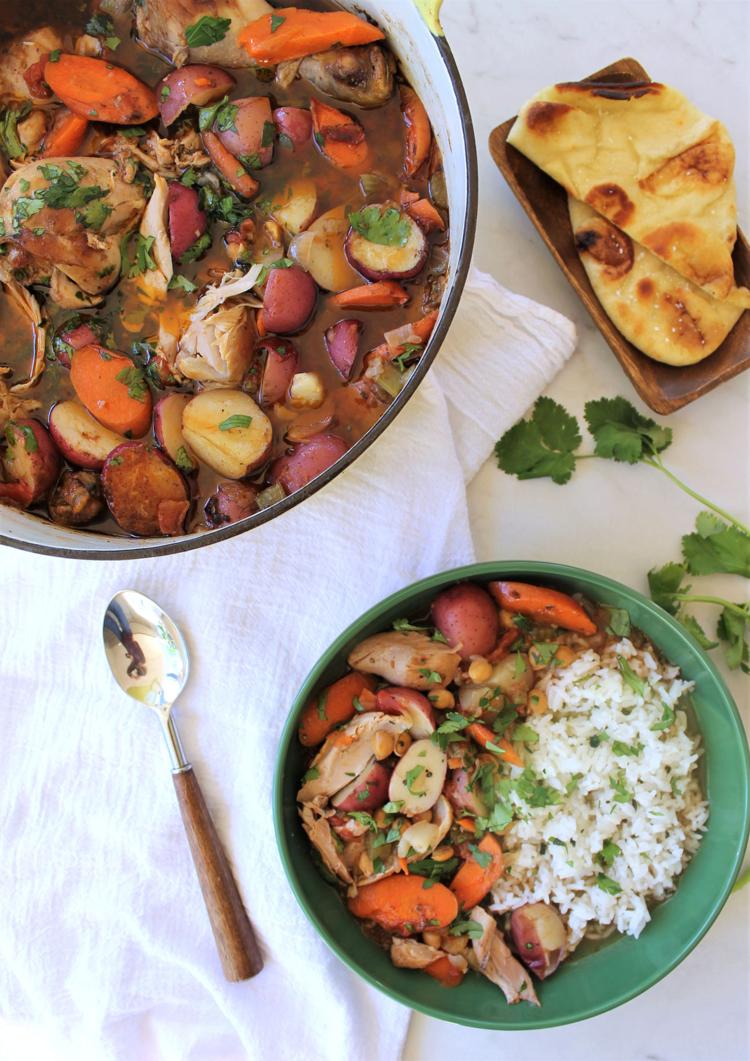 It's January. Did you make a New Year's resolution to eat better? To lose weight? To cut out sodas? Or sugar? Or just change your lifestyle altogether? You can do it. I know you can!
I made a lifestyle change about two years ago and haven't looked back. That's not to say I don't indulge from time to time. But I find myself enjoying those indulgent moments a lot less lately. I am currently following a pretty strict Mediterranean diet because of my family-inherited high cholesterol. I can't take cholesterol medicine, so food is my medicine.
In the beginning stages of my newfound Mediterranean lifestyle, I was coming across the spice, Zaatar, a lot. It only took me one time of using it to be hooked. It's earthy and mellow and just has such a nice savory flavor. Zaatar is a blend of spices including sumac, thyme, cumin, ground coriander, toasted sesame seeds, Aleppo chili flakes and salt.
This Zaatar Chicken and Chickpea Stew is one of my favorite things to make ... and eat. Plus, it's super healthy. Depending on your new year's diet goals and what you are cutting out, you can easily adapt this recipe to your needs. Not eating carbs? No problem. Cut out the potatoes. Or leave them in for your family and just don't spoon them into your bowl.
I know a lot of people have problems eating chicken off the bone, so you can use diced chicken breast, if you prefer. I personally prefer to cook this with bone-in chicken because it flavors the broth. My oldest son won't eat chicken off the bone. After this is cooked, I debone the chicken and add the meat back into the stew, so he never even knows the difference.
This recipe makes about 8-10 servings. It makes great leftovers. It's even better the second day.
Zaatar Chicken and Chickpea Stew
Here's what you need:
2 lbs chicken drumsticks
Kosher salt and pepper
2 onions, diced
½ cup celery, diced
3 cloves of garlic, minced
1 ½ tsp Zaatar spice
2 cans chickpeas
1 28 oz can diced tomatoes
1 ½ quarts chicken stock
3-4 carrots, scrubbed and sliced
1 lb baby red potatoes, washed and halved (or quartered, depending on size)
¼ cup parsley, chopped
¼ cup cilantro, chopped
2-3 cups of Basmati rice, cooked (Any rice is fine. I just love the aromatic flavor of Basmati rice.)
Here's what you do:
Heat olive oil in a medium stockpot or Dutch oven over medium-high heat. Season the chicken with salt and pepper. Add the chicken in batches, and cook until well browned, about 4 minutes per batch. Remove the chicken from the pot, and set aside. Add the onions and celery with a little salt and pepper, and cook until softened, about 4 minutes. Add the minced garlic and Zaatar spice, stirring constantly for 2 minutes.
Return the chicken to the pan and add the tomatoes and their juices, stirring well. Stir in the chicken stock and chickpeas, and bring to a boil. Reduce heat to medium-low, cover, and cook at a gentle simmer for 30 minutes. Add the potatoes and carrots. Cook for 30 more minutes or until the vegetables are fork-tender. Add the cilantro and parsley and turn off heat.
Serve over rice (if you're into carbs). My family likes to eat this with a side of naan (more carbs!).
Naan is a type of flatbread that can be found at any local grocery store, usually in the bakery area on a standalone shelf. I heat mine up in a cast iron skillet, drizzled with a bit of olive oil for about 2-3 minutes on each side and sprinkle a little sea salt on it.
Bon Appetit!
— Nicole
A note about Zaatar spice:
I have not been able to find it locally. Writing this article stirred me to talk to some local stores about carrying it. The White Peacock Olive Oil and Vinegar Company said they will start carrying it. Brookshire Brothers is also checking into carrying it. I've always bought mine from World Market when I go to The Woodlands, or I order it online. I would much rather buy local, so I'm thrilled that we will be able to purchase it in Lufkin now.
For more food inspiration, follow Nicole on Instagram @livewell_livewhole.