Disclaimer: I made this thinking it would make a fun, interactive Valentine's date night in ... now I'm reconsidering. That's not the best idea. Your sweetheart may not appreciate the divine smell of garlic radiating from your breath and pores. So, maybe let's make this on another night. It's fun for the whole family and doesn't require an elaborate recipe. You just buy the ingredients, cut 'em up, and let everyone make their own. It's a great way to get your veggies in.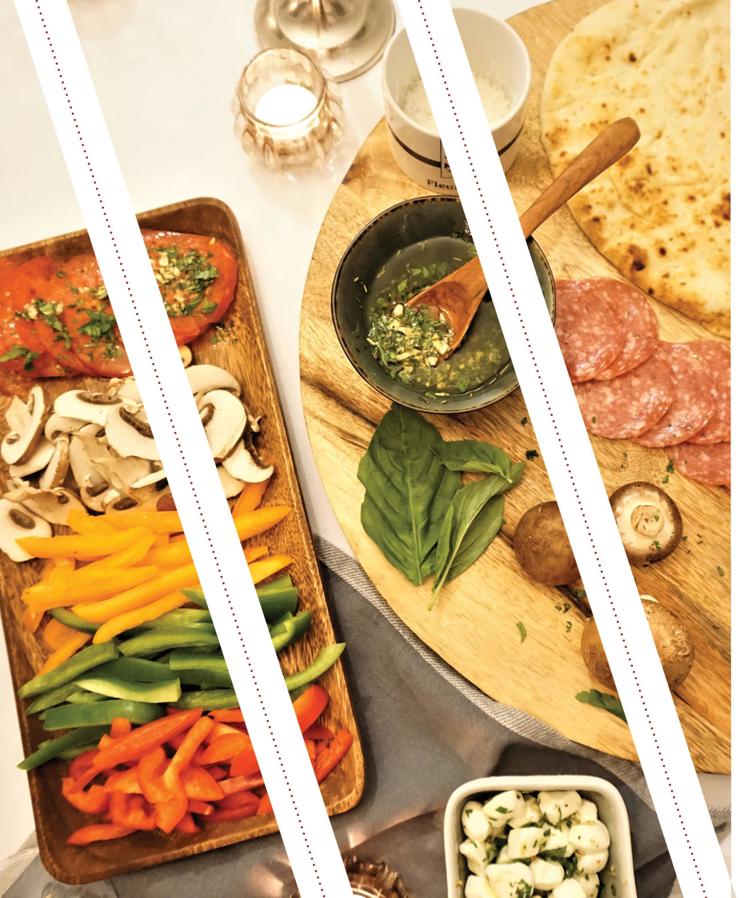 Here's what you need:
Store-bought naan (1 per person)
1 red onion, thinly sliced
½ red bell pepper, sliced
½ green bell pepper, sliced
½ yellow bell pepper, sliced
Mushrooms, thinly sliced
Tomatoes, thinly sliced
Kalamata olives
4-6 basil leaves, sliced into ribbons
Fresh mozzarella
Salami (if you have protesters in your family that insist on eating meat)
Arugula (optional)
Any other toppings you might like
For the olive oil drizzle:
½–¾ cup olive oil
2-3 cloves garlic, minced
2-3 large basil leaves, finely chopped
1 sprig rosemary, roughly chopped
Flat leaf parsley, finely chopped
Pinch of crushed red pepper
Cracked black pepper
Coarse sea salt
Here's what you do: This veggie "pizza" is a regular in our house. It's a super simple dinner.
Wash and cut all the veggies. Mix the olive oil ingredients — do this first so it has about 15-20 minutes to sit and do its magic while you prep the vegetables. Brush the mixed olive oil on your naan and then top with all your favorite toppings. Add some fresh mozzarella — not the shredded processed stuff, unless that's what you've got or that's what you like. Put in the oven at 400 degrees for about 12-15 minutes.
Mix fresh arugula with the remainder of the olive oil mixture, crack some black pepper over it and put on top of your baked pizza.
I learned to love this way of eating pizza when I lived in Europe. It's so good. It does leave a strong taste and smell of garlic in your mouth, though. Don't say I didn't warn you.
Add your favorite side salad, and voila!
Bon Appetit,
Nicole
For more food inspiration, follow Nicole on Instagram @livewell_livewhole.