Nothing says "Hello fall," like a big bowl of steaming hot beef stew! It's just as comforting as wrapping a blanket around you. It warms your soul, and makes you forget about all your troubles and worries. Light some candles, pour a glass of wine and tear apart crusty pieces of warm French bread.
I found this recipe in a magazine probably 10 years ago. It's the only beef stew recipe I've made since then. It is the absolute best stew. I've changed it up (just a tiny bit) over the years, and that is what I am sharing with you.
That's what I love about cooking. You can make anything your own. Don't like something in the recipe? Don't add it. Have some different veggies in your fridge that you need to use up, add them. Make it the way you like it. I have a feeling after you make this beef stew recipe, you'll never want to use another one. My family loves this. The balsamic vinegar is key here. Do not leave it out.
Ingredients:
• 2 lbs stewing beef
• 1 large yellow onion (coarsely chopped)
• 1 leek (washed and chopped - divide into 2 parts)
• ½ yellow bell pepper
• ½ red bell pepper
• ½ green bell pepper
• 2 stalks of chopped celery
• 4 cloves finely minced garlic
• 2 tsp herbes de provence (if you don't have any, use a combo of thyme, rosemary and oregano)
• 4 cups beef broth
• 2 heaping tablespoons tomato paste
• 2 tablespoons balsamic vinegar
• 4 bay leaves
• 1 rosemary sprig
• 1 tsp sugar
• Kosher sea salt
• Cracked black pepper
• 2 each Yukon gold potatoes and red potatoes, cut into 1-inch cubes
• 3-4 sliced carrots
• ¾ cups frozen green peas
• 2 tablespoons cornstarch
• Handful of chopped fresh parsley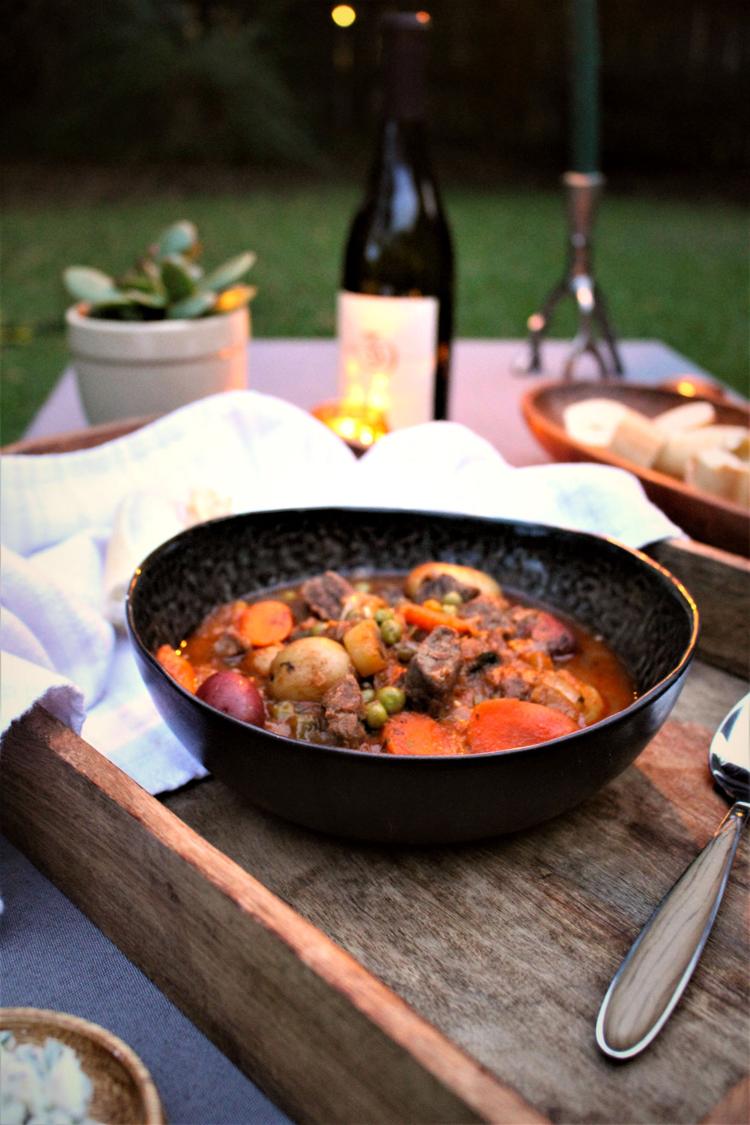 Instructions:
Generously sprinkle beef with kosher sea salt. Heat a bit of olive oil in a large pot over medium-high heat. Add beef and cook until browned, stirring occasionally. While the beef is cooking, chop your vegetables. Remove beef from pot and set aside. Add a bit more olive oil to the pot and throw in the vegetables and garlic. Sprinkle with cracked black pepper and kosher coarse sea salt. Reduce heat to medium. Cook vegetables for about 5 minutes, stirring occasionally. Add the beef back to the pot with all the juices and spices, then stir. Add the broth, tomato paste, balsamic vinegar, sugar and bay leaves. Cover and reduce heat to low. Simmer for 1 hour. Throw in the potatoes and carrots and cook for another 35-45 minutes or until tender. Remove a ladle of the broth from the pot and mix it in a small bowl with the cornstarch. Return broth to the pot with the green peas, other half of the leeks and chopped parsley. Cook for 5 more minutes.
Ladle it into a great big bowl and enjoy.
This stew is best served with a basket full of crusty French bread (Sam's Club has really good French baguettes, by the way) and "herbed butter."
Crusty French Bread:
Let one stick of butter (not margarine, never margarine) come to room temperature. Mash with a fork and add 1 tsp of coarse sea salt, finely chopped fresh rosemary and 1 tablespoon of chopped fresh parsley. Taste and adjust the seasonings to your liking. Let this sit for about 30 minutes. Spread generously on bread and try not to eat the whole baguette by yourself!
Want to know a secret I learned while living in Europe? Wet your hands with running water and wipe the baguettes, until the entire thing is slightly damp (not soaked.) Place it in the oven at 350 degrees and bake for about 8 minutes. It will be slightly crispy on the outside and soft and airy on the inside. This easy step takes your bread from a 5 to a 10. Don't skip this part. You can thank me later!