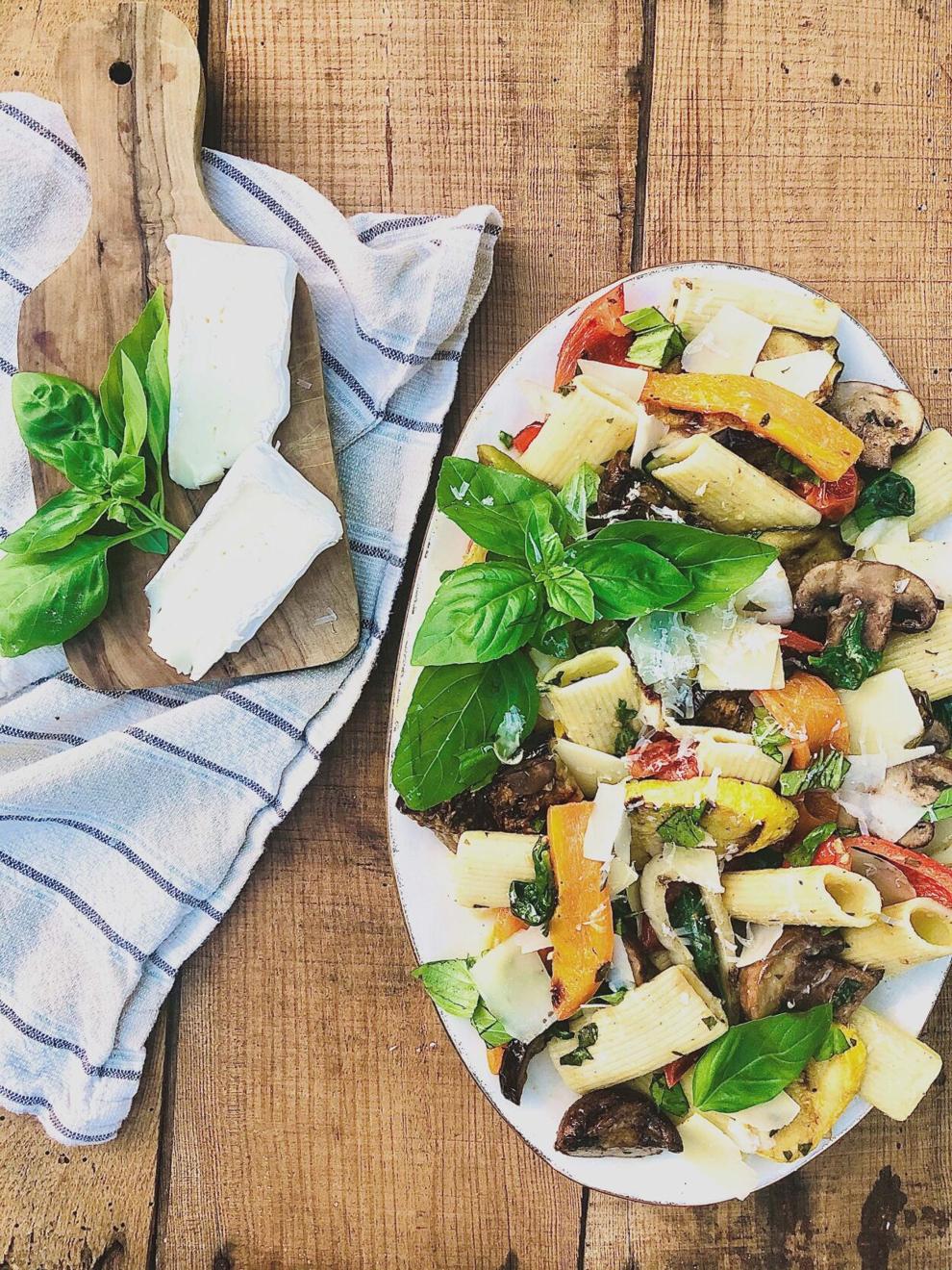 Do you still have a garden full of summer veggies that you need to use up? We don't have a garden, but I had co-workers and friends share their bounty with me all summer long, and I loved every bit of it. My favorite way to eat vegetables is to marinate and grill them. I make kabobs and put them in quinoa. We eat them as a side dish, and my boys will use the leftovers to make omelets or breakfast burritos in the mornings.
I've made this grilled vegetable rigatoni at least 10 times this summer. It's super fresh and light. I don't use a sauce on it because the vegetables are the star of this dish.
The quality of olive oil and salt you use will make or break this dish. I like to use the basil-infused olive oil from The White Peacock Olive Oil & Vinegar Company in downtown Lufkin, along with a ton of fresh herbs from my little herb garden I planted this summer. You should also use a good quality, coarse-grain sea salt or Himalayan pink salt, if you have it. I use Jacobsen black garlic salt in this pasta.
Here's what you need:
• 1 box of Rigatoni, cooked al dente according to package directions
• 3 big handfuls of fresh spinach
• Whole Baby Bella mushrooms, cut in half
• 1 eggplant, sliced into ½ inch rounds
• 2 zucchini, sliced
• 2 yellow squash, sliced
• Bell peppers, 1 each of green, yellow, red (Cut into large chunks for easy grilling)
• 2 white onions
• 1 package cherry tomatoes
• Basil
• Parsley
• Good, quality olive oil
• Fresh Parmesan, some grated and some shaved
• Salt and pepper
For the marinade:
• 1/2 cup olive oil
• 1/2 cup white wine vinegar
• Fresh squeezed juice from half a lemon
• 3 cloves garlic, minced
• ¼ tsp onion salt
• Basil, about 5 big leaves, chopped
• Parsley, about 2 tbsp, chopped
• Salt and pepper
Here's what you do:
First, mix the ingredients for the marinade, and let it sit. In the meantime, chop your vegetables into large chunks so they won't fall through the grill. I cut my zucchini and squash slanted, so it's a bit longer. Slice the onion into quarter-inch rounds, leaving it intact so it's easier to flip on the grill.
Put all your veggies in a large baking dish, pour the marinade over the top and mix well to coat. Let veggies marinate for at least an hour. You can leave it on the counter while you go about your business. Stir it every once in a while. If I remember to marinade the vegetables early enough, I put everything in a big flat bottom bowl with a lid and put it in the fridge for up to 4 hours. About twice every hour, I give it a good shake just to keep all the veggies nicely coated.
Heat up your grill and get your pasta going. Place the veggies on the grill, pour yourself a nice drink and sit with them. I've walked away too many times and burned them all up. This is devastating, and I don't want it to happen to you. The squash and zucchini will grill fast, so watch them closely.
Note: I put the cherry tomatoes on skewers to grill. Otherwise they will fall through the cracks.
When your pasta is al dente, scoop out a cup of the pasta water and reserve. Drain pasta and return it back to the pot. Drizzle with a lot of olive oil, throw in the spinach, about a half cup of freshly grated Parmesan, salt and pepper. Put a lid on the pot so the spinach wilts. This will only take a few minutes. Remove the lid, and give it a good stir. Add the reserved pasta water and your veggies to the pasta, along with handfuls of fresh basil, oregano and parsley. Drizzle with a little more olive oil and season with salt and pepper. I like to shave Parmesan cheese over the top of everyone's plate with a sprig of basil. You could also top it with feta, if you like.
Bon Appetit,
Nicole