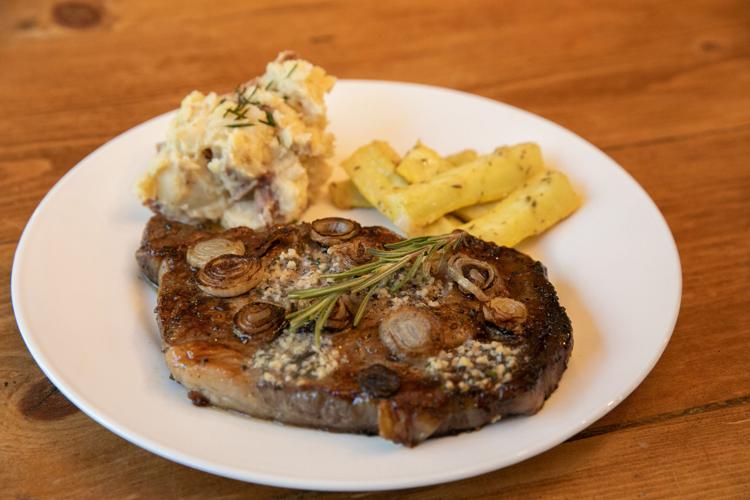 As a child, some of my fondest memories are of summers spent at my grandparent's house. I'm not sure how much land I roamed back then, but in my mind the cornfield alone went on for acres. There was a watermelon patch that took forever to run across. (Especially when you were trying to get to the cornfield to eat a watermelon you just stole from your grandpa's field.)
Great-Grandpa Goodrum raised Brahman cattle. There was one in particular that tormented my cousins and I every time we tried to cross the pasture. Us boys gallivanted all over that land from dawn until dusk. About that time, we would go back to grandma's house, which was always rich with the smell of good ol' country cooking.
After visiting the Angelina County Farmers Market and picking up what we needed, I transformed these nostalgic memories into a heavenly meal for my loved ones. I prepared a flavorful meal of Waygu ribeye steak topped with a honey garlic glaze and a rosemary compound butter, and sautéed onions. Complimenting the steak are mashed potatoes and roasted yellow squash, followed by a delicious pumpkin pie crisp.
Steak
Waygu steak is a beautiful slice of beef that comes from a breed of Japanese cattle, which are bred for the marbling in the meat. I used a ribeye cut about an inch thick that I picked up from the Hassell Cattle Company at the Farmers Market. The Hassells have bred Waygu bulls to Angus cows. This creates a less expensive cut of beef, while maintaining the beautiful marbling. While not grilling a good steak goes against the very fiber of my being, you never grill Waygu. Due to the high fat content, grilling this steak will cause flair up on the grill and reduce this delicious cut of steak to all but a hamburger patty. Here is how it's done.
Ingredients:
1 Waygu steak
3 tablespoons sea salt
3 tablespoons peppercorns, ground
2 tablespoons fresh thyme
3 healthy pads of rosemary garlic compound butter (see instructions below)
4 tablespoons honey garlic glaze (see instruction below)
½ of an onion, sautéed until translucent
Preparation:
Remove steak from refrigerator and place on cutting board. Trim off a small amount of edge fat and set aside. Sprinkle salt, pepper and thyme on both sides of the steak and allow it to get to room temperature before cooking. Preheat oven to 400 F. Turn cook top on high heat and place the trimmed fat in the cast iron skillet. Stir around until the skillet is well greased. Place the steak in the greased skillet and sear both sides for 1 minute. Remove from heat and brush both sides with glaze. Place cast iron skillet in the oven with the steak still in it for 4 minutes.
Allow steak to rest for at least 5 minutes. Top with grilled onions and compound butter.
Compound Butter
Ingredients:
1 stick salted butter, softened
1 ½ teaspoons rosemary
1 ½ teaspoons granulated garlic
¼ teaspoon crushed black pepper
Preparation:
Place butter on wax paper. Fold the paper over and press the butter down to flatten. Fold all ingredients into butter until well mixed. (Note: butter will start to melt as you work it.) Use wax paper to role into a log and place in freezer until you're ready to serve.
Honey Garlic Glaze
Ingredients:
2 tablespoons of honey
2 tablespoons of olive oil
¼ tablespoon garlic salt
Preparation:
In a small bowl combine all ingredients and stir well. You will want to give it another stir before applying.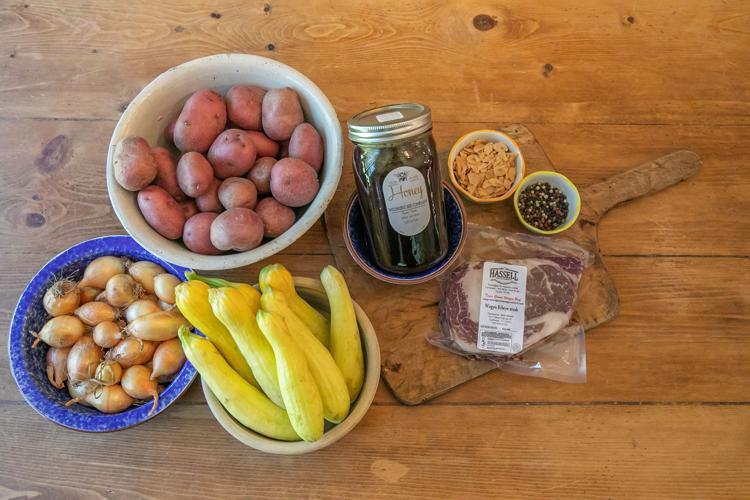 Garlic Mashed Potatoes
These are not your momma's mashed potatoes! The chicken broth adds a flavor that will leave you asking for seconds.
Ingredients:
8 cups chicken broth
5 pounds red potatoes (unpeeled)
5 cloves garlic (peeled)
½ cup salted butter
4 ounces cream cheese
¼ cup buttermilk
¼ cup heavy cream
Pour chicken broth into a large stockpot and bring to boil. Cut potatoes into 1-inch cubes and place in boiling broth. Add garlic. Boil until potatoes are tender. Strain potatoes and put them back into the pot. Mash potatoes to desired consistency. Add butter, heavy cream and buttermilk. Stir well. Salt and pepper to taste.
Roasted Squash
Ingredients:
2 pounds yellow squash
1 block parmesan cheese, grated
¼ cup of thyme
5 tablespoons black pepper
2 tablespoons onion salt
¼ cup olive oil
Preparation:
Preheat oven to 400 F. Cut ends off of the squash and quarter long-ways (like a pickle spear). Place in large bowl and coat in olive oil. Sprinkle remaining ingredients slowly and coat well. Place flat on cookie sheet and bake for 15 to 20 minutes.
Pumpkin Pie Crisp
Nothing smells more like fall than pumpkin pie baking in the oven. For this recipe we used canned pumpkin puree; however, if you would like to make fresh puree, feel free to email me at etxfoodguy@gmail.com. Also, look on page 42 for a list of area pumpkin patches. We took pumpkin pie to a whole new level with the addition of a little cinnamon streusel.
Ingredients:
15 ounces of pumpkin puree
1 cup sugar
3 large eggs
2 teaspoons pumpkin pie spice
½ teaspoon salt
2 teaspoons pure vanilla extract
⅔ cups heavy cream
Preparation:
Preheat oven to 375 F. Butter a 12-inch cast iron skillet. In a large bowl, whisk together pumpkin, sugar, eggs, pumpkin pie spice and salt. Add vanilla and whisk in heavy cream until smooth. Pour into prepared skillet and set aside.
Cinnamon Streusel
Ingredients:
2 cups all-purpose flour
1 ½ cups sugar
2 teaspoons cinnamon
½ teaspoon salt
12 tablespoons melted butter
Preparation:
In a medium bowl whisk together flour, sugar, cinnamon and salt. Add melted butter and stir with fork until crumbly.
Spread this mixture on top of the pumpkin mixture. Place in the oven for 45 minutes or until the filling is set and the top is brown. Allow to cool for 10 minutes. Serve warm and topped with a scoop of vanilla ice cream.
This was truly a comfort meal fit for a king. The last bit of advice given to me by the lady of the house, who was concerned with the lack of marinade and cooking a steak that decadent on the stove top was, "Do not mess up my steak." I think she was pleasantly surprised, and we will be shopping for more Waygu. Our brood raved over the potatoes, and even the pickiest ate the squash. Of course, everyone found room for dessert!