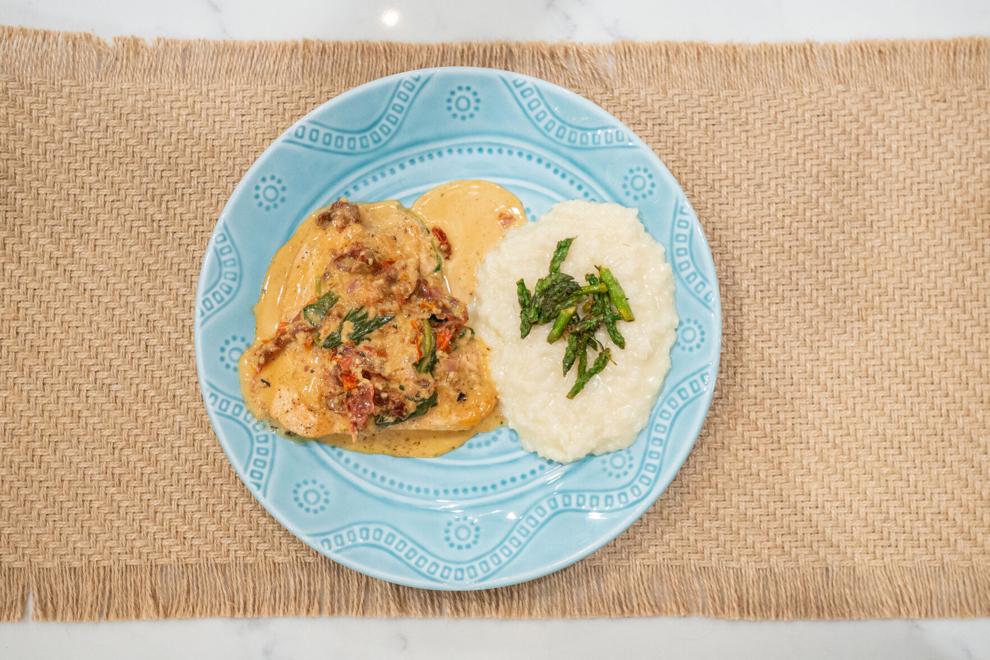 These two items pair perfectly together and take a fairly easy-to-make meal at home to a restaurant-worthy fare. The recipes are listed separately, but I recommend making in tandem. Both take approximately 45 minutes to prepare.
Fontina Asparagus Risotto
6 cups chicken broth plus additional as needed
3 tablespoons extra virgin olive oil
5 tablespoons salted butter
3 cloves garlic, minced
2 cups sushi rice
1 cup Pinot Grigio or Sauvignon Blanc
kosher salt
4 tablespoons lemon juice
½ cup grated Parmesan cheese
8 ounces Fontina, rind removed and cubed
1 bunch asparagus, chopped
2 tablespoons fresh thyme leaves
black pepper
1. Warm the broth until steaming.
2. Heat 2 tablespoons olive oil and 2 tablespoons butter in a large pot set over medium-high heat. Add 2 cloves garlic and cook for 30 seconds. Stir in the rice, cook until lightly golden and toasted, 2-3 minutes. Add the wine and 1 teaspoon salt, continue to cook for 3-4 minutes, or until the wine has absorbed into the rice. Stir in 5 cups warm broth and bring to a boil over high heat, cover, reduce the heat to low, and simmer for 15 minutes.
3. While the risotto cooks, make the asparagus. Heat the remaining 1 tablespoon olive oil and 3 tablespoons butter in a medium skillet over medium heat. Add 1 clove garlic, 1 tablespoon lemon juice and thyme. Cook for 1 minute. Stir in the asparagus, season with salt and pepper. Cook until tender, about 5 minutes. Remove from heat.
4. Once risotto is done cooking, stir in the remaining 1 cup broth, 3 tablespoons lemon juice and Parmesan, stirring until thickened, 3-4 minutes. Stir in the Fontina cheese, remove from heat. If the risotto thickens, add additional warm broth to thin it out. It should be creamy, but with a touch of liquid. Season to taste with salt.
5. Serve risotto with sprinkled asparagus on top. Season with fresh pepper.
Ingredients for the Salmon (or Chicken)
Salt and pepper to season
2 teaspoons olive oil
2 teaspoons salted butter
½ cup fresh grated Parmesan
6 cloves garlic, diced
1 small onion, diced
⅓ cup white wine
5 ounces sun dried tomatoes, cut in strips
1⅓ cups half and half
1 cup baby spinach leaves
4 salmon fillets (or 6 chicken tender loins)
In a large pan add olive oil. Over low heat, cook the salmon for about 3 minuets on each side, set aside and remove skin.
Add to the empty pan butter, garlic and onions. Cook over medium heat, scraping all the remnants from the fish with a spatula. Simmer until onions are translucent. Add tomatoes and wine. Simmer for about five minuets. Slowly add half and half and bring back to a simmer. Stir in spinach and allow to wilt. Stir in Parmesan. Return salmon to sauce pan. Simmer for 3 minutes. Plate salmon and spoon sauce on top.