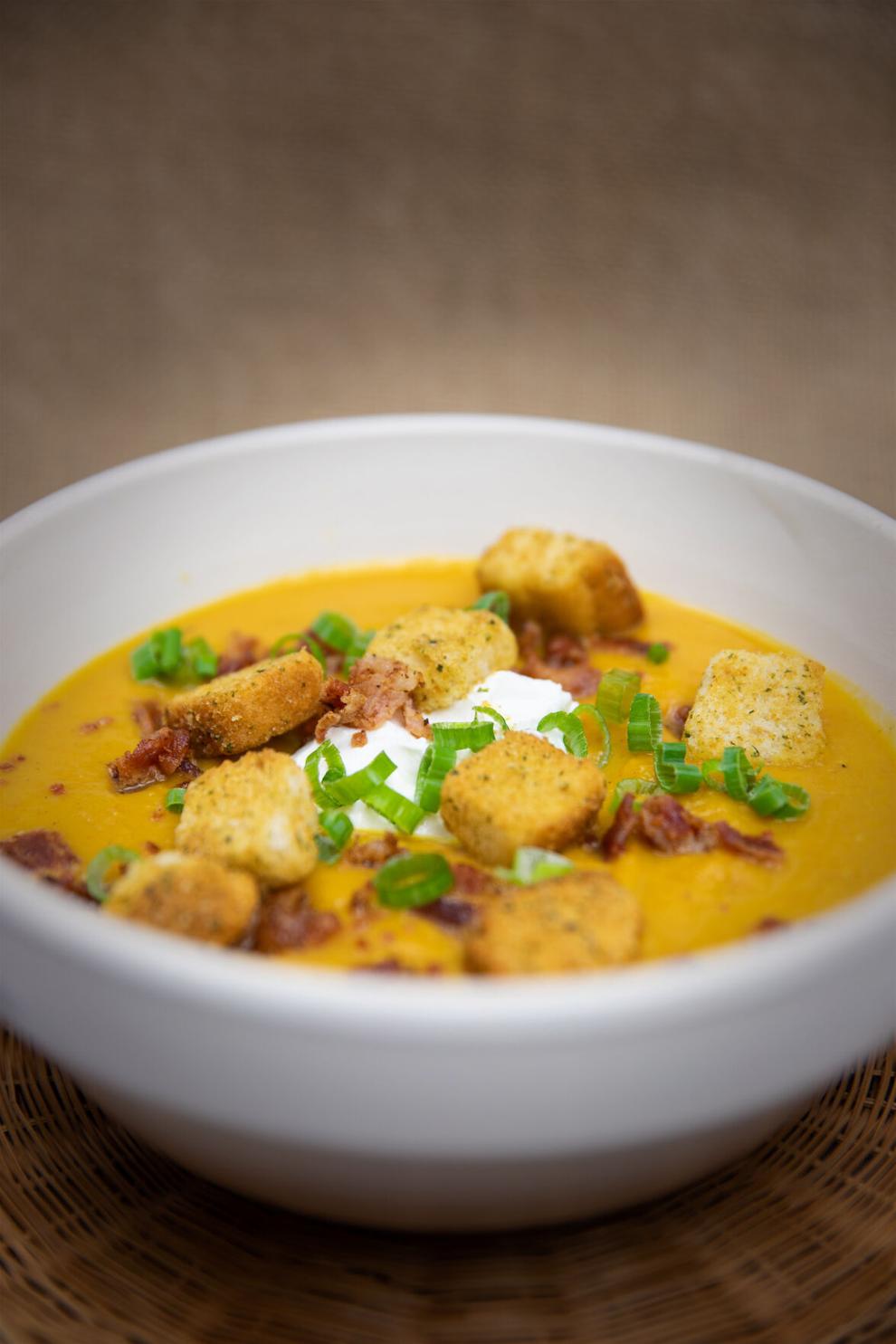 There aren't many people out there who have ever loved or even cooked with butternut squash, but man, you should give it a try. You will be pleasantly surprised with this beautifully fall-inspired yellow soup. It's certain to warm you up on cool nights.
Ingredients
• 1 butternut squash
• 1 sweet potato
• 2 sage leaves
• 2 sprigs of rosemary
• 1 small yellow onion, sliced
• 1 shallot, sliced
• 1 leek, sliced
• 2 carrots, diced into medium pieces
• 3 large garlic cloves, peeled and smashed
• Olive oil to drizzle in the pan
• 32 ounces vegetable stock
• 1 stick of butter, browned
• 1½ cups of heavy whipping cream, warmed
• Salt and pepper to taste
Garnish Options
• Bacon bits
• Chives
• Creme fraiche or sour cream
Directions
Preheat the oven to 3750. Cut the butternut squash in half down the length of it and scoop out the seeds. Rub olive oil on the cut side and sprinkle with salt and pepper. Place a leaf of sage and a sprig of rosemary into the hole of the squash and then place them upside down onto a baking sheet. Cut the sweet potato in half, oil and also place upside down on the pan. Place into the oven and cook until veggies are fork tender. Remove from the oven, turn them over and allow them to cool long enough to touch. When they can be handled, use a spoon to scrape the sweet potato and squash away from its peel. Place it into a bowl without rosemary and sage.
Browning butter is simple. You probably have done it by accident and didn't realize it can be a good thing. Add the butter to a saucepan over a medium-low heat and heat to a simmer. Whisk the butter so it is allowed to brown but not burn. It only takes a few minutes, depending on your heat. When it has turned to a caramel-like color, remove it from the heat.
Drizzle oil into a Dutch oven and warm it up on a medium heat. Place remaining uncooked vegetables into hot oil. Stir then cover with a lid. Cook them down for 20 minutes, stirring frequently. If they start browning, turn your temperature down. Once the carrots are fork tender, add the sweet potato and butternut squash. Mix well and cook for another 5-10 minutes. Add vegetable stock and stir before mixing in browned butter. Butter may fizz up. Slowly add in warm heavy whipping cream and stir. Place mixture into a food processor. Process it until it is nice and creamy. Pour soup back into the pot and heat over low heat while stirring. Serve with your choice of garnish. I prefer bacon bits, chives and creme fraiche — a winning combo.