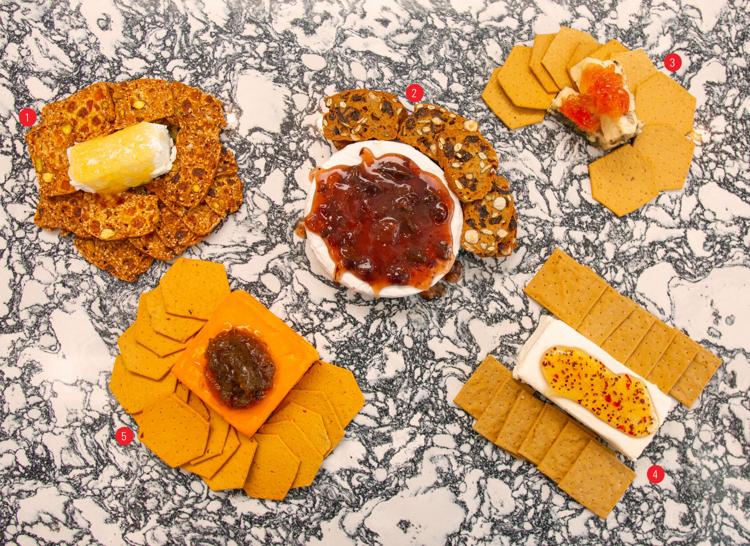 1
Chevre, the French word for goat's cheese, comes in a multitude of different styles. Pungent and tangy, this cheese can lend itself to a wide array of different flavor pairings. Try pairing it with wildflower honey on top of apricot, pistachio and sunflower seed toasts for a crunchy, slightly sweet, yet still tangy taste.
2
Brie is one of the most popular cheeses on a cheeseboard today and shines best when paired with fruit. Pair with Sweet Ruby Dessert Sauce, a combination of different fruits and nuts that complements the earthiness of the Brie. Try with a date, hazelnut and pumpkin toast.
3
Blue cheese is a cheese with a divisive taste that gets its name from the blue veins of mold that runs through it. Blue cheese pairs beautifully with a lighter jelly, like a salted watermelon, and a neutral cracker, like a walnut, honey and extra virgin olive oil cracker.
4
Cream cheese has become a fridge staple, especially before a party. There are countless toppings you could use, but our favorite is crawfish jelly. This complex jelly mimics the taste of a crawfish boil with zero crawfish in it. Use gluten-free extra virgin olive oil crackers with it for a different, not cardboard-like taste.
5
Everybody loves a good cheddar cheese. And who doesn't like bacon? Pair quality cheddar with a maple bacon onion jam on The Fine Cheese Company's Spicy Chilli and extra virgin olive oil crackers and you'll have a hit at any party.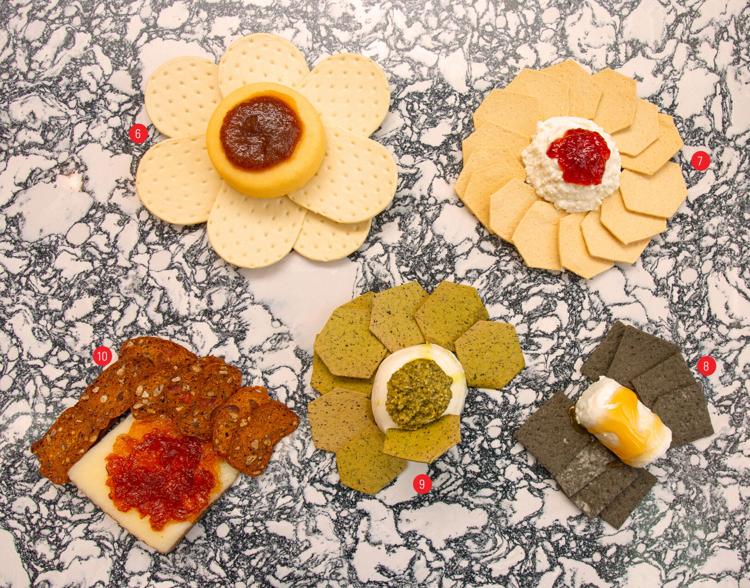 6
Apple and cheese is such a traditional pairing that it's hard to mess it up. Gouda, named after the Dutch city Gouda, is one of the most popular cheeses in the world and complements apple butter beautifully. Pair with Bath Ovals for a buttery finish.
7
Ricotta, meaning recooked in Italian, is traditionally made using the whey instead of the curds like most other cheeses. This creates a loose, sweeter cheese that is perfect for sweeter or more delicate ingredients. Pair this fluffy cheese with lavender plum jelly atop of lemon and extra virgin olive oil crackers for a simple, fruity dessert cheese combo.
8
We've drizzled hot honey over goat cheese for a spicy, tangy treat served with buttery charcoal crackers. A little different. A lot delicious.
9
Mozzarella is such a classic cheese that it's a wonder it's not seen in more places. No longer simply relegated to the pizza shop, mozzarella is beginning to shine in a more elevated area. Pair this supple cheese with basil pesto over basil and extra virgin olive oil crackers and you'll swear you're on a piazza in Italy relaxing.
10
Manchego, from the Mancha region of Spain, is a firm and buttery cheese that handles both sweet and savory accompaniments well. We pair it with a tart and spicy tomato jam for a slightly sweet, slightly spicy twist. Serve with a quince, pecan and poppy seed toast for a nutty, crunchy addition.