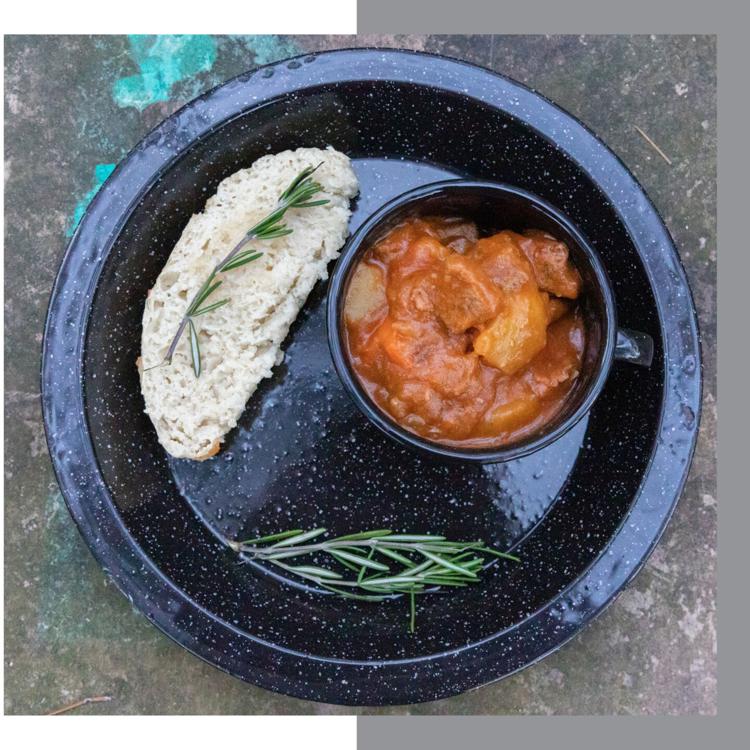 Cooking with cast iron over an open flame or hot coals is the most basic form of cooking, however for many it has become a lost art. It's not as hard as you think, although it does require more attention than cooking with a stove top or oven until you get the hang of it. Here is a simple recipe that even the most novice of outdoor cooks can prepare and impress your fellow campers.
Beef Stew and Rosemary and Garlic Bread
Ingredients for stew:
4 strips of bacon (the fattier the better)
1 pound beef stew meat
½ - ¾ cup flour
Salt and ground black pepper to taste
1 red onion, diced
2 cloves of garlic, minced
1 cup beef broth
One 8-ounce can tomato paste
2 cups water
4 russet potatoes, peeled and cut
3 carrots, peeled and sliced
Ingredients for bread:
3 cups flour
1 teaspoon salt
1 teaspoon sugar
2 sprigs of rosemary diced finely
2 tablespoons garlic powder
1 packet rapid-rise yeast
1 stick of butter-melted
1¼ cup hot water (around 130 F)
A few springs of rosemary for garnish
To make the stew:
In a 10-inch or larger dutch oven, fry bacon until done, set aside.
Coat stew meat in flour, salt and pepper (the smaller the stew meat is cut, the faster it will cook). Brown stew meat in bacon drippings, not done, but just brown on the outside. Remove meat and set aside.
Over medium heat, sauté onion and garlic in bacon and beef drippings until onions are caramelized.
Slowly pour in the beef broth while scraping the bottom of the dutch oven with a wooden spoon or metal spatula to de-glaze. Stir in tomato paste.
When the mixture starts to thicken, pour in water and bring to a boil.
Slowly add stew meat to mixture.
After the meat is the desired tenderness (around 20 minutes), add potatoes and carrots, simmer (stirring frequently) until the potatoes are done (when they fall off a fork).
Remove from heat. The dutch oven will keep warm if the bread is not finished.
Tips for open flame cooking:
To boil, place directly over flame. To simmer, move further away from flame in small increments until the boil slows to a simmer, then turn pot or dutch oven every so often so the heat cooks evenly. Think of the distance from the actual flame contact as your high and low setting on your stove. Rotation of the cooking vessel is important, as the heat will only be on one side.
Making the bread:
In a large bowl, combine flour, salt, sugar, rosemary, garlic powder and yeast. Whisk until well combined. Pour in butter and water. Stir with spoon until well combined.
Cover with foil and allow to proof for 1 hour.
Preheat oven with dutch oven inside to 450 F. (If cooking over coal, do the same. This is 6-7 large lumps below and 4-5 on the lid.)
Place dough in dutch oven and cover with lid. Bake for 30 minutes, or until brown and aromatic.
Tips for cooking over coal:
Do not place coal directly under dutch oven, but around the bottom. This prevents scorching the bottom of the bread. Rotate the oven and the lid often to maintain even cooking.