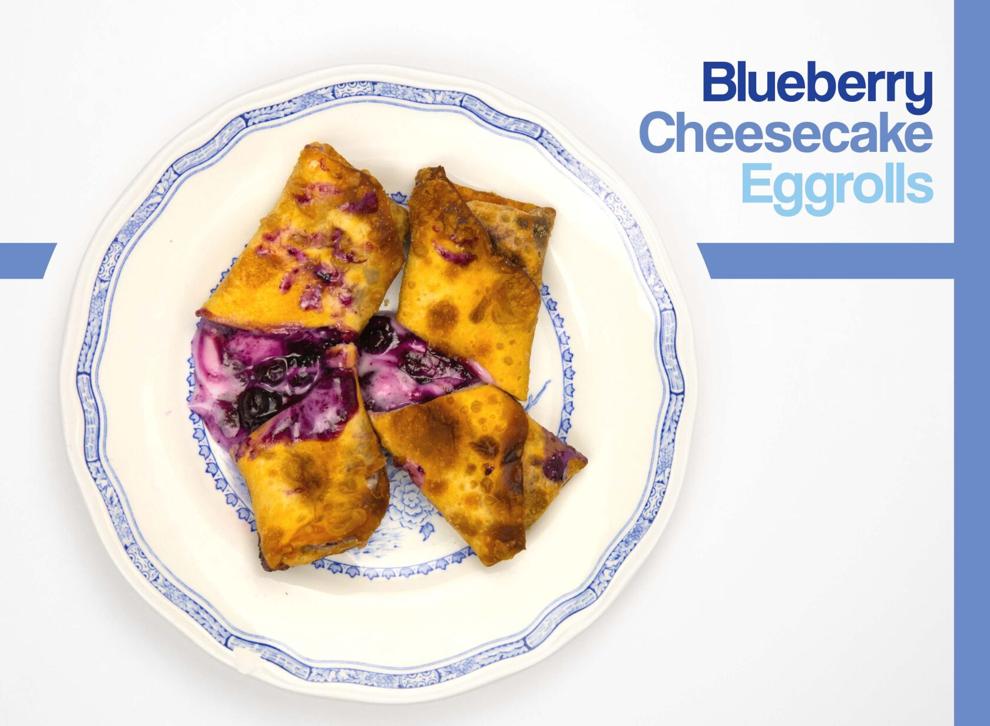 East Texas has many options for a family to enjoy an adventurous day spent picking your own blueberries. If you survive the heat, thorns and bugs, you then face a new struggle at home: What yummy recipe to dive into? Blueberry muffins, blueberry pie or blueberry cheesecake egg rolls — why not? Take the crispy layers of dough filled with a savory cabbage mixture and replace it with a delicious blueberry cheesecake filling. This new culinary innovation will not disappoint.
• 1 pint blueberries
• ½ cup sugar
• 1 tablespoon cornstarch
• 1 tablespoon water
• The juice of 1 lemon
• 2 tablespoons butter
• ¼ teaspoon vanilla extract
• 8 ounces of cream cheese at room temperature
• ⅔ cup powdered sugar
• The juice of ½ lemon
• 1½ tablespoons heavy whipping cream
• 1 package of egg roll wrappers
• 1 egg, whisked
• Vegetable oil for frying
• Powdered sugar for garnish
In a saucepan over medium-low heat, add the blueberries, sugar, cornstarch and water. Stir well. Remove from heat and mix in the lemon juice, butter and vanilla extract.
Take a potato masher and mash about one-third of the berries. You want some juice but you want more of the whole berries. Transfer this to a shallow bowl to cool.
While that is cooling, take cream cheese out of the package and place it into a bowl. Using a hand mixer, blend the cream cheese well. Add the powdered sugar a little bit at a time and blend slightly each time. When all the powdered sugar is added, blend in the lemon juice and heavy whipping cream. You may need to add more cream to reach the desired consistency. You want a spreadable consistency similar to icing.
Heat 2 inches of canola oil in a pot to 350 degrees.
Lay out one egg roll wrapper in front of you in the shape of a diamond. Using a spoon (or you can use a piping bag with a medium hole cut in the bottom), spread not quite a tablespoon of the cream cheese mixture across the bottom of the diamond about an inch above the bottom tip and not going all the way to the sides of the wrapper. Top that with a heaping tablespoon of the blueberry mixture trying to get plenty of the whole berries. Fold bottom over the two mixtures and slightly tuck, then fold in each side. Use a small pastry brush and brush a small amount of egg between each so they stick together well. Carefully roll until you get to the top corner then brush with egg mixture to secure that to the roll. Using a slotted spatula, lower egg roll gently into oil and fry until golden brown. Remove from oil and place onto a napkin.
Let cool for 5 minutes. Cut egg rolls in a diagonal and dust with powdered sugar.