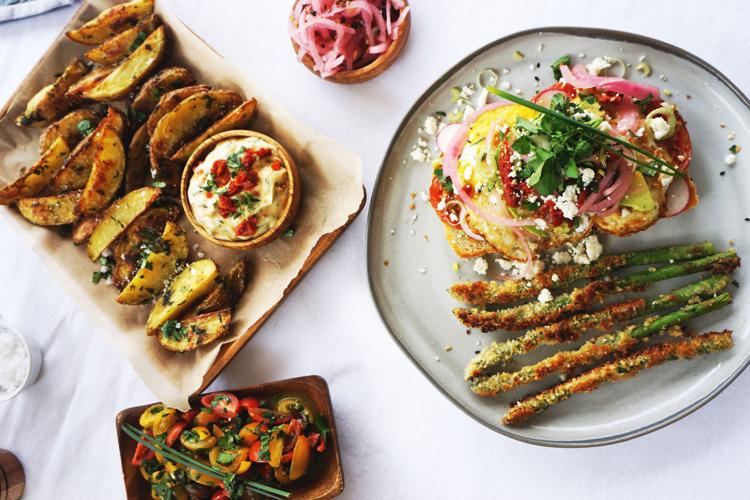 Do you ever wake up on a Saturday morning and wish you could eat brunch at one of those fancy, big city bistros? Well, wish no more. Create your own mouthwatering meal that will make your family (and their taste buds) extremely happy.
My heart did a little happy dance when my 13-year-old exclaimed this was one of the best meals he's ever eaten. I literally couldn't wipe the smile off my face for the rest of the afternoon.
If there's one thing I love to do, it's feeding my people and feeding them well. Do we eat like this every day? Absolutely not. But as often as I can, I love to create something out of the ordinary, to set the table, use real cloth napkins, put fruit in the water in fancy drinking glasses and just create an unexpected atmosphere surrounding a meal.
Would you believe me if I told you there was avocado toast underneath all this? This tasty treat is definitely out of the ordinary — there's so much going on, your taste buds will be all over the place. The fat from the avocado, the acidity of the tomatoes, the pepperiness of the radishes, the freshness of the herbs, the saltiness of the cotija cheese, the tartness of the pickled red onion — it all comes together brilliantly. Do not leaving anything out.
This is an easy meal to make, but time consuming, so allow yourself plenty of time to pull it all together.
Bon Appetit,
Nicole
Bistro-Style Avocado Toast
I am not including measurements here because I don't think it's necessary. Just add how much you want.
Sourdough bread, sliced
Fried eggs, 2 per piece of toast
Avocado, ½ per toast
Pickled red onions
Everything Bagel Seasoning
Tomatoes on the vine, thinly sliced
Radishes, thinly sliced
Cilantro, finely chopped
Parsley, finely chopped
Basil, finely chopped
Green onion, chopped
Sun-dried tomatoes
Watercress (this is not required, but it gives the toast a more complete look)
Cotija cheese
Cherry tomatoes, quartered
High quality olive oil
Kosher sea salt
Cracked black pepper
Assemble the toast:
Start by chopping entire bunches of cilantro, basil and parsley. You will use quite a bit in each recipe.
Thinly slice the tomatoes, drizzle with olive oil and season with salt and pepper and some chopped herbs. Bake in the oven at 350 degrees for about 15 minutes.
Toast the sourdough bread. Slice the avocado and smear on the toast with a fork and then sprinkle Everything Bagel Seasoning on top (a little goes a long way). Layer thinly sliced radishes, roasted herb tomatoes, two fried eggs and sprinkle with more Everything Bagel seasoning. Top with a couple slices of avocado and pickled red onions. Garnish with chopped herbs, chopped green onion, chopped sundried tomatoes and watercress. Sprinkle with a handful of cotija cheese.
Mix quartered cherry tomatoes with high quality olive oil (I love the basil infused olive oil from The White Peacock Olive Oil & Vinegar Co. in Lufkin), lots of herbs and salt and pepper. Serve over toast or on the side.
Side note: I am obsessed right now with pickled red onions. I put them on absolutely everything. They are super easy to make. Head over to my Instagram @livewell_livewhole to see how it's done.
Pan-fried Panko Asparagus
1 bunch asparagus, trim bottom ends off
1 cup panko
¼ cup Parmesan cheese, finely grated
½ cup flour
¼ tsp onion powder
½ tsp salt
¼ tsp pepper
3 eggs, lightly beaten
Mix the panko and Parmesan cheese together in a shallow dish or plate. In a separate dish, add flour, onion powder, salt and pepper. Put the beaten eggs in a third dish. Dip the asparagus in eggs, roll in the flour mixture, dip in the eggs again, and then in the panko and Parmesan mixture.
Heat a large sauté pan over medium heat. Cover the bottom of the pan with olive oil. Cook the asparagus, turning constantly until it is golden brown on all sides.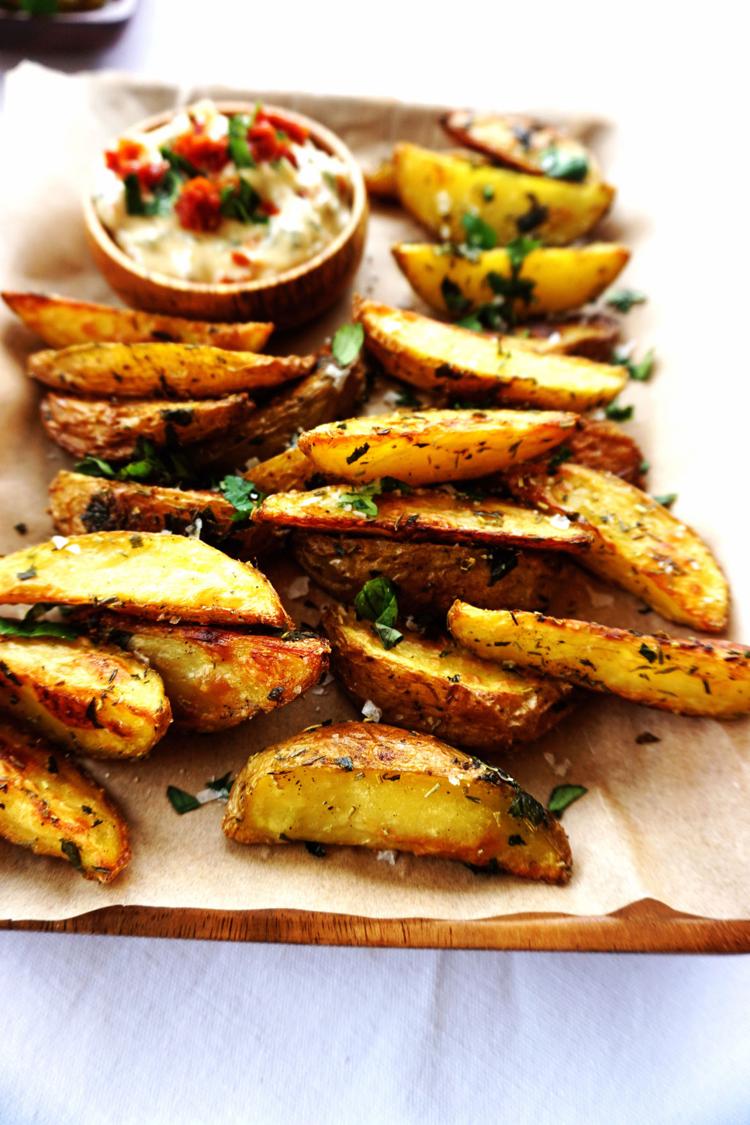 The Perfect Roasted Potatoes
Potatoes
Kosher sea salt
Cracked black pepper
Olive oil
Chopped herbs
Cut your potatoes into cubes or wedges, whatever your heart desires. Throw them in a colander and give them a good rinse. Place the potatoes in a bowl with salt and cover with water. Give them a stir and let them sit for about 10 minutes.
Drain in a colander and rinse until the water runs clear of starch. Place potatoes in a pot and cover with water. Add ½ tablespoon of salt. Bring to a boil and boil for about 2 minutes. Drain potatoes in a colander, and let them rest until they stop steaming. Toss the potatoes with a lot of olive oil, kosher sea salt, cracked black pepper and lots of chopped herbs.
Bake for 35-40 minutes at 400 degrees. Toss the potatoes twice during this time. They will be silky smooth on the inside and nice and crispy on the outside.
Side note: These potatoes are also amazing tossed with freshly grated Parmesan cheese (a lot of it) and finely minced garlic before baking.
Sundried Tomato Mayo (for dipping)
1 cup Duke's mayo (do not substitute)
1 tbsp. sun-dried tomatoes in oil, finely chopped
1tbsp. fresh herbs
1 big pinch kosher sea salt
Mix all ingredients in a bowl. Try doubling or even tripling this recipe. It is divine and goes fast.
For more food inspiration, follow Nicole on Instagram @livewell_livewhole.