I hope you're all holding up well and finding fun things to do with the family. I especially hope you're finding fun and yummy things to fill their bellies during what seems like our 3,000th month of summer. These barbecue chicken sliders are a super simple throw-together meal that the family will love.
We've all had those amazing ham and cheese sliders that we discovered on Pinterest ages ago. This is just a slight spinoff of those. My kids and husband love when I make these and serve them with a side of sweet potato fries. They are especially good if you don't have to do the dishes later, so put these sandwiches on a tray, grab some paper plates and enjoy them on the back porch over a game of UNO or dominoes.
To make things even easier, please do yourself a favor and buy an already cooked rotisserie chicken.
I hope your family enjoys these as much as mine does.
There's a divide between people who eat ketchup with their fries versus people who eat mayo with their fries. I'm definitely a "mayo with fries girl" myself, but it must be Duke's Mayonnaise.
There's enough chicken leftover to double the number of sandwiches if you want to make this for a bigger crowd. Just be sure to double the butter sauce recipe, as well.
Bon Appetit,
Nicole
Here's what you need: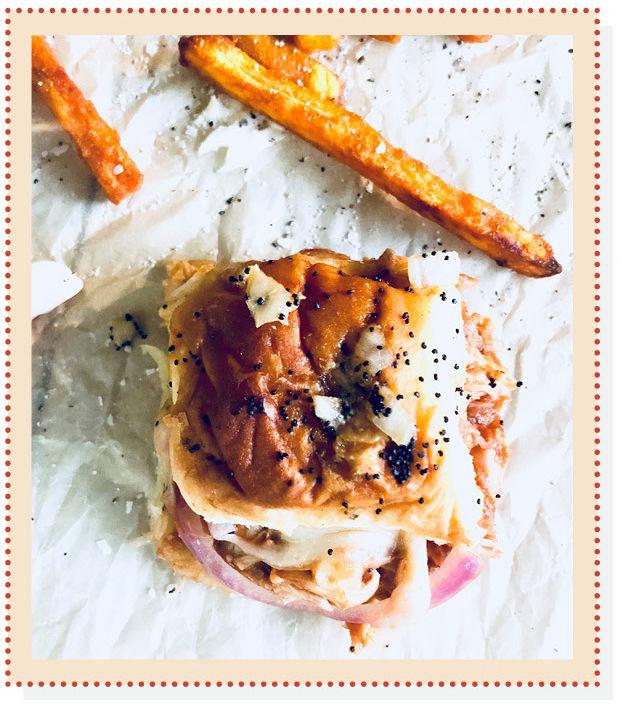 1 rotisserie chicken, cooked
12 sweet Hawaiian rolls
1 cup Sweet Baby Ray's barbecue sauce
Duke's Mayonnaise
Provolone cheese slices
2 red onions, thinly sliced and slightly caramelized
1 stick of butter
2 tsp Worcestershire sauce
1 tbsp Dijon mustard
1 tbsp poppy seeds
¼ cup minced onion
Salt and pepper
Here's what you do:
Preheat oven to 350 degrees.
Shred the chicken, add the barbecue sauce and place it into a greased pan on the stovetop. Heat for about 10 minutes on medium-low heat. Season with salt and pepper.
With a serrated knife, cut the Hawaiian rolls in half (leaving one end attached) and place in a deep 9 x 13 baking dish. Spread the inside of the rolls with mayonnaise on each side. Spoon in the barbecue chicken mixture, top with thinly sliced red onion, a squirt of barbecue sauce and top with a square of provolone cheese. Close the sandwiches.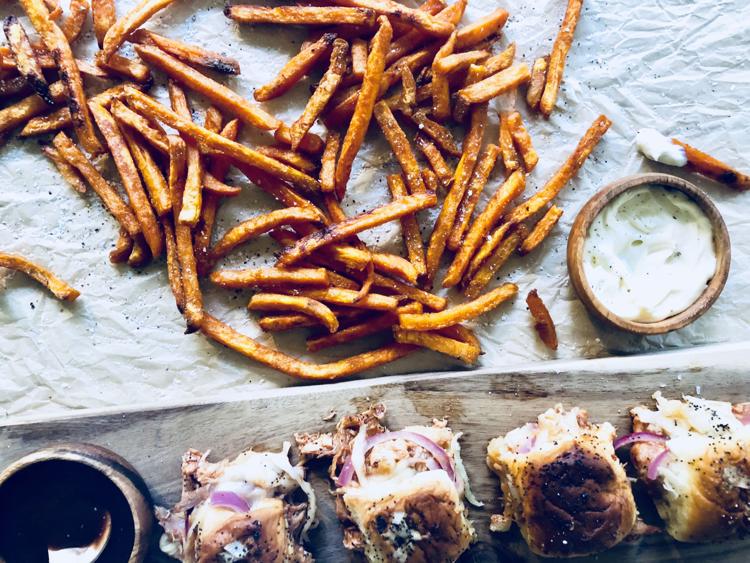 Completely melt the stick of butter in the microwave. Whisk in the Worcestershire, Dijon mustard, poppy seeds, minced onion, salt and pepper. Pour over the top of the rolls.
Cover with aluminum foil and let rolls sit for about 10 minutes so all the buttery goodness has time to soak into the bread. Bake for 20 minutes, or until the cheese has melted. Uncover and cook for 3-5 minutes.