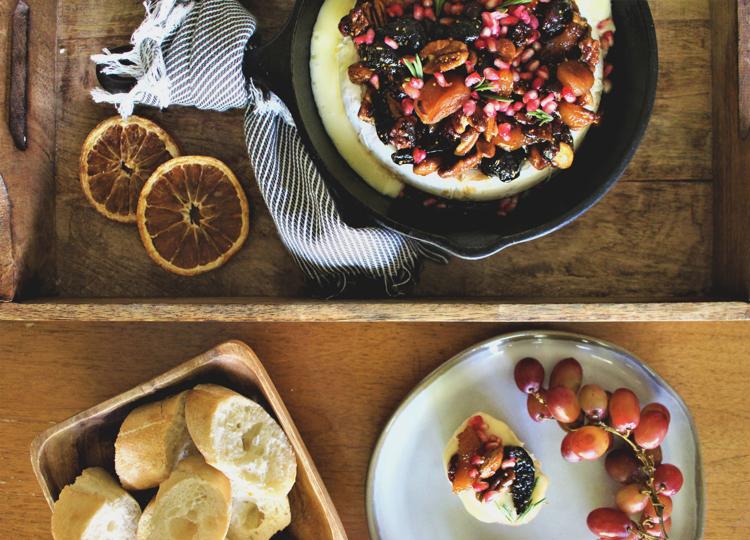 It's the time of year when we have a party (if not two or three) every single week, which usually means a dish to prepare and bring to each party. This is one of my favorite go-to's when I need something quick and easy, but also want to impress my friends and family with a pretty presentation.
Here's what you need:
• (1) 20 oz. Brie wheel
• ½ cup fig preserves
• ¼ cup toasted almonds
• ¼ cup toasted pecans
• ¼ cup halved, dried apricots
• ¼ cup halved, dried figs
• ¼ cup dried cranberries
• Fresh squeezed juice from half an orange
• ¼ tsp. coarse sea salt — do not use iodized table salt
• ½ tsp. chopped fresh rosemary
• Extra rosemary sprigs
Here's what you do:
Spread the pecans and almonds on a cookie sheet and bake for 10 minutes at 350 degrees.
Place the Brie wheel in an oven-proof baking dish or cast iron skillet. Mix the remaining ingredients together in a bowl with a rubber spatula and spread on top of the Brie. Bake for 15 minutes. Remove from the oven and sprinkle with a bit of sea salt and fresh pomegranate seeds. Add a few rosemary sprigs for a pretty festive look, and serve it along with sliced French bread or your favorite crackers.
You can do many variations of this if you don't like dried fruit. You can do toasted nuts with diced apples (or pears) with honey and fresh thyme. You can do cherries with maple syrup and slivered almonds or pistachios and sprinkle cacao nibs on top (or mini chocolate chips).
Just in case you missed my tip in the October issue of Charm, if you will lightly pat your French baguette with water (don't soak it — just dampen it) before baking in the oven for 10 minutes, it will change the entire texture of your bread ... for the better!
I hope you all have a very merry Christmas and take time to enjoy the meaning of the season!
Bon Appetit,
Nicole
For more food inspiration, follow Nicole on Instagram @livewell_livewhole.