Sitting 10 miles outside of Nacogdoches on state Highway 21, there's a new destination in Douglass that seamlessly ties tasty barbecue, a bakery, chocolate factory and farmers market together.
Uncle Doug's was named by the owner, Victor Morrison, and his cousin/pitmaster, Anthony "Dondo" Upshaw, in memory of their grandfather.
"Uncle Doug is one of our grandfather's nicknames, he had several," Morrison said. "He was a 300-pound, 6-foot 3-inch, just a mountain of a man ... he was legendary."
Uncle Doug's is a labor of love and family legacy for all involved. Those values show through in every aspect of the business.
"The mill in the painting represents a mill that our great-grandfather started out here during the turn around of the country," Morrison said in reference to a mural in the restaurant. "It's great inspiration for us because you think about how hard it was, especially for a black man to have a business back in those days. So it's really nice for us to come out here and see that every morning."
The property is never ending, with something new around every corner. Morrison says he has bigger plans at this one-stop shop.
The restaurant proudly seats 160 people, but it's not the seating that will be most memorable to their customers — the wonderful meal, served by friendly faces makes the restaurant stand out.
The in-store market displays a wide variety of jarred goods, fresh and dried vegetables. It's impossible to miss the freshly baked goods at the on-site bakery.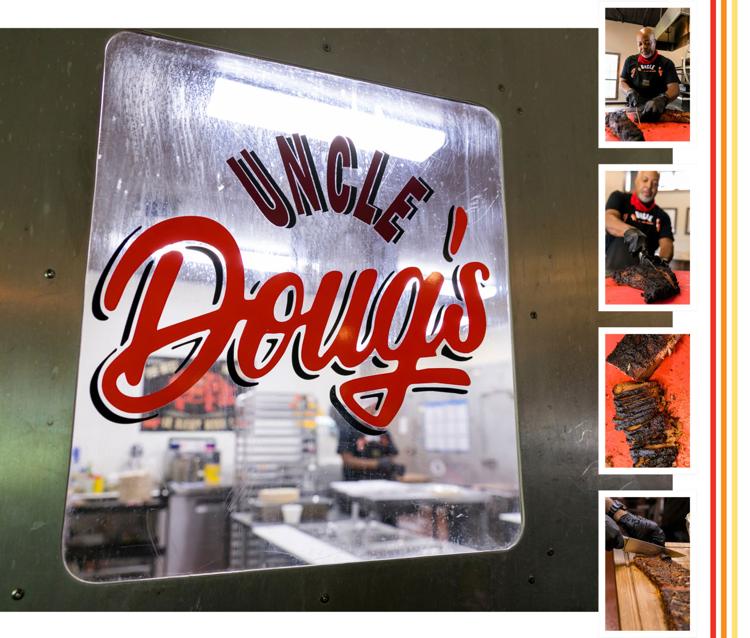 "People here are in the habit of driving to Nacogdoches to buy groceries," Morrison said. "So we're trying to think of things, organic and otherwise, to encourage them to stop here to get something different from what they get in town."
Of all Uncle Doug's has to offer, the chocolate factory is the best. Beatrice Upshaw, Morrison's cousin, spends her time roasting cacao beans and turning them into a wonderfully delicious chocolate that sits at a ratio of 90% cacao.
"There's a distinction between chocolate makers and chocolatiers," Morrison said. "A chocolatier typically buys their chocolate and then does something with it. A maker will actually make it from the bean, and that's what we do."
Last, but certainly not least, through the garden and greenhouse is the smokehouse. This is where "Dondo" reigns as pitmaster.
"Actually the rib rub and brisket rub came from when we started cooking for our family reunion, after our uncles started to let us," he said. "We like entertaining, and seeing that people have everything they need … it's not even a job, I don't look at it as a job."
The smokehouse holds a 6,600-pound Ferris wheel smoker that can cook up to 1,800 pounds of meat. Each batch of brisket or pork sits in the smoker for an average of 12 hours.
"For people that really want to experience it we have a VIP table that seats 10." Morrison said. "If you don't mind smelling like smoke, you'll get it right off the pit."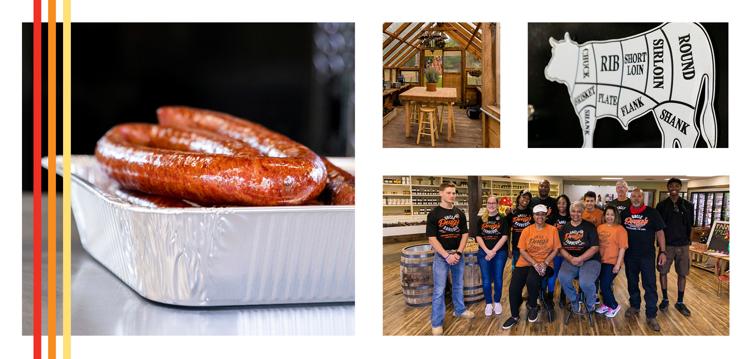 Uncle Doug's opened their doors for the first time in January. This family is determined to bring a family-friendly atmosphere, memorable experiences and some well-mastered barbecue to those who are lucky enough to find themselves in Douglass.
"We get to meet a lot of people," Stephney Morrison, Victor's wife, said. "To see them enjoy the food that you're making — that gives me joy. I mean it's really amazing, the support of the community, it has just meant so much to us."