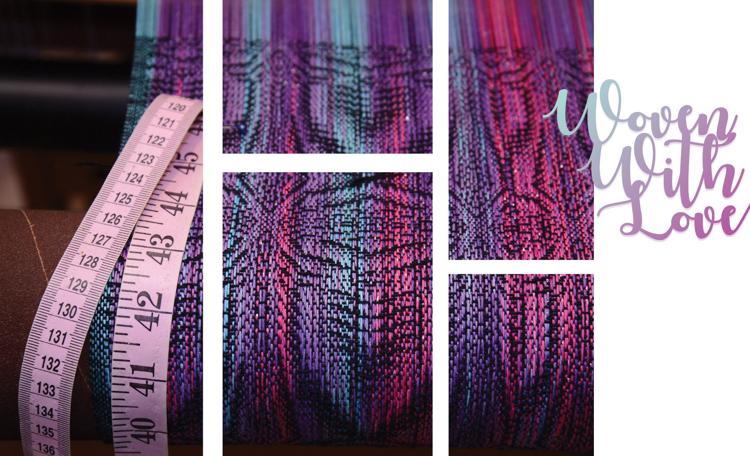 On any given afternoon, you're likely to find Sarah Nichols seated by her loom watching Netflix and expressing herself through colorful threadwork in a cozy workroom behind her Huntington home.
"I love every part of weaving," Nichols said. "With every job, you have your blah days and you have your great days, but honestly I love every bit of it. I love designing, I love coming up with new weave structures, I love how connected I am with the process, and the end result, you get fabric."
Nichols began weaving seven years ago after she decided to start making baby wraps for herself.
"Baby wraps are very expensive because of all the labor, so I decided, you know what, I'm going to buy a loom," she said. "I'm going to weave and make this stuff myself."
Weave patterns change through the seasons based on trends. Patterns can be plain or complex; they can focus on certain color pairings or utilize pops of color.
"There's so much I haven't even touched. There's just so much to it," Nichols said. "People are like, 'you're a master weaver.' I could probably be classified as that, but I don't even know half the stuff I could know. There's so, so, so much to this."
The large 24-shaft loom she owns creates endless patterns. Looms as large as this one are rarely owned by individuals because they are typically used for production, she said.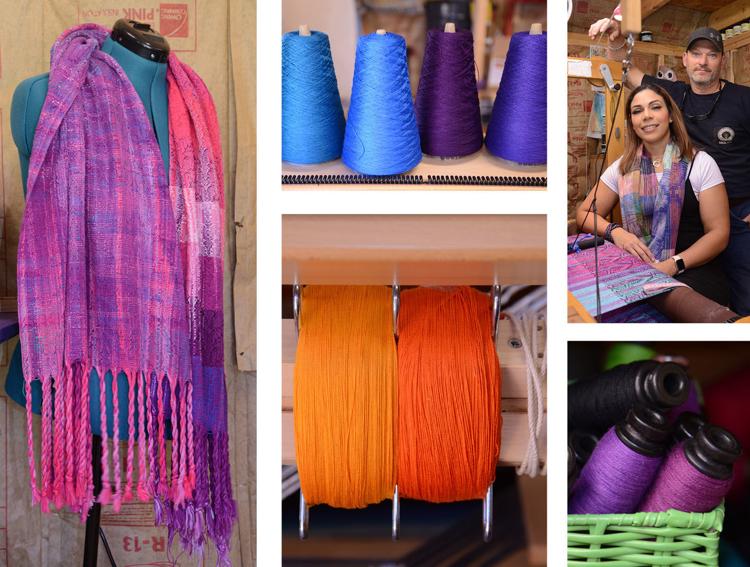 "That loom right there looks super intimidating," Nichols said. "When I first bought that thing, I was like, 'why did I get myself into this?' That loom better be handed down. I'm putting it in my will. I don't want it ever sold."
Weaving has ancient origins that span across countless cultures. Mathematicians created many of the patterns based on algorithms.
"Most of these patterns back in the 1800s were written by men, scientists," she said. "In other countries, women don't weave. It's the men that weave because it's hard, intensive work."
The thread moves through many processes from warp to loom. Weaving on the loom requires using pedals and a beater to make the continuous pattern. Some people create their designs on a computer, but Nichols said hers come from her head.
"I've been doing this for so long that it's second nature. But at the beginning, it was not easy," Nichols said. "I had to take baby steps through the process, and it took a year of me weaving for myself before I opened it up to anyone else."
After a while, the commissions flooded in, and Nichols decided to create a store.
"A friend of mine said, 'Sarah, you have got to make me a wrap,' and then her friend was like, 'can you make me one?' That friend turned into a customer, and soon I had a list," Nichols said.
Through her store, Luz Handwoven, she sells traditional weave designs, but also features items where she has branched out or partnered with designers around the world. She even weaves custom patterns for a company called Baby Tula, whose products are featured in Target stores.
"I collaborate with this company called DC Bags, and I weave the fabric, and they make the bags," she said. "They're actually in Guatemala. They send the bags with letter totes that are handmade, hand-dyed. It's awesome."
While it's easy to take handmade items for granted when you can buy something produced in mass for much cheaper, Nichols said there is a lot of value in handmade items.
"Why would you pay $400 for a scarf? It's the quality. It's an heirloom — you will literally have that scarf passed on from generation to generation, over and over and over again," Nichols said. "You can't do that with stuff made in China. It doesn't last as long."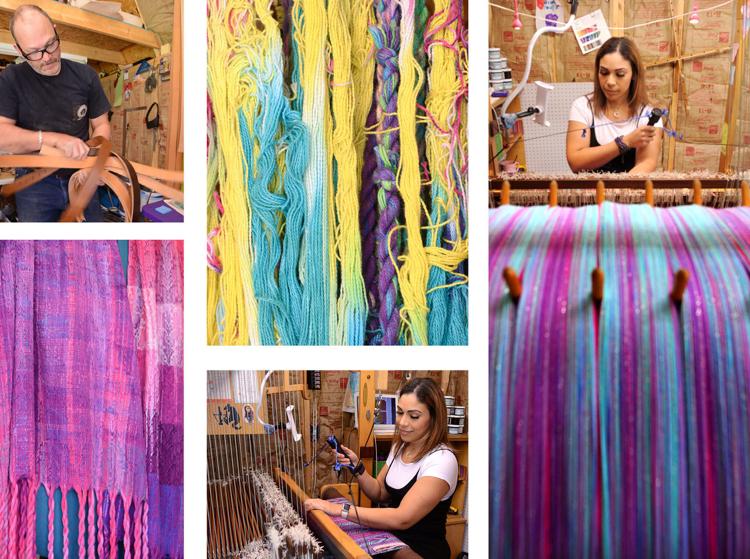 Hours and hours are spent on these kinds of handmade items. Nichols can get so lost in the process that she spends the entire day in her workshop forgetting to eat and only occasionally getting up to use the bathroom.
"I actually have a loose thread that I purposely leave in the back that I have to get up and move so I would remind myself to get up, because if not, I'll sit there and watch my Netflix, and three hours later I have not gotten up," she said.
Luz Handwoven features her signature wraps, as well as scarves, cowls, blankets, accessories and the Kanga and Me Box — a box designed for mother and child with a different handwoven item in each box.
Nichols and her husband also connect through crafting. He contributes his leatherworking to the Luz Handwoven shop, and the two often spend time together in the workshop.
"If you would have asked me 10 years ago if this was going to be my life, I would have laughed at you," she said. "I'm a teacher. That was my profession before I had all these children and started this stuff. Then God said, 'That's not what you're doing today.'"
Luz Handwoven designs can be viewed on Facebook and on LuzHandwoven.com. To contact the shop, email luzhandwoven@gmail.com.