When a child is abused or neglected and they enter into the foster system, they become surrounded by strange new faces and confusing terminology. Everything they've ever known is different, even scary. Thankfully, each child thrust into this terrifying situation is appointed a CASA, or Court Appointed Special Advocate, a volunteer whose specific responsibility is to support the child's best interests.
CASA of the Pines is a local nonprofit organization that trains community volunteers to advocate on behalf of abused and neglected children within the court system until a resolution is reached, whether that be placement in a family member's home, going back to their own home or finding a forever home with an adoptive family.
According to the nonprofit's website, "CASA is the only volunteer organization that is court appointed to give a voice to abused and neglected children. What that means is that we stand with the thousands of children in foster care, their CPS caseworkers, foster parents and providers, and help the judge make sense of what is actually going on in that child's life."
This month, Natalie Thornton is celebrating her 10th year as the executive director of CASA of the Pines.
"One thing I really enjoy about this job is that it gives me a lot of opportunities to do different things every day. No day is the same," Thornton said. "Some days I may be working in court. Some days I may be working on grants. Some days I may be preparing for a board meeting or working on a fundraiser. I enjoy the versatility."
CASA of the Pines services three counties — Angelina, Polk and Houston. In 2018, they served 465 children within these areas. Thornton and her nine staff members work with the more than 100 CASA volunteers, plus additional members of fundraising committees and the program's board of directors, as well Child Protective Services, judges and attorneys. Under her supervision, CASA of the Pines has grown to serve twice as many children in the past 10 years. Her staff has more than doubled and the program's budget has tripled.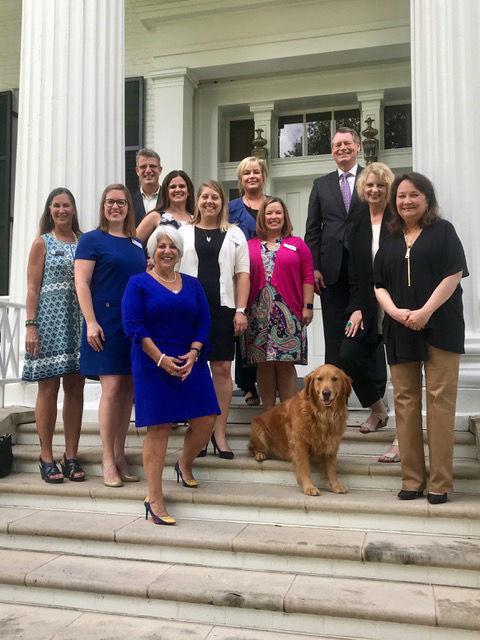 "It's a constant challenge finding the people and the volunteers and working with them to make sure they are empowered, educated and equipped to handle the situation," Thornton said. "This organization is not successful because of me; it's successful because of all of us that work here."
A majority of the cases CASA handles are due to a parent's neglect or their struggles with substance abuse and/or mental health issues. While not every day ends in victory, Thornton said she is motivated by the many success stories experienced because of a CASA.
"People think working here would be really depressing, but the difference is that you all, as in the community, they see all this, they hear about all this, but they don't hear about the positive outcomes. They don't get to go to court and see a case closed because a mother is being reunited with her children, or they don't go to court and see an adoption ceremony," Thornton said. "Our dream for a child doesn't always happen, but as long as we can make their lives better, in whatever ways we can do that, then we've been successful."
Thornton said she's grateful to witness miracles each and every day — for the children and the volunteers.
"I feel strongly that this program makes a difference. One of the great things about working here is giving people an opportunity to have something that's priceless. Making the life better of another human being is something that makes someone feel better about themselves," Thornton said. "When somebody's on their deathbed, that's the kind of stuff that they're going to remember. They aren't going to remember their fancy home or lavish boat, or anything like that. They're going to be thinking about the legacy they've left on this earth. I really feel like some of our advocates think that their single greatest achievement was what they have done at CASA."