Celebrating 40 years of protecting, sheltering and providing valuable services to some of the most vulnerable East Texans, the Janelle Grum Family Crisis Center is becoming more proactive in its approach to curbing the domestic violence epidemic, thanks in part to its leadership's culture of creativity and innovation.
Growing up, Family Crisis Center executive director Heather Kartye was no stranger to the plights of domestic violence and sexual assault victims. The daughter of Lufkin police officer Harold Cottle, Kartye said her father worked tirelessly to create Harold's House, a children's advocacy center named in his honor.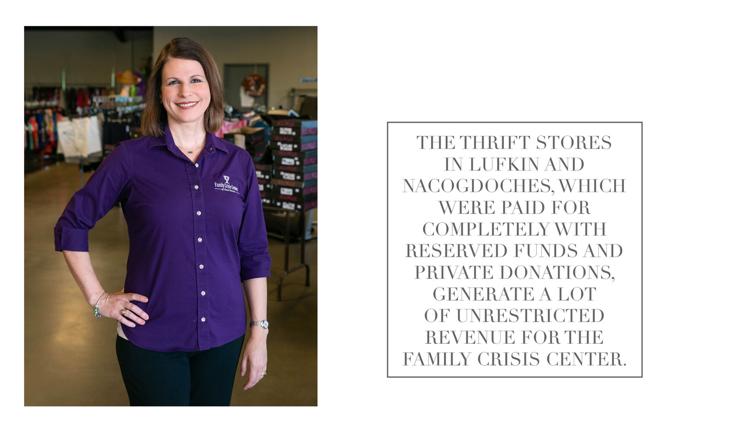 "I remember my dad saying, 'I feel like a garbage man, except the trash I'm picking up off the street is back the next day.' I think that's what drew my dad to become engaged in the community. Seeing him, to be so passionate about other people, and wanting to make a difference, that definitely had an impact," Kartye said.
Graduating Stephen F. Austin State University with a degree in agricultural development and a minor in communications, Kartye assumed she would become an agriculture teacher or county extension agent. However, when the director of membership position opened up at the Lufkin/Angelina County Chamber of Commerce, Kartye applied, accepted the job and immediately fell in love with nonprofit management.
During that time, she attended a rigorous four-year Chamber Institute program, where she received a certification in nonprofit management. After seven years with the local chamber, she did consulting work with chambers all over the country.
"Then, this position came open and the rest is history," Kartye said. "I would have never thought you could have made a career out of working for nonprofits. That was never even on my radar, but when you start working for a nonprofit, it's like it gets in your blood, and it's so rewarding."
As the executive director of the Family Crisis Center for the past eight years, Kartye oversees the safe house in Lufkin, two thrift stores in Lufkin and Nacogdoches, outreach offices in Nacogdoches, Crockett and Center, as well as transitional housing in Nacogdoches and Angelina counties.
The "empowerment-based advocacy center" provides an array of outreach services to a nine-county region including a 39-bed emergency shelter, a 24-hour crisis hotline, SANE examinations for sexual assault victims, legal advocacy, assistance with protective order applications, law enforcement accompaniment, self-sufficiency advocates who help clients obtain jobs, housing and/or transportation, sexual assault advocates who works specifically with survivors, medical advocates, counseling, support groups, and legal services — all for free.
"Statistics show that it takes a woman an average of seven times of leaving to leave for good. We know that. We see that in the clients that we serve. So even if she goes back to him ten times, when she leaves that eleventh time, she is still welcome to receive services here at our agency," Kartye said.
They also try to be more reactive by offering prevention and intervention programs and community education.
"This allows our agency to take a holistic approach to the issue of family violence."
Kartye said each situation is unique and "success is relative." She encourages her staff to leave their personal beliefs at home and come to work each day with a non-judgmental attitude.
"True, amazing, blown-away success stories are very rare in this work. You've got to find the little successes along the way, especially with our clients that come back to us numerous times. It's those little, bitty baby steps."
Due to the ever-present nature of their work, Kartye said the Family Crisis Center strives to dream big in order to benefit the men and women they serve.
"And I feel like we have over the last several years because we've really been able to accomplish some amazing things that I would have never thought we could have done.
It's really hard work. It's long hours. But it's so rewarding because you know you're making a difference in other people's lives. And I guess that's what I've always wanted to do, just know that I was somehow making a difference."