Writing about something that means a great deal to us is often predisposed to clumsy wording and clustered, abstract thought. For example: how can you reconcile your love for your spouse or children with the limitations of language? When we approach subjects of that magnitude — that mythos — we tend to try too hard to explain the wealth of our feeling, the depth of our emotion. In baseball, it's called "overthrowing" when the pitcher tries so desperately to throw the ball as hard as he can, and as a result, his body tightens, and he actually throws the ball slower (and usually without much accuracy). Given the nature of just how much my time on the road meant to me, I will do my very best here to not overthrow.
The preface: After moving from East Texas, my wife Jordan and I were living and working in Austin. She was selling houses in one of the more chaotic real estate markets in the country, and I was pinballing between state agencies and political lobby firms, chasing projects and paychecks. We were stressed out and disconnected from ourselves in the way a lot of folks are familiar with. We struggled to be still, to find a contentment in ourselves that was free from the trappings of professional achievements or material accumulation. In a way, we struggled with facing our fears: fear of not having or being enough, fear of not knowing our purpose, and ultimately, the fear of our own mortality. We could procrastinate the acknowledgement of those fears, so long as we kept working, kept moving, kept seeking the next thing. Life would always be easier and more peaceful next year (or the year after that).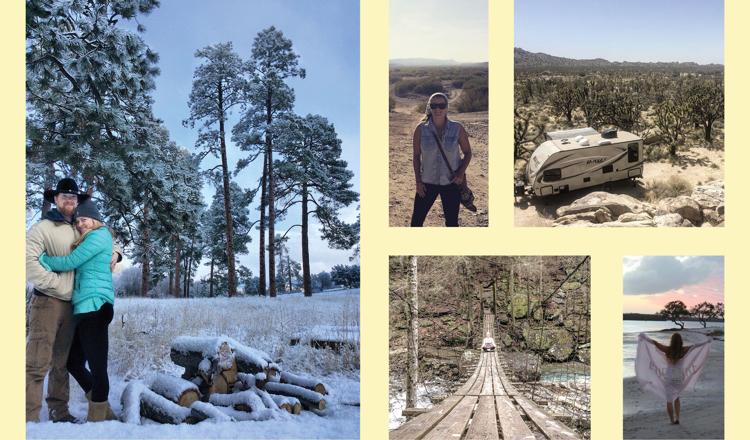 For Jordan's birthday in May 2017, we rented a tiny house in the Texas Hill Country. It was her first true day off in several months, and I wanted her to be able to relax without any distractions. We both worked late the previous day and ended up checking-in after dark and basically going to sleep as soon as we'd unpacked. But the next morning something happened. We woke to dawn's light spilling through the windows and to an almost startling quiet that was broken only by scattered birdsong and the soft running water of some tributary as it filtered down from the Blanco River. We drank our coffee in the relative stillness and silence of the natural world. It was, we decided, everything we'd been missing.
By the time we went back to work we were sneaking texts to one another with articles about full-time travel and living a minimalist lifestyle. We researched, budgeted and made plans all summer. In September of that year, we purchased a 144-square-foot travel trailer and an old truck to tow it. We donated all but a storage closet's worth of our possessions, quit our jobs (with plenty of notice) and hit the road.
Our trial run took us across the Edwards Plateau and into the Trans-Pecos/Big Bend portion of Texas. We stayed at a few state parks while we got the hang of the trailer's systems (propane, sewer, water, battery, etc.), then eventually we moved on to boondocking (camping for free with no hookups or connections). We hiked the Davis Mountains, conquered the much-fabled South Rim of the Chisos, and took a rowboat into Mexico. We worked out the kinks of food storage and meal prep, cut even more from our "essentials" pile and mapped out a journey from Texas to Florida to California.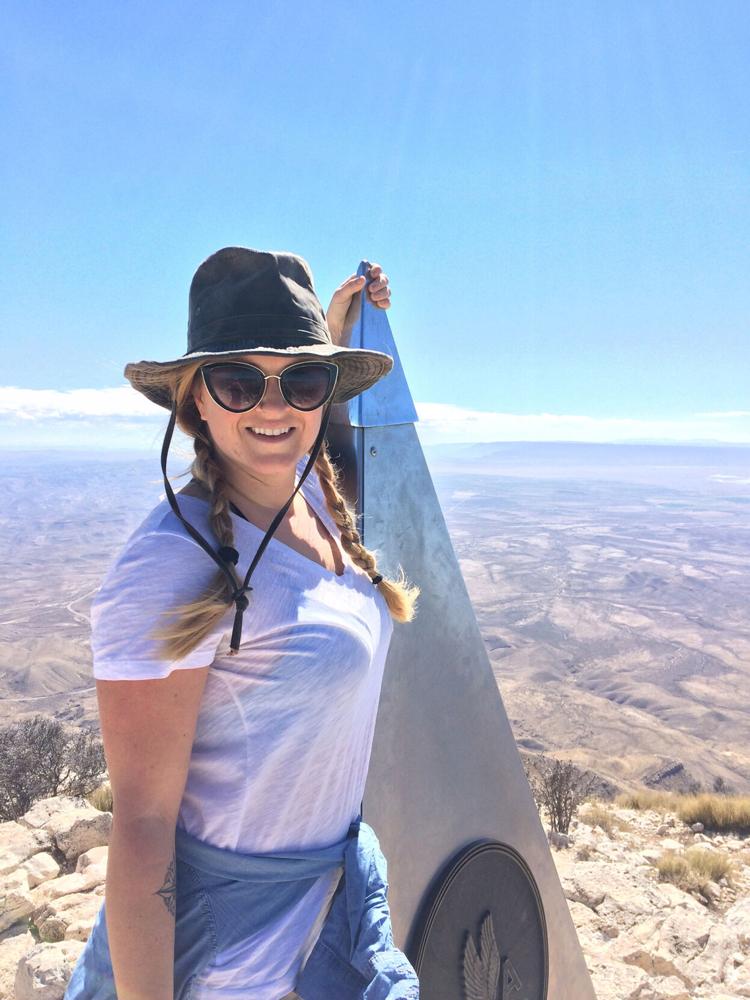 We were in the Florida Keys by January of 2018, then up along the eastern seaboard to Savannah, Charleston and Myrtle Beach. We cut inland through Appalachia, the Smoky Mountains and the Ozarks. We headed west and spent a month in New Mexico, another in Arizona and stayed even longer in California. We paid for an occasional night at RV parks along the way — usually when we needed to do laundry, drain our tanks and fill up on water and supplies before heading back off-grid. We cooked over fires, read books without faces and only noted the time as it pertained to the sun coming up and going down.
We met all sorts of folks — fellow travelers and locals alike. We played pub trivia in a small shrimping community in South Carolina, then ended up at a party with a bearded tugboat captain. In California, we were invited to dinner with an aging bartender who'd recently lost her mother. We met a young lady in Lodi who insisted on giving us a town tour and introducing us to her entire family (who we still chat with online). We celebrated late into the night with a family in Arizona whose patriarch had just been declared cancer-free for the first time in years.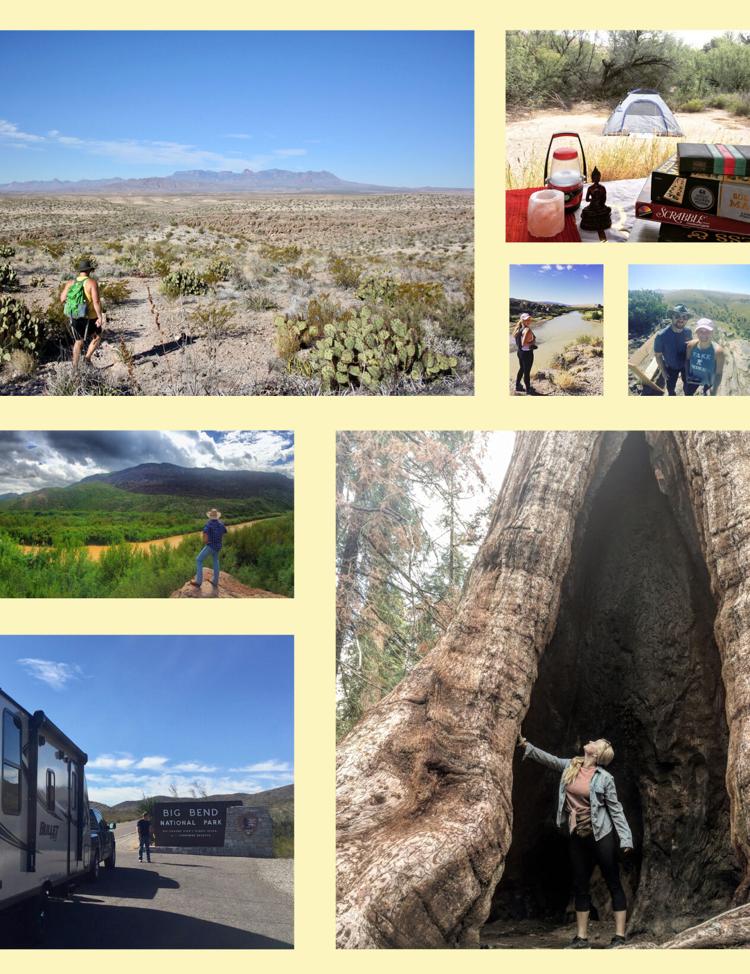 We were trapped on a mountain by flooding in Tennessee, survived a tornado in Oklahoma and a (small) earthquake in California. We camped in the snow, in the rain and in the dry heat of the desert. We hiked in every state we visited, caught a ballgame in Kansas City, and watched a movie at a historic theater in Montana. We had more experiences in two years than we'd had in the previous 10.
But all of that — all of it — paled in comparison to the revelations of self that we underwent. Some truths were come to naturally: Being outside improves our mental health, meditation begets calm, hiking is church. Others required more digging, more reflection and honesty and a willingness to change. And change we did, in ways too large for a word-count.
Our opinions about things haven't drastically shifted, but they're certainly more informed, more nuanced. We now know just how little we need to get by — how small a space and how few resources we're able to take up. We know what the morning smells like in the mountains, how coffee tastes next to a river and what it's like to dance at midnight in the desert with no one watching but the stars. We know how to find our stillness even in the midst of chaos. If it weren't for our trip, we may never have found that quiet — that peace within ourselves.
Travel will do that — change you — if you let it. And that, ultimately, is the advice we'd give to all travelers. Whether it's a cross-country trek, a weekend getaway or even a day trip somewhere close to home: Embrace it, be still and see what the journey can teach you about yourself.