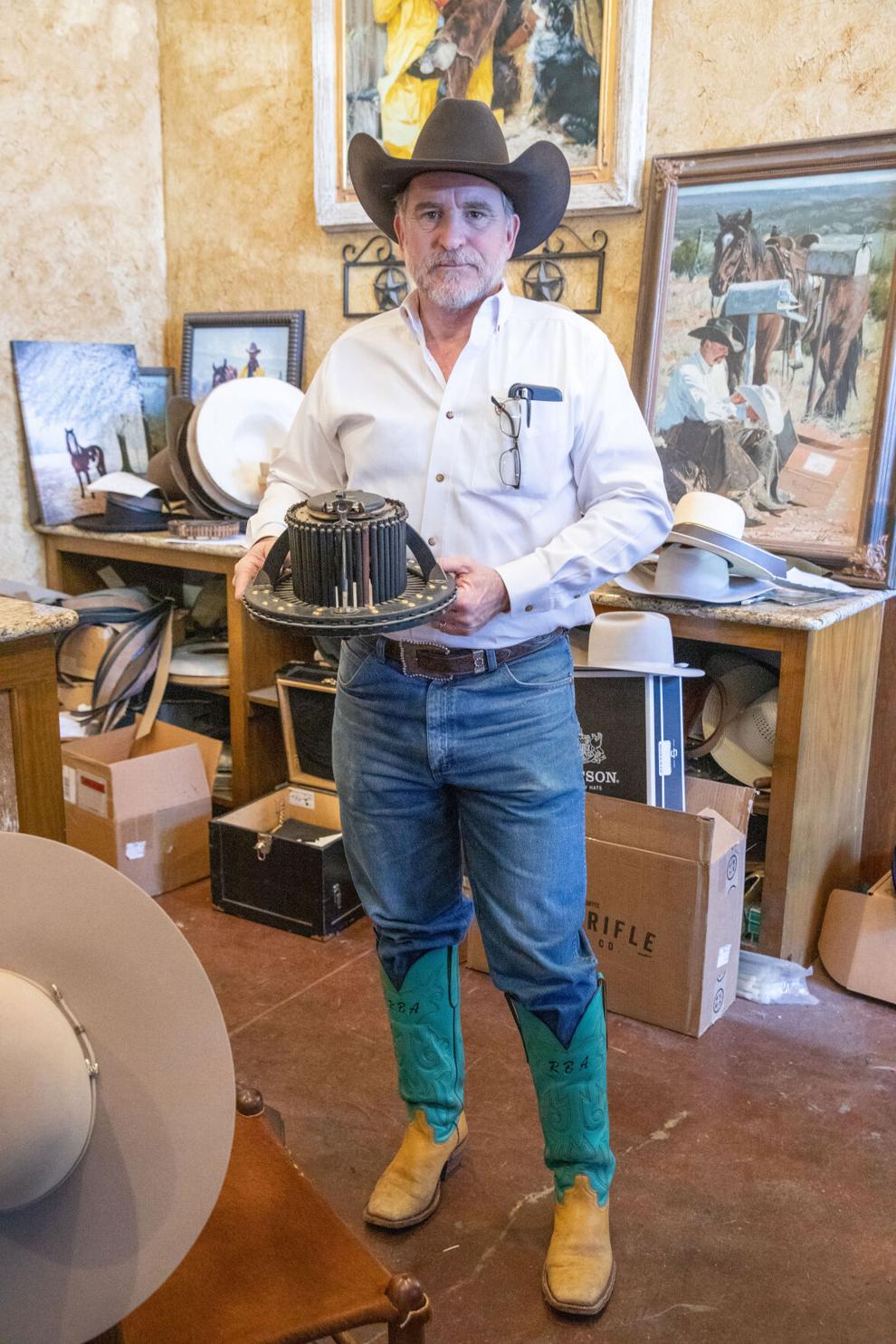 Dick Atwood never made a hat, he was simply a creative person who had a vision, taught himself the process and found the right people to make it happen.
Atwood Hat Company is now an international brand that distributes more than 200,000 hats a year and has been worn by the likes of Willie Nelson and Tommy Lee Jones. It touts hats with namesakes that pay homage to Texas such as The Abilene, The Marfa, The Childress and The Hereford (which is one of the company's best sellers).
Dick and Sharron Atwood were in the propane business for 30 years. When Dick retired, it didn't take long before he realized he was bored and needed something to do. He always had a love for hats. From the time he was a baby, he had one on his head.
Every month, Dick found himself needing to purchase a new hat after bailing hay and working the family ranch in the muggy East Texas weather. The straw hats to which he had become accustomed would meet their demise when they ultimately became to gross to wear.
The Atwoods vacationed to Mexico frequently, and Dick decided to purchase a palm hat to wear when baling hay. It lasted three years. During this time, he would wear it to the coffee shop every morning. All of his coffee shop buddies wanted a hat like his, which got him to thinking about how he could provide them with one.
The idea of Atwood Hat Company was born. Dick set off to Mexico in search of the perfect hat maker. He gave his specifications on sizes and amounts to several hat makers and spent the next year traveling back and forth to Mexico.
Once the hat makers completed his request, he brought them all home. He laid out all of the packages. Box after box, the sizes were not the specifications he had given them. Even though the hats were marked with different sizes, they all fit the same. Except one box. In addition to the hats meeting the size specifications he had requested, they were also the most well made. Dick knew he found the guy to bring his dream to life.
Dick flew back to Mexico, and met with the factory manager of the perfect hat. The factory was about two weeks away from permanently closing its doors, and the manager was about to lose his home. Dick enlisted the factory to make 200 hats — personally designing every style, bringing in a low crown, which was not popular at the time in the hat industry.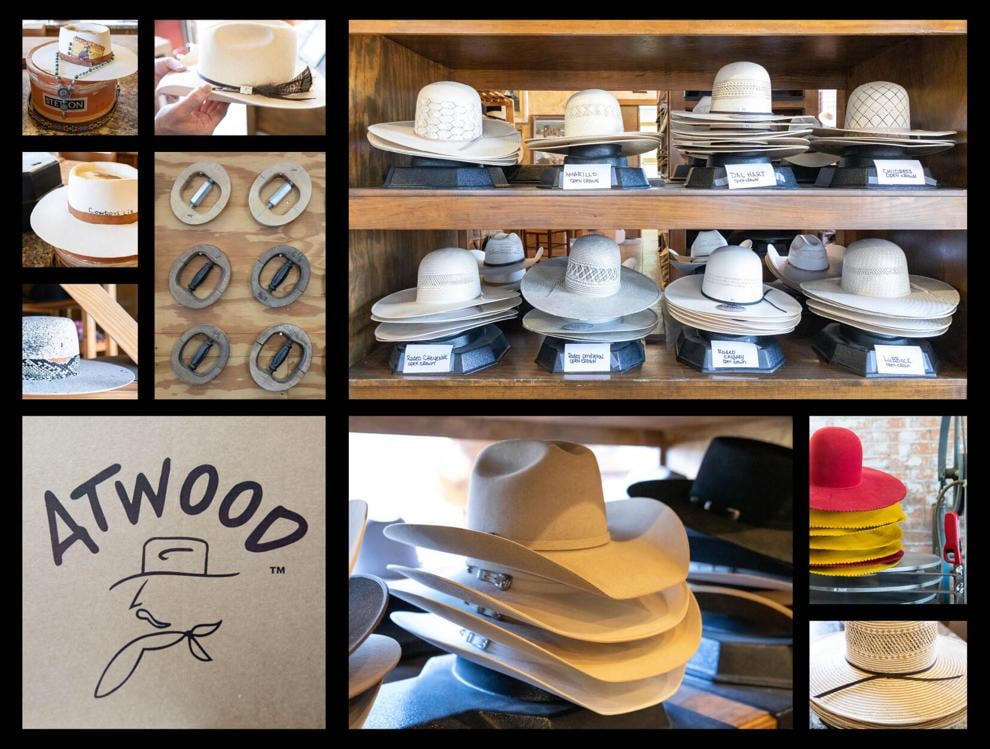 Returning to Texas, Dick toted the hats home and sold them to his coffee shop friends and community members out of a small portable building on his property. The hats quickly sold out, and the couple decided to try their hand at the Western apparel market. They signed up for market in Dallas, where they sold 300 hats. The Atwoods were surprised, but enjoyed what they were doing, and signed up for the market in Denver, which was another huge success. They continued to grow and expand their space.
Atwood Hat Company was the first company to sell Mexican palm leaf cowboy hats in the United States. The leaves are harvested, bleached and braided by workers in the remote mountain villages in the state of Guerreros, Mexico. Palm leaf is purchased by the bale and then graded for quality — good, better and best. Once at the factory, the hat maker takes a ribbon of straw and makes a circle, adding to it until the hat crown is formed. The crown is then passed on to another employee who sews another piece of ribbon to it to create the brim. The hats are then shaped and finished. Every palm hat they sell is handmade.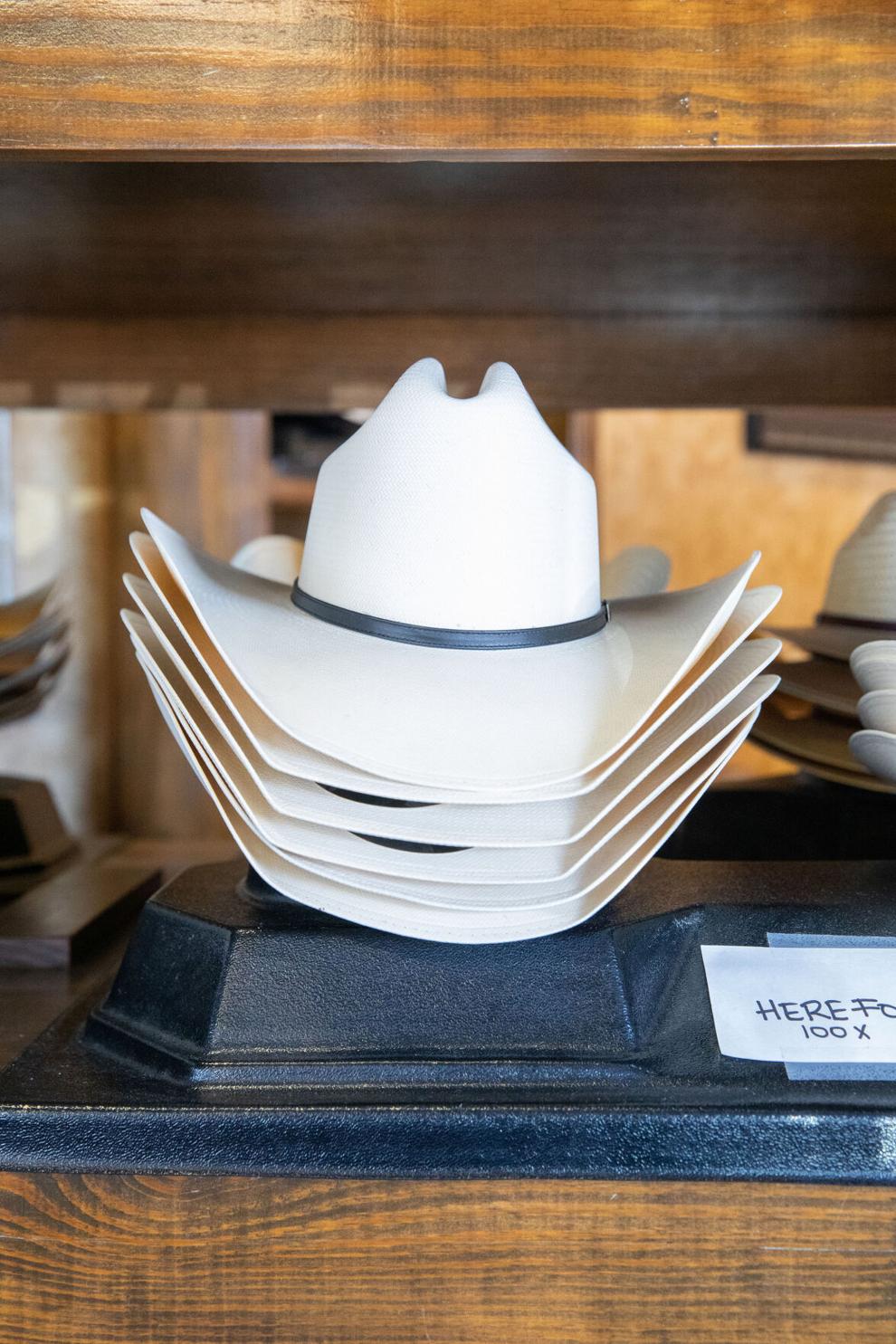 "He changed the hat industry in the United States," Sharron said. When Dick made a low crown, and created the Hereford style, she said every hat company followed suit. "Which is a compliment. We were very blessed. We were at the right place, at the right time with the right product, and that's all it amounts to," she said.
When they first started selling hats, a lot of people were resistant and thought the business would not last. But it did last; people bought the hats because they were well made and durable. "We have people come and say, 'Hey, man, I've got that hat I bought 20 years ago," Sharron said, "and that's quite a compliment."
The company carried only palm leaf hats until the Atwoods' son decided he wanted to add felt into the lineup. Brooks, a self-proclaimed hat snob, had grown tired of wearing felt hats that weren't up to his standards. "I decided I'd make a better hat," Brooks said. And he did.
He is now one of two people in the United States to offer an exclusive line of custom felts, Spradley Hats. He measures each customer with a vintage French conformateur, made in 1850, to ensure a perfect fit and makes each one by hand.
"He talked and he went and he looked and he watched, and he practiced and he practiced and he practiced and he practiced. That's the way you learn," Sharron said.
Atwood Hat Company offers different levels of felt from a basic 2X up to 100% beaver. "We can customize hats because we are small and our factory is here. There is a lot of personalization and good customer service with our company," Sharron said.
A few years ago, they kicked off a line of fashion felt hats — Wild Rose Hats — designed and customized by Atwood employee Cassidy Campbell. "People will call and say 'Can you do this and this and this,' and she will figure out a way to do it," Sharron said.
"She did one for last year's National Rodeo Finals, and the girl wanted her brand in the crown and wanted it lighted. Cassidy figured out a way to put lights in that hat so that it would shine and where to put the battery pack. That was quite a challenge," Sharron said.
The Atwood Hat Company storefront is in downtown Frankston, which is also where their felt lines are produced. It is housed in a character-filled brick building that has been in the Atwood family for more than 100 years. Previously it was a Ford dealership, a gas station and several other businesses before being occupied by the hat company.
While Dick passed away last year, the family still keeps his dream alive. They were humbled this year when Dick was awarded the Heroes, Legends and Friends of the Industry Award at the International Western/English Apparel & Equipment Market in Dallas, acknowledging Dick's impact in the Western apparel industry.
Atwood Hat Company is at 119 W Main St. Frankston, TX 75763. You can find them online at atwoodhats.com.