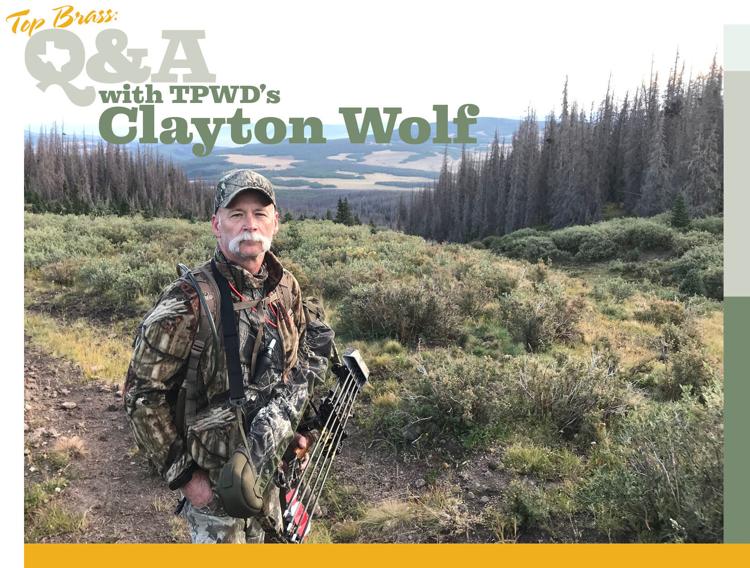 Clayton Wolf
Age: 56
Family: Wife, 2 daughters (married) and 2 grandsons
Hometown: Rockdale
Education: Bachelor's degree in Forest Wildlife Management from Stephen F. Austin State University; Master's degree in Agriculture in Wildlife Science from Texas A&M University
Favorite activities: Hunting, fishing and camping
Years with TPWD: 27
Clayton Wolf spent nearly three decades enhancing hunting of all kinds across Texas, and the last 11 years while riding shotgun over the wildlife division with Texas Park and Wildlife Department before being named the state agency's chief operating officer in July.
The veteran wildlife biologist has witnessed plenty of changes in Texas hunting since he was hired on as the Pineywoods district leader in 1993. Not surprisingly, he has been saddled with a host of statewide and regional challenges along the way.
I recently caught up with the Rockdale native and asked him to share some insight about his past, as well as his philosophies regarding hot topics like Managed Lands Deer Permit fees, antler restrictions, chronic wasting disease and more.
Q: You were named Director of Wildlife in 2009. Describe your career path to the head of TPWD's wildlife division?
A: I worked for five years for Temple-Inland at their Scrappin' Valley acreage and lodge in Newton County. These were really fun times, but after five years, I was looking for more challenges. I started with the TPWD as the Pineywoods district leader in Jasper. In 2001, I took the position of statewide White-tailed Deer Program Leader, and in 2003, I became the Big Game Program Director overseeing the management of whitetails, mules, bighorn and pronghorn.
Q: If you could name one person who has been most influential in your career, who would it be and why?
A: There were many, but probably the most influential would be Dr. Montague Whiting, wildlife professor at SFA. As a young wildlife student, I was more focused on the "fun stuff," but Dr. Whiting took me and many others under his wing. He pushed us, encouraged us and helped us see our potential.
Q: How many employees did you oversee as Director of the Wildlife Division?
A: The entire wildlife division has approximately 320 full time employees.
Q: You began your career as district biologist in the Pineywoods in 1993. How long were you there, and what are your best and worst memories as a wildlife biologist behind the Pine Curtain?
A: I'm not sure I had any bad times while in the Pineywoods. There were some challenges during lean budget times, but the folks I had the opportunity to work with always made hard times easier to deal with … and they made the good times even better. The things I enjoyed most were working with the team on turkey restoration, the white-tailed deer breeding chronology study and working deer check stations on the national forests. I took the job as white-tailed deer program leader in 2001 and moved to the La Grange area.
Q: You were based in Jasper County in 1993, three years after TPWD banned deer/dog hunting in the final two dozen counties in which it had been allowed for years. Not surprisingly, there was quite a bit of resistance from the deer/dog crowd that lingered for several years. What was it like being a wildlife biologist in Deep East Texas in those days?
A: Well, my first exposure to folks that hunted deer with dogs was when I worked for Temple-Inland. I would occasionally catch deer hounds on Scrappin' Valley, put the dogs in the kennels and call the owners to come get them. I don't think I ever made any enemies by doing that, but let's just say some folks seemed more appreciative than others.
Q: What is your most memorable experience in dealing with dog/deer hunters who were reluctant to change?
A: Probably my most memorable experience was when I was with one of my colleagues on a Type II public hunting area in Newton County trying to resolve an issue with signage being in the wrong location. We were confronted by a couple of individuals that were known to hunt deer with hounds even after it was outlawed. Let's just say there was a little tension in that conversation.
Q: A considerable amount of time and money have been spent stocking eastern wild-trapped turkeys across the region since the late-1980s, and populations have since fizzled in a lot of areas, including several public hunting areas and most national forests including the Angelina, Davy Crockett, Sam Houston and much of the Sabine. What do you think are the biggest hurdles facing wild turkey management in eastern Texas in the future?
A: Well, if you had asked me this question 15 years ago, I would have said the issue is as simple as the lack of fire. However, since that time, we have seen turkey numbers decline even in habitats that are prescribe burned, and this downward trend is occurring throughout other southeastern states. Obviously, the issues are more complex than just the presence, absence or even timing of prescribed fire, but I can guarantee you that habitat management will always play a significant role in our turkey restoration program.
Q: From the gut, do you honestly believe eastern turkey hunters will ever see another spring gobbler season in the Angelina, Davy Crockett and Sam Houston national forests? Why or why not?
A: Yes. I believe this is because we have a strong partnership with the U.S. Forest Service, and as we learn more from the ongoing research, we know our partners at the Forest Service and the National Wildlife Turkey Federation will do what is necessary to restore this bird to the timberlands of East Texas.
Q: You spend a fair amount of time in the field hunting yourself. What would you say are your favorite three critters to hunt?
A: Just three? That's a tough one. I would say my top three are deer, elk and turkeys, followed by dove and ducks. Wait a minute, bobwhite hunting has to be at the top as well, but I just don't get that many opportunities anymore.
Q: Where do you do most of your hunting?
A: I'm no longer on a lease. I'm fortunate to have some small tracts of family land to hunt, and I usually get a few invitations to hunt with friends on their leases or land. These days I hunt a few counties in the Hill Country, and I usually try to make a trek to Colorado to chase elk with a bow and arrow. The family land is in Lee County.
Q: When it comes to wild game, what is your favorite table fare, and how do you like it cooked?
A: My favorite has to be grilled quail that has been marinated in Italian dressing. My second favorite is axis deer back strap on the grill.
Q: As a deer hunter, would you consider yourself a trophy hunter, quality deer hunter or just a guy who likes to shoot a few does each year?
A: These days my motivation is to get out with family and friends, and a lot less about antlers. If I get to "camp" with my hunting buddies and put a couple of does in the freezer, I'm a happy man.
Q: Which style of deer hunting do you prefer — rifle or archery, and why?
A: Definitely archery. It's the challenge and the fact that I still get excited when the deer is within 20 or 30 yards.
Q: When you were named wildlife director in 2009 you said: "With the continued increase in the state's human population and urban sprawl, we have quite a challenge ahead of us. It is my goal as wildlife division director to help ensure our resources are focused on the things we do best — working with private landowners and land managers to help them manage and conserve wildlife habitat. If we can do this successfully, and I know we can, we will be able to ensure that Texans continue to have places where they can enjoy Texas wildlife, whether hunting or wildlife viewing."
Would you say the mission has been accomplished, and how would you rate your performance thus far?
A: I would say that our mission will never be accomplished, but because of the dedication of TPWD wildlife biologists, and the strong land ethic of Texas landowners, we continue to make significant strides.
Q: Deer hunting has changed significantly in East Texas over the last 10 to 15 years. Hunters are shooting more quality bucks than ever, and many believe much of the credit is owed to antler restrictions. How would you respond to a hunter who makes the contention that antler restrictions favor those hunters who strictly target trophy deer, or that the rules take away from the guy who just wants to shoot a buck for the freezer?
A: Yes, I believe that the antler restrictions regulations have made a huge difference in the age structure of bucks in East Texas. The data is clear. I do not believe that this regulation favors those that want to target trophy deer, because the regulation still allows for the harvest of "spikes" and does in most cases. In fact, the last time I looked at the data, once you get past the first 2-3 years of the regulation, hunters are harvesting the same number of deer, and they are harvesting older bucks in many cases.
Q: What was most unexpected challenge you dealt with as the leader of TPWD's wildlife division?
A: Wildlife diseases. Wildlife diseases bring new challenges to managing our wildlife species. These include chronic wasting disease, white-nosed syndrome, rabbit hemorrhagic disease, avian influenza and many others.
Q: The Texas Parks & Wildlife Commission recently authorized the department to begin levying fees on participants in the state's Managed Lands Deer Permit Program, a voluntary program with a long history of being free to those who qualify for enrollment.
Some clubs and hunters believe implementing a fee on constituents for a service that has been free for more than a decade is unfair, and that TPWD should look for other ways to fund the hiring of additional wildlife biologists needed to help run the program. What are your thoughts on that?
A: I would respectfully disagree. Yes, we have been providing the services through our MLD Program since the 1990s, but the burden on our biologists has increased significantly since then, with essentially no increase in staff to provide appropriate service and technical guidance. Since the program is voluntary, and provides additional benefits like longer seasons and increased bag limits, I think a user-pay model is fair.
Q: What advice would you offer to a high school student, who is interested in pursuing a career path as a wildlife biologist?
A: If it is their passion, they should pursue it with gusto. They won't regret it, but they will have to work at it. It is a competitive field.
Q: What would you say are the main advantages to going to work for a state or federal agency as opposed to being an independent wildlife biologist or consultant? What are the disadvantages?
A: I'm not sure I am qualified to speculate on the advantages or disadvantages of working for a federal agency, but I can tell you that it is very rewarding and fulfilling to work for an agency whose mission is to manage our cultural and natural resources, and provide hunting, fishing and outdoor recreation opportunities for present and future generations. Nothing can beat working for an organization and with colleagues that are committed to the mission.
Q: Hunting club members and managers sometimes worry themselves into a frenzy trying to determine whether they should implement a "culling program" or "cull" certain deer. What are your thoughts on culling?
A: There is no doubt that antler characteristics are heritable. When it comes to the typical East Texas hunting club, there are so many other complicating factors; I would suggest that hunting clubs should not become obsessed about culling. If hunters pass up younger bucks that appear to have more potential, that's fine, but they should not expect that a few of these decisions on a recreational hunting lease are going to measurably change the appearance of that herd in the future. It's also not going to hurt anything.
What hunting clubs and members should be focusing their attention on is recruiting more folks into hunting. The biggest threat to the future of deer hunting is the inability to recruit new hunters and maintain support for our hunting heritage. I would suggest that hunting clubs should be having conversations about hunter recruitment, retention and reactivation, otherwise the subject of culling will be meaningless. If Texas deer hunters will focus more time introducing new individuals (youth and adults alike) to hunting, and spending less time debating culling, time at deer camp will be much more gratifying and much more meaningful for the future of our wildlife resources.