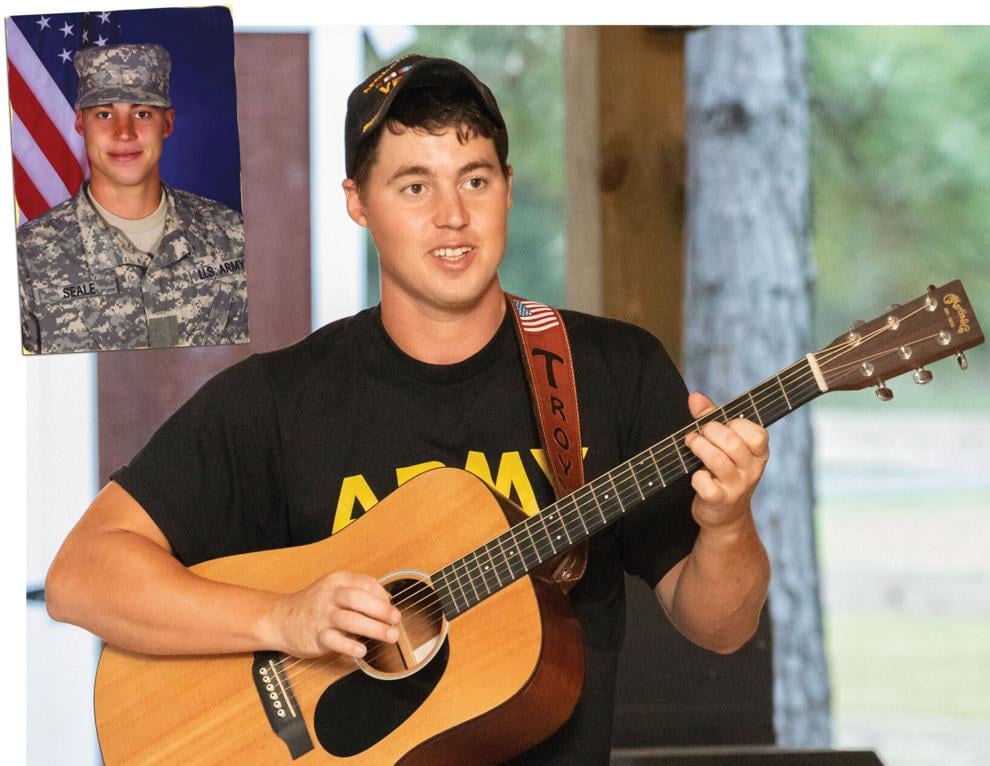 KENNARD — Campers at the T bar S Horse Camp slowly make their way up to a pavilion after a hefty dinner and a long day of riding along the camp's equestrian trails.
String lights fashioned into the shape of an American flag come into view as the sunny day fades away behind the East Texas pine trees. In an area designated as the stage for that night's performance, Troy Seale holds an acoustic guitar he has already tuned, waiting somewhat impatiently for the show to start.
Troy is tall and slim with dark curly hair; he smiles easily and will stomp his feet in anticipation. His face takes on a serious clarity when he begins to play that is absent without his guitar.
He graduated from Fort Leonard Wood on Dec. 18, 2015, and served in the U.S. Army as a driver. He shipped out of Fort Hood in May 2016, after he received an assignment in a combat zone of Afghanistan.
"We went out there and adios-ed him," said Troy's dad, Bill. "At that point, he was good — better than he'd ever been, even in high school. He was alert, ready to roll, gung ho."
Troy was serious, active and aggressive before leaving for Afghanistan, according to Bill. It was the last time Bill would see his son as he knew him then.
In school, Troy was inquisitive and thought seriously about making money. His favorite thing about school was sports; he played offensive guard and defensive end in football, ran track and competed in powerlifting, Bill said.
He also was motivated and excited to learn new things, even developing his own yeast that could be used to distill his own liquors, Bill said.
Troy wanted to join the military because he wanted to serve his country and make a little money at the same time. He had dreams of opening his own moonshine distillery after leaving the military and pushed his family to take trips centered on the trade.
Troy was most concerned that it would be extremely hot in Afghanistan. It was.
"We were all over the place," Troy said.
He was certified to drive medic teams and a ribbon truck, which is built to carry a bridge that can unfold and refold as needed. He served in Afghanistan for about six months, Bill said.
"We hadn't heard from him," he said. "We got a few letters from him when he was in bootcamp."
Troy called Bill one day, asking, "What's up, Dad?" and they talked for a bit.
He told Bill about an incident where he'd been driving a medical truck when some Afghan soldiers in a trailing vehicle pulled off to the right side of the road. He watched in the rear view mirror as the truck blew up. He started to turn around to go back before his sergeant made him rush out of the area with the rest of the convoy.
"I asked him if he was OK. He said, 'Yeah,'" Bill said. "I asked, 'Well did it scare you?' And he said, 'Yeah, it scared me. I've seen hell and I've seen God.'"
Bill felt all right about this answer because at least Troy was answering him, he said. He was nervous the whole time his son was deployed but he knew it was what Troy wanted to do.
Troy called again about two months later and asked the same question, "What's up, Dad?" But instead of talking to his father, he sat silently on the line for about 45 minutes before Bill ended the conversation.
Bill said he didn't think too much about it at that point because he thought maybe Troy just wasn't in a place he could really speak openly. Bill said Troy was stationed in a compound called Fenti at that point.
Troy called again about a month later and did the same thing. This time Bill held on the line for more than an hour trying to get his son to speak to him to no avail.
About a week later — ''at two o'clock in the morning,'' Bill said — the Army called and requested they come to Fort Hood.
A captain and lieutenant met the Seale family at the gates and led them to the third floor of the hospital. The captain and lieutenant told Bill the same thing Troy did — that there had been an explosion and Troy began to withdraw shortly after that, struggling to communicate with anyone.
The family worked with the military for a long time before finally convincing the Army's medical staff to place Troy on 100% disability.
And since that time, his parents have been doing everything they can to help Troy find a new way to navigate the world.
Troy said he has regained a lot of his independence in this time. He also said music is one area that has helped him rebuild his life.
On a father-son trip to Alaska, Troy and Bill found themselves snowed in for several days in British Columbia. Bill said they stayed that way for a while and filled the time as best they could. Bill had brought Troy's guitar from his time in high school — something he learned to play a little bit, mostly hard rock songs, much to Bill's chagrin.
One night he encouraged Troy to pick the guitar up and play, and it didn't take long for his son to impress Bill with a series of songs he had no idea how Troy knew how to play.
"Up to that point, he hadn't touched it, not one time in his years in the Army," Bill said.
"I just had to feel for it a little bit," Troy said. "The feel, and I just kind of had the interest in, 'Oh, how do you make something sound like that?' And then I just kept playing."
Troy said the music came out the way he wanted it to. When it didn't, he just kept practicing on those songs, he said.
Since that night in British Columbia, the Seale family has had nothing if not extraordinary situations arise, Bill said.
He and Troy began to look for ways to implement music into his life more. In doing this they connected with a jam circle near Lake Stryker where Troy has been able to play with musicians and to create connections.
From there, he was commissioned to play at a July 3 festival celebrating Independence Day and stole the show, Bill said.
The family has met with Dutch filmmakers and celebrities they never could have dreamed of; one in particular being Kevin Costner, the acclaimed actor known for his Oscar-winning performance in ''Dances with Wolves'' and his Emmy Award-winning performance in the ''Hatfields & McCoys.''
The Seales met Costner following a musical performance by the actor at an East Texas venue, Bill said. Costner had heard of Troy's situation and acquired the help of local law enforcement in the crowd to help him meet with the family.
Troy was able to play a little of his guitar for Costner and the actor signed it, Bill said. Costner and Bill have texted back and forth with each other since, in hopes of meeting again.
The Seales don't want Troy's story to be one that inspires pity, but rather hope. Troy and Bill want to continue to perform, if for nothing other than for Troy's health. But neither are particularly interested in earning an income from the performances.
Bill said the performances have inspired people to come forward with money meant for the family. He politely turns it away when he can and encourages those people to take that money to a church or local Veterans of Foreign Wars outpost.
For people in the Lufkin or Angelina County area, he encourages readers to take their donations to the Lufkin VFW Post 1836.