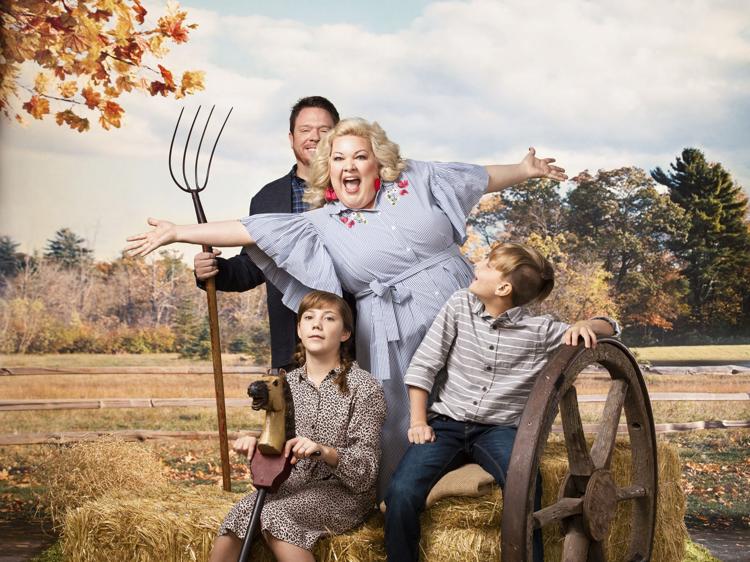 She steps out of her 2009 Ford SUV parked on South First Street in Lufkin, walks through the door of the Standpipe Coffee House and breaks into a million-watt smile. Heading straight toward her interviewer, she proceeds to hug a man she's never met and immediately knocks off one of her loop earrings. She leans over to find it, and if it had rolled beneath one of the benches, there's no doubt Melissa Radke would have hiked up her pretty dress and crawled wherever necessary to retrieve that earring — appearances be danged.
Bystanders who don't know her might wonder, "This person is going to have a TV show?"
Only a few minutes of conversation provides more than enough evidence.
She is exactly the type of person who should be on television.
Melissa, her husband David and their children Remi and Rocco are going to be introducing themselves to TV land soon. Beginning June 4, the USA Network will air six episodes of "The Radkes." Filmed in Lufkin, the show is billed as an "unscripted family sitcom."
What does that even mean?
It means with the Radkes, what you see is what you get.
Melissa is East Texas charm through-and-through. It's the hug. The smile. The bubbly laugh. There is no "g" at the end of any word ending in "-ing." It's "somethin'." It's "talkin'." It's "singin'." It's "laughin'."
It's flying out to Los Angeles for appearances on daytime talk shows or photo shoots and wishing, as she says, she could get right back home.
"At the end of the day, Lufkin was the only place I wanted to be at night when I went to sleep," Melissa says. "I could be in L.A., and have all the fanciest rooms and service, but I just wanted to come home. I wanted to be back in the Hudson Middle School car line waiting to pick up my kids.
"So I would ask David to do it for me."
And David? The guy could use a little work on his opening lines. You know, those cool utterances guys feel necessary when meeting a pretty girl. The old stand bys — "Did it hurt when you fell from heaven?" or "Are you a parking ticket, 'cause you've got 'Fine' all over you" — weren't good enough for David. No, sir. He went full-blast original with the girl sitting behind him on a bus hauling college kids to a performance.
"You want to get your nasty, stinky feet off the back of my seat?" he finally turned and asked to Melissa during the ride.
"If you'll brush your teeth so they don't smell like my feet," Melissa shot back.
True love was born. They were married shortly afterward.
"In our house, if I call you an idiot, it's a term of endearment," Melissa laughs.
Yes. These are exactly the type of people who need to have their own TV show.
■ ■ ■
For as long as she can remember, Melissa knew she wanted to be an entertainer. Raised right here in East Texas — she attended schools in Hudson — she sang in her church. As a child, she says, she would come home from Hudson Elementary School, place her jam box in a window and step outside onto her "stage."
"I'd sing Whitney Houston, Mariah Carey or Janet Jackson, and when the wind blew, that was the applause," Melissa says. "At 11 years old, I'd be all like, 'Please God, let the wind blow so I'll know people like me!' Then the wind would blow, and I'd practice my bow."
Melissa and David met at Southwestern Assemblies of God University in Waxahachie. David, from Burkburnett (near Wichita Falls) was there to play basketball. They both joined a traveling music group — hence the romance-sealing bus rides — and formed a friendship first.
"We truly became friends before there was ever a romantic interest," David says.
They married and moved to Nashville and Belmont University, where David majored in music business while Melissa majored in commercial music. They would remain in Nashville for the next 16 years: David started as a road manager handling tours before moving into artist management, where he oversaw artists' careers. When the music industry suffered a downturn because of the digital age and piracy, David went back to law school to become an entertainment attorney.
At no time did he ever dream he was all part of a bigger plan, and that his most important eventual client would be the girl with the "stinky" feet.
Melissa performed studio and background work as a vocalist in Nashville, but there just wasn't enough work available. Where else was she supposed to go to further her career? East Texas?
Nah. No way.
Way.
"So we moved back home to Lufkin," Melissa says, "and look at the coincidence and oddity of it all: I'm married to an entertainment attorney, so now David is doing what he was trained to do, he's just doing it for me.
"Some people are all like, 'Oh, your husband's your manager?' Well, he wasn't making doughnuts before this. He's been training for this. There's scripture that mentions, 'For such a time as this …' That's the Radkes right now."
Entertainment attorney in Lufkin. Sounds like the easiest job around. It might have been, had it not been for Melissa's personality.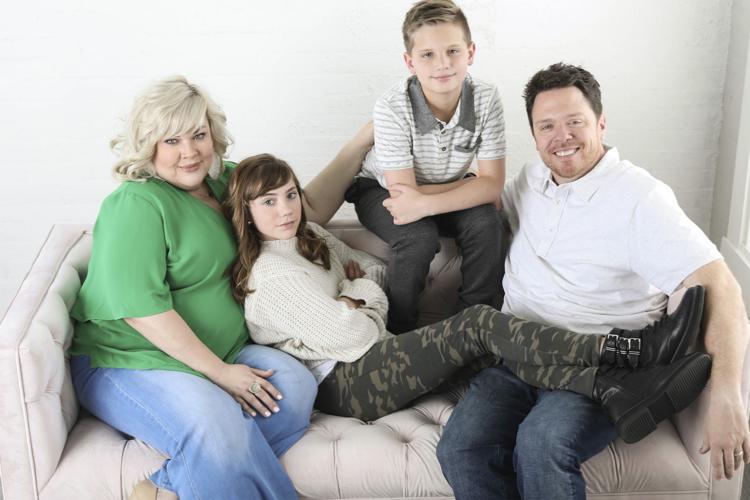 A little more than three years ago, she began recording and posting videos to social media, realizing the size and scope of the platform. She says David encouraged her, told her she had exactly the personality to which people would be drawn.
"If nothing else, we thought our families would think it was a hoot," Melissa says.
She did a couple of videos before one, "Red Ribbon," went viral. Another, "Signs," ended up a topic on ''The Today Show.'' "Upside Down French Braid" drew tens of thousands of views on YouTube.
Viral? You could say that. Currently, Melissa's videos have drawn more than 57 million viewers.
"I literally thought, 'Oh, crap. What have I done? I've gotta spend the rest of my life making videos on social media. I've got other stuff I want to do. I've got other stuff I want to say.'
"But because of those stinkin' videos, a literary agent in New York started following me and talked to me about a book, and an editor in New York started following me and said they wanted that book," Melissa continues. "And a production company out of Knoxville, Tennessee, told us they thought they could do a show with us. So you never know what's going to happen. And although I thought I'd painted myself into a corner as the funny mom who's always doing funny stuff with her kids, it turned into so much more than that."
And this is where the couple's faith comes into play.
"I really just think that's what God used. I have felt called to 'ministry' — I use quotes around that because who even knows what that means? — since I was nine years old, but I always thought it would be through singing because my whole family sings," Melissa says. "I thought God wanted me to sing. Just sing in the church forever and ever and ever. The truth is, God's using my voice — just not exactly in the way I thought He would.
"It's so God. It's never in the way you expect."
■ ■ ■
Now about this family. Networks call it the "the core four." Mom, Dad and two offspring.
To get to the four, the Radkes endured both heartbreak and hope.
"We had a long journey there," David says. "We endured about 12 years of infertility. Then, around Christmas of 2005, we got to spend about two hours with our son before he passed away.
"About three months later, we got a call that a birth mother was pregnant and was looking for a family, and our daughter Remi was born in Galveston, but through our relationships in Lufkin, she came to us. About two years later, Rocco — we were still in Nashville, and Rocco was born in Lufkin — we got another call that a different birth mom was also looking for a family to adopt her baby. That's how we were blessed with our children."
Naturally, the children — Remi is 13 and Rocco is 10 — are a big part of the show.
Ages 13 and 10. It's enough to terrify both parents.
"It's, uh, it's getting rough," David groans while shaking his head.
Melissa, twirling her hair, says in mock hysteria, "It's so awwwweeesommee."
"That's what we want people to know when they're watching," Melissa explains. "Have a little grace on us. Would you want your kids televised when they were 10 and 13? It's tough, man. You never know what's coming out of their mouths. There were so many times the kids would say something to the cameras, and I was begging, 'Take that out! Take that out!' You never know.
"If Rocco said it once, he said it a thousand times: Did you know that Uranus is a gas planet? I think it showed up in every single episode. It's a typical kid thing."
Oh, and when tuning into the show, keep an eye out for Aunt Melba. She's the one, according to Melissa, who presents the danger of the show receiving an "R" rating.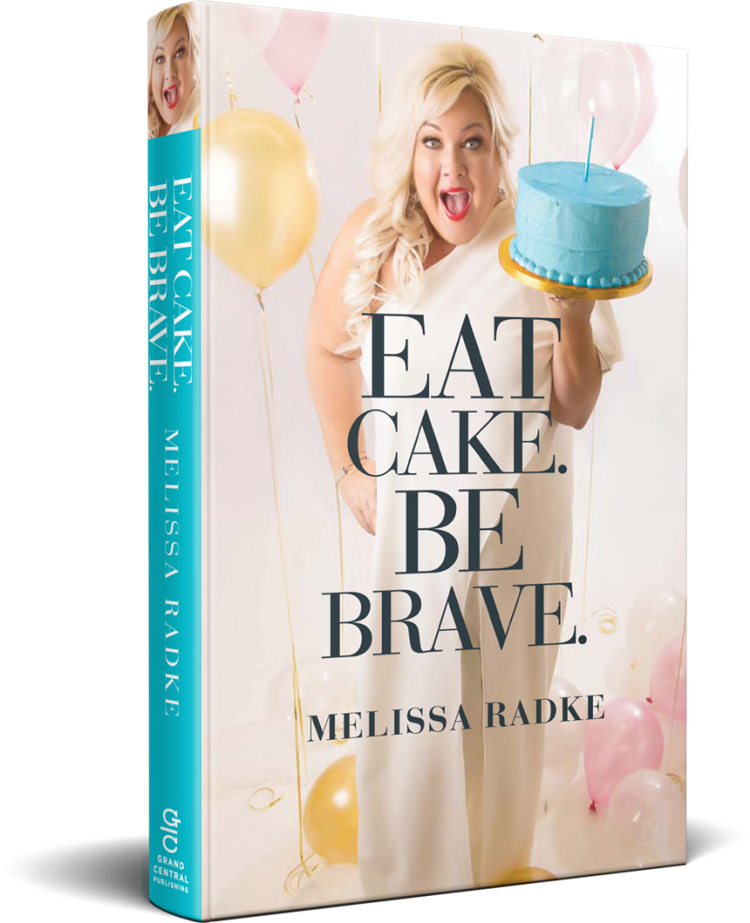 "There's an episode where Melissa's a little nervous about discussing the birds and the bees with Remi, so she sends Remi to see Aunt Melba," David says.
"Aunt Melba can talk about sex with anybody," Melissa laughs. "She did a great job."
"The network has always called us an 'unscripted family sitcom.' We're hoping Aunt Melba doesn't lose that 'family' moniker for us," David says.
But what if the show bombs? Doesn't connect with real people the way the family hopes?
Neither Melissa nor David are concerned.
"I can honestly say we have not manipulated this in any way," Melissa says. "We just remain focused on the big picture and the long-term goal, and that is that our children are raised to love the Lord, to love and respect people, and that we raise good citizens; that our marriage remains strong, and I continue to do what I'm called to do. Whether the show succeeds or fails, that's the big picture. When I tell you we feel the show is just the cherry on top, we really do.
"If the show blows up, I don't plan on any of that changing. I'm giving all of Lufkin the power to hold us accountable to that. We've got great people, great family, a great circle of friends here. If we get too big, they'll tell us. We want them to tell us."
■ ■ ■
So what if Nashville couldn't find a place for the little lady with the huge personality? She and her husband made it anyway. They made it right here in Lufkin.
"The best compliment I've ever gotten was at the Nashville book signing," Melissa says. "I was very nervous; I talked about Nashville a lot in my book. I mean, I was rejected there.
"The place was packed, full of women who knew me from before. They lined up to come up and have me sign their books. A lady leaned over and said, 'I'm so glad Nashville didn't want you so the rest of the world could have you.'"
So now the rest of the world gets to meet the Radkes. They'll meet them right where Melissa started, and now the audience is bigger than the wind in her backyard. Having her success originate in her hometown is perhaps the biggest source of pride for Melissa.
"I say this a lot, but Miranda Lambert did a song, 'The House That Built Me.' Well, this is the town that built me," Melissa says. "This is home base, and I always want to come right back here.
"The people in our lives here? I hope they're always going to be right here with us."