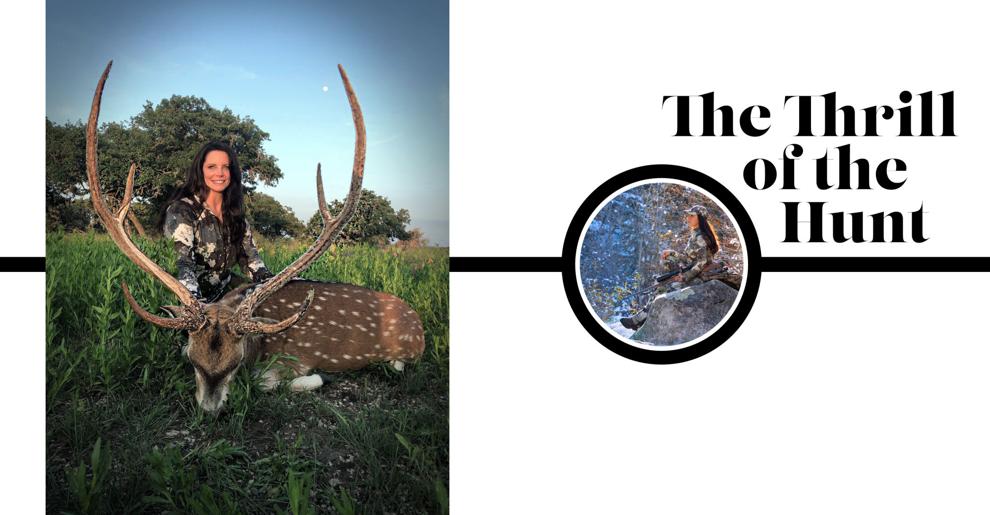 From the freezing wilds of Canada to the playas in West Texas and just about everywhere in between, Cherri Teutsch feels right at home in the great outdoors.
Growing up in East Texas, Teutsch said some of her favorite memories were spent catching perch with her cousins and listening to hunting stories around a campfire at the family's deer lease. With her maternal grandparents living next door and an active outdoorsman as a father, she was often invited to tag along on frequent hunting and fishing trips.
"I always loved the preparations for deer season each year," she said. "Building box stands and hauling them out to West Texas, setting feeders, shooting rifles and, believe it or not, I loved getting up before daylight and sitting next to my grandfather in a deer stand. I have such fond memories, and I learned so much on those trips.
"My dad's side of the family also hunts and enjoys fishing, so I spent time at the deer lease and the lake house with them, too. All those wonderful experiences laid the foundation for my love of the outdoors."
She was just 12 years old when she shot her first rifle, but says she began perfecting her skills as an adult. Teutsch hasn't looked back since.
"Being proficient with a rifle, learning about ethical hunting practices and spending time with family in the great outdoors at a young age really led me down the path I've followed."
And that "path" has taken her on some truly incredible adventures.
Like the time she was in Canada and took down a black bear with her bow from only 13 yards away.
"Standing my ground as the bear bluff-jumped at me took every bit of nerve I had. I was grateful to be able to make a complete pass-through kill shot in such an intense situation."
Or in 2019, when she bagged a world-class free-range axis at 200 yards away with just one shot. The "extraordinary wide spread and monstrous main beams" made her axis the No. 18 largest in the world and the largest free-range axis in the world ever harvested by a woman.
Or the time she snagged a 40-pound King Salmon while fishing on a drift boat on the Kasilof River in Alaska, after spending that same week knee-deep in the Kenai River, catching her limit of Sockeye Salmon every day.
While she admittedly enjoys all types of hunting — elk, deer, bear, turkey and exotic game — she prefers hunting waterfowl and wingshooting because it "feeds her competitive nature."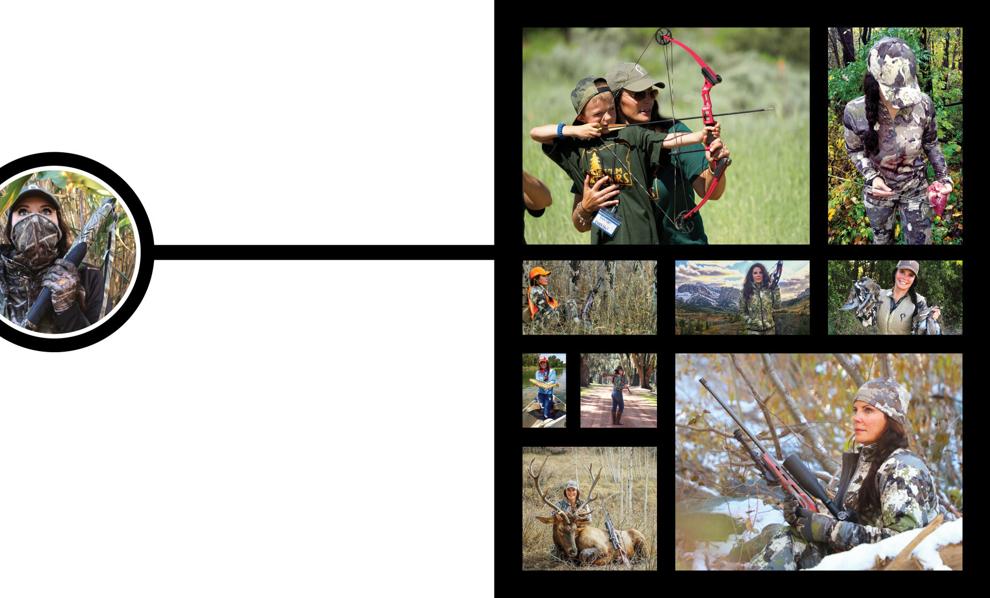 She humbly acknowledges it was hard work that brought her to where she is today.
"Hunting is like most hobbies or sports, the more time, energy and effort you put into something, the more successful you'll be. I do seem to have some natural ability, but I'll give my patience, tenacity and hours of practice shooting my bow, rifle and shotgun the credit for my successes or 'talent.'"
Over the years, Teutsch has had the opportunity to travel across the United States and Canada doing what she loves most.
She withstood a raging thunderstorm with a torrential downpour in Illinois while sitting in an unusually high tree stand waiting for her perfect shot; traveled hour after hour on dirt roads while fending off massive mosquitoes on a trip to Alberta, Canada; has hunted waterfowl from Lake Erie, Pennsylvania, to Port Aransas, Texas; and spent eight days on horseback in the blowing snow in Wyoming tracking migrating mule deer.
"Just surviving the single digit temperatures, the 10 to 12 hours a day on horseback, the 12-inch wide trails with rocky drop-offs, taking shelter behind a boulder in a snowstorm and an ornery shin-kicking mule makes my Wyoming mule deer hunt one I'll never forget."
And while she typically returns from each hunt with something to show, it's the epic memories she treasures the most.
"I've enjoyed some of my best meals with some of the best people while on hunting trips. A little hole-in-the-wall place near the Mexican border for the best chicken tacos ever; steak and eggs on the tailgate of a truck while goose hunting in Pennsylvania with the annual Garden Tractor Pulls roaring nearby; and sitting around a couple of jetboils on a mountain in Idaho swapping and trading freeze-dried packets of lasagna and chili mac are a few of my favorite bonus memories on hunting trips."
Her long-flowing brown locks, blue-green colored eyes and drop-dead gorgeous smile has given some cause to disparage the petite East Texas woman in the past. During a trip out west, a fellow hunter claimed having "a woman in a hunting camp was bad luck, and I was the reason he wasn't seeing any bucks." In true East Texas, bless-your-heart fashion, Teutsch coquettishly pointed out that the man hadn't seen her in camp since the day they arrived. The reason?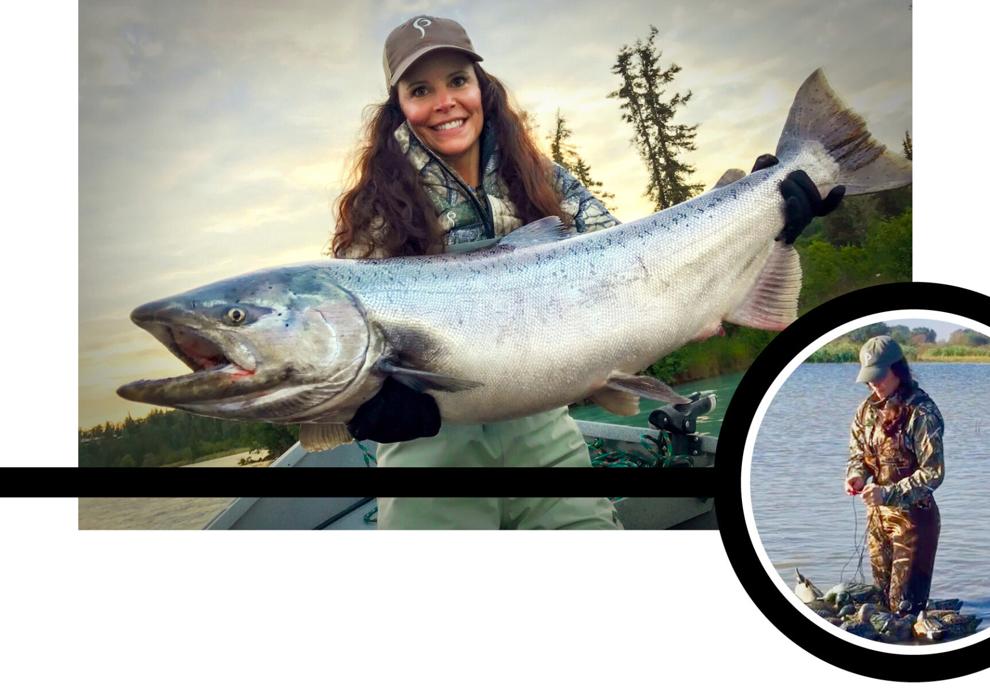 "I told him it was because I rolled out each morning an hour before him and was headed up the steeper backside of the mountain before he even brushed his teeth. I explained that I packed a lunch and stayed on the mountain all day instead of coming in to nap midday. I reminded him that I'd been absent from the dinner table the hunters shared each evening because I'd stayed out hunting until the last legal light to shoot. I ended our conversation by telling him if he'd spend a little less time in camp, he'd have better luck seeing a big buck. After that little encounter, we got along just fine," Teutsch laughed.
And while for the most part, Teutsch said she's been pretty fortunate when dealing with members of the opposite sex, stories like that give her all the more reason to use her status to discredit negative stereotypes. As a nationally recognized hunter, Teutsch advocates for maintaining the right to hunt, ethically and responsibly. She also encourages others to pick up a bow or a gun and head to the woods.
"Teaching the younger generations to hunt ethically is also teaching them valuable life skills. You're teaching discipline, how to deal with disappointment, responsibility, patience, respect and self-reliance when you share ethical hunting practices," Teutsch said. "As the older generations retire from hunting, the younger generation has to take up the flag and keep it flying."
When she's not out hunting, Teutsch dedicates her time and resources to major conservation groups, including the National Rifle Association, Rocky Mountain Elk Foundation, Safari Club International, Houston and Dallas Safari Clubs, the Mule Deer Foundation, National Wild Turkey Federation, Ducks Unlimited, Texas Wildlife Association, Texas Trophy Hunters Association, the Sportsman Alliance and the American Daughters of Conservation.
In addition to being a ProStaff member for ReelCamo Girl, a lifestyle brand that focuses on women who love the outdoors, she's also a lifetime member of DIVA-WOW Women Outdoors Worldwide, a volunteer organization that strives to support, encourage and teach women the benefits and enjoyment of shooting and outdoor sporting activities. She also represents Prois, a women's hunting apparel company run by women that manufactures athletic, technical hunting and shooting clothing for women.
"Having these partnerships and relationships with these fine companies allows me access to top quality outdoor products that prepare me for the hunt, enhance my performance and protect me while I'm afield," Teutsch said.
Other outdoor companies she represents are Grizzly Coolers, Tactacam and GSM Outdoors, which is the umbrella company for Stealth Cam, Walker's Game Ear, Muddy, Hawk Hunting, Big Game, Birchwood Casey, Nap Archery Products, Hunters Specialties, HME-Hunting Made Easy, SME-Shooting Made Easy, Bullseye Cams, Cyclops, Boss Buck, American Hunter, Western Rivers, Viking Solutions, Coyote Light, Crossfire Gear, Scent Slammer, AmmoPal, Down & Out Blinds, Tekmat and Skullhooker.
But the cool gear and national recognition isn't everything. Each trip to the fields, the forest, the mountains, the lakes and rivers or the swamps is a new and unique opportunity to strengthen Teutsch's character and resolve.
"Hunting has taught me hard work, patience, persistence and self-reliance in a way nothing else has. The time and effort required to be consistently successful is quite substantial. Tenacious determination has served me well when the terrain was tough or the mountain air got thin," she said. "One of the other things I've learned is to manage disappointment more effectively. If a hunt ends without a harvest, it's still a win. I have a grateful heart for the time afield, and I usually learn or see something new each time."
For those interested in learning about hunting, Teutsch offers this advice:
"Get outdoors, find someone near you to mentor you, read, research and learn everything you can about what you're interested in. Put the time and effort into mastering your skills then move forward confidently. Women are the most capable, resourceful creatures on earth. With a little determination and instruction, they can accomplish most anything they set their mind to."