In every marriage, life throws curveballs that require patience, selflessness and partnership to overcome. With Rebecca and John Yarbrough, that curveball involved a lifelong passion and an act of true love.
Rebecca suffered a stroke in her sleep seven years ago that caused her to lose most of the function of her right arm. This made much of her daily life a struggle.
"You get used to yourself all over again, and it seems unreal," Rebecca said. "I've learned a lot now."
But that wouldn't be the biggest aspect of Rebecca's challenges from the injury. The worst part was that she now found it impossible to cut the fabric for her favorite hobby — quilting.
The fine motor skills required from both hands was too much for her. At first, she was encouraged to keep quilting with a little help from her friends. John said a friend — Hope Gordon — was instrumental in inspiring her to get back on her feet.
Yet over time, the waiting nagged on Rebecca, and she began to get discouraged.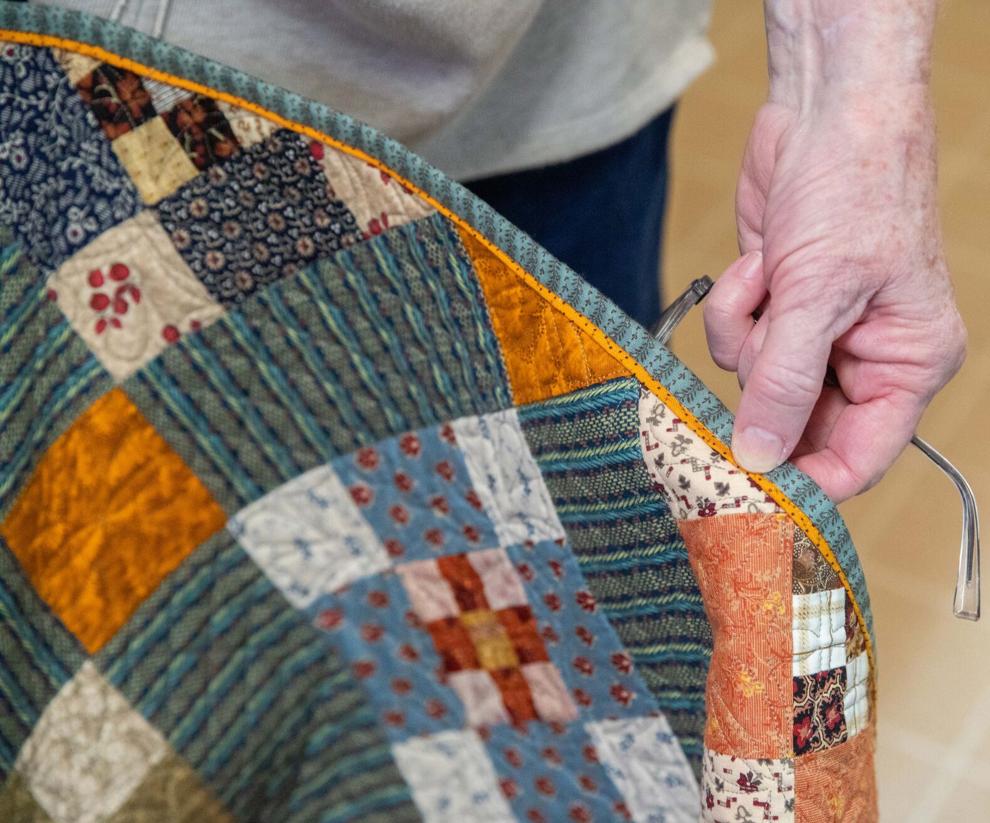 "I kept complaining," she said. "I would wake up in the morning before John left for work and I'd say, would you just cut these few pieces and I'll put them together? Then he came home at lunch and I'd say, could you cut these pieces? Just a few. Then he'd come home at the end of the day, and I was waiting for him. Can you cut just a few pieces?"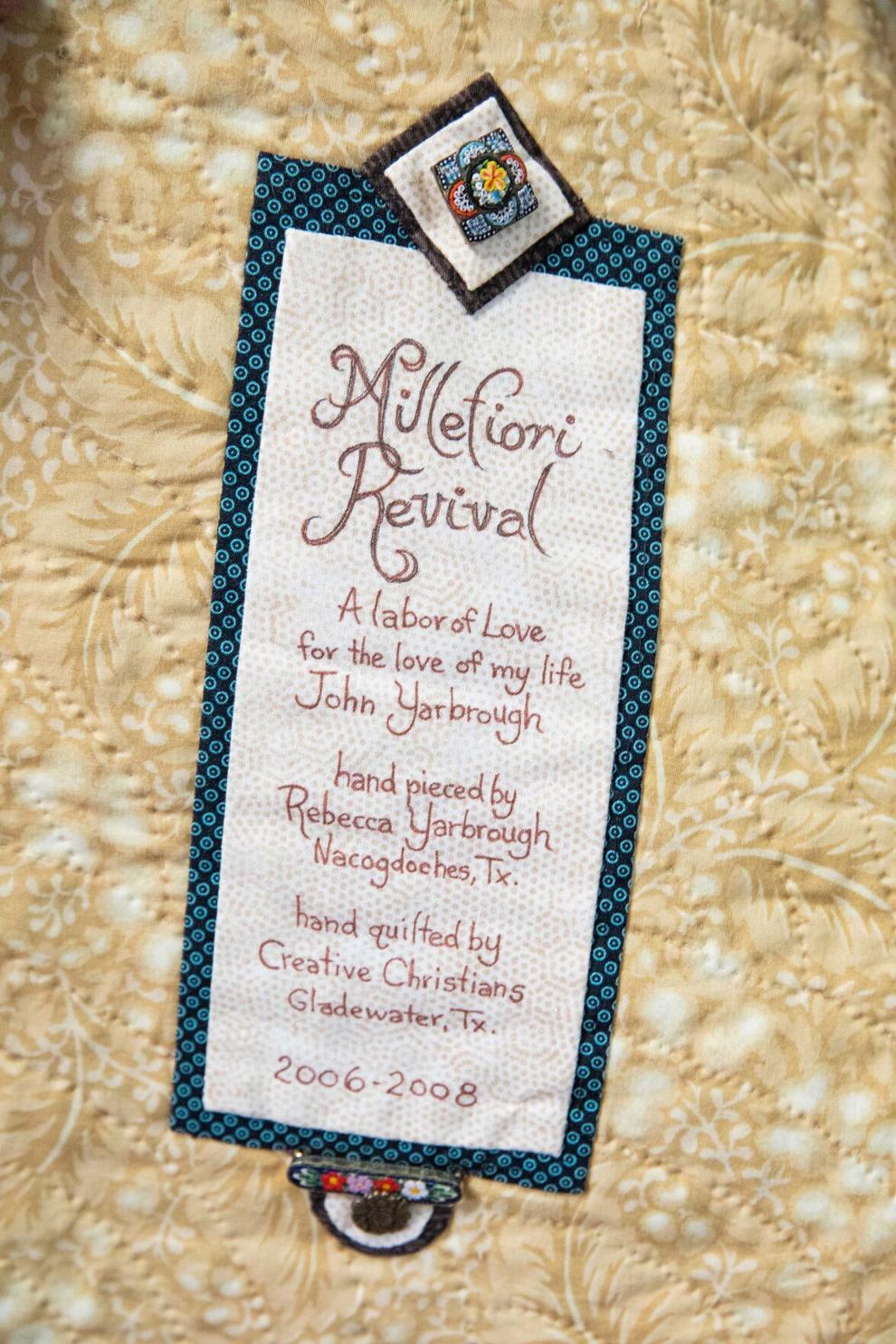 Eventually John became Rebecca's main source of cut fabric. He said the process is a procedure of cutting and sewing, and he wanted to be there for her.
"I've always been supportive and have enjoyed getting to spend more time together," John said. "When she had her stroke, it was pretty debilitating — when you lose your primary arm completely and your ability to drive."
Rebecca said John saved her life in a number of ways. They were originally told her hand would recover. Through his love and the love of her friends, she was able to move through the depression and into the life she leads today.
He attends the quilting meetings with her, goes to shows with her, takes her to the fabric store and more.
"He is called my enabler," Rebecca said. "Because he buys me fabric."
"She has a fabric addiction, I have a book addiction," John said.
The two have become quite the quilting team, which makes sense. They have been married for 45 years.
"Marriage is not about an individual. It's about a pair of people," John said. "And patience."
But don't try to sneak a fast one by John because Rebecca said he has become quite the quilt critic these days. On one of her quilts, he looked at her squares and said, "Those pieces don't match."
"I said, I don't care. I'm through with it," Rebecca said. "He said, well, couldn't you just take it out, and I said, no, I don't want to. He said, well, if I rip it out, would you do it over? I said, OK, if you're that serious about it."
Through the years, the change has helped the couple grow closer. Rebecca said it put a new perspective on life for them both when she came home and realized she couldn't put her makeup on or cinch her belt or tie her shoes anymore.
"I wanted to keep quilting and show that things can work after disaster," Rebecca said. "There's a way. If you want to do something bad enough, you find a way. And there's always some people to help you."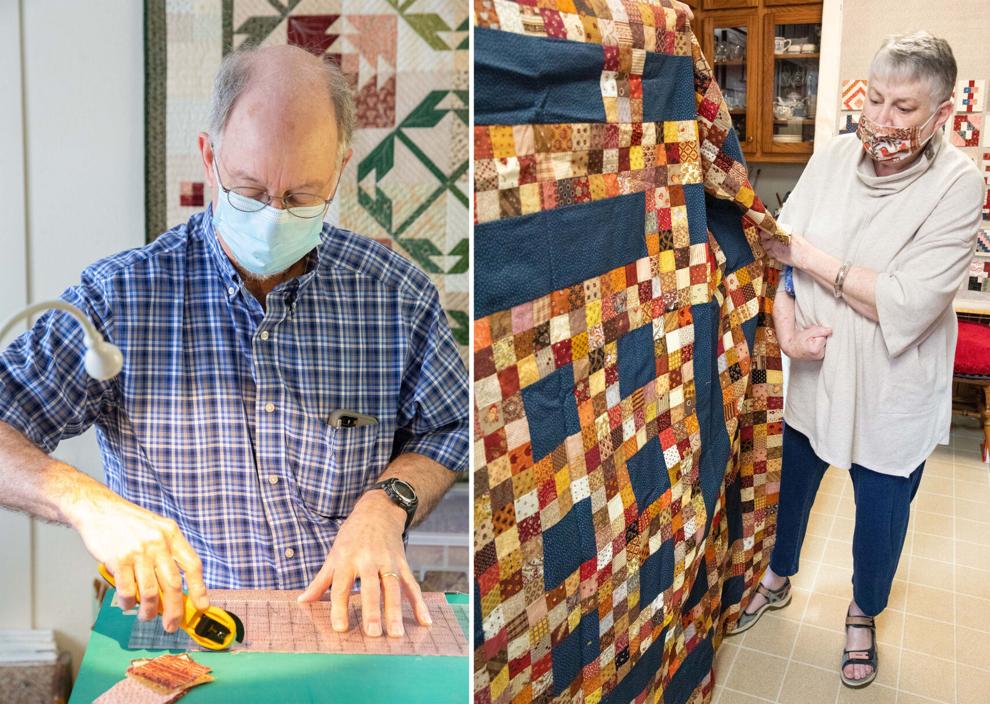 To Rebecca, quilting is a creative form, and fabric always makes her think of people. She used to make a label for each quilt, and one label in particular speaks of the volumes of love shared between herself and her enabler.
"Millefiori Revival: A labor of love for the love of my life John Yarbrough. Hand pieced by Rebecca Yarbrough, Nacogdoches, Tx."
"I want to leave something behind, and I want to enjoy my time I have, not knowing how much it is, and I want to enjoy my husband," Rebecca said.