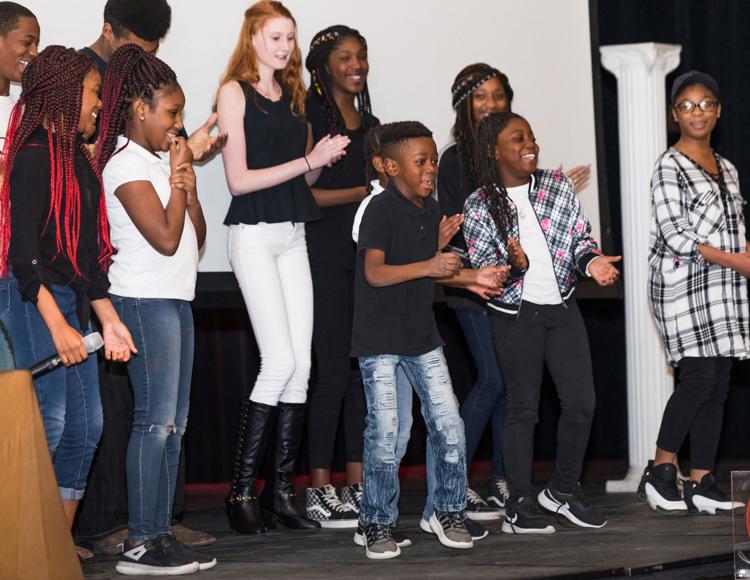 The North Lufkin Children's Choir is helping children find their passion for music, a drive for their future and the bravery to pursue it.
The group performed at the 2019 Legacy Institute for Financial Education Scholarship banquet in mid-January. They began shyly, but as the music became more involved so did the children. They ranged in ages, heights and ethnicities but harmonized and moved together.
The choir was started nearly a decade ago, and many of the children singing in the choir now have been with the group for three to four years.
"These kids are from North Lufkin and a lot like to sing," music director Larenthia Ferrell said. "They enjoy being diverse and learning all kinds of music. We don't just sing Christian songs, we sing all kinds of songs. They love music."
Three girls, Jakiera McQueen, 12; Arianna Jones, 15; and Kahelin Scott, 15; stood out from the group with gutsy solos that pulled the choir along the various beats and feelings of their performance. By the middle of their performance many in the crowd jostled in time with the beat, even while seated.
Jakiera started when her mother dragged her to the group. She wouldn't sing, was quiet and and shy, director Guessippina Bonner said. Her solo at the banquet was not her first, and won't be her last.
"Don't be shy, overcome your fears," Jakiera said.
Because of her exposure to these talents, she plans to be a singer when she grows up.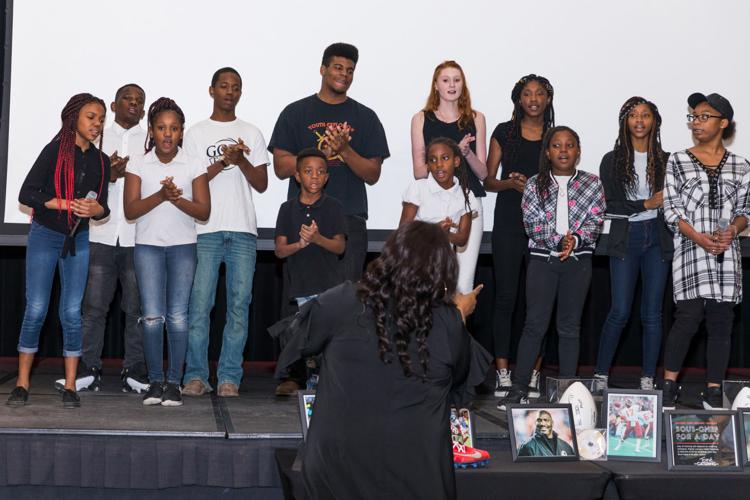 "Every time we put her up she'd start crying," Bonner said. "Everything that happened she'd start crying, but look how she did tonight. That's what we are about, bringing out what they have in them. And we won't let it go back."
"She's beautiful, she's a pretty child, she's an active child. That's what we want to show the kids — self-esteem. The 'I can do it.' And that's what this is about, 'I can do it.' … that's what I want to pass on to these kids, you can do it!"
Paris Brown, 15, has been singing with the group for almost four years, she said. She always loved singing, but also loved how the group brought her closer to her friends and to Jesus.
"I've always had a passion for singing and I just love how she brought the community together in one choir to sing about Jesus and praise him," Paris said. "And I just wanted to do something with it. I feel at home with them, they're like another family."
While singing brings the group together, Bonner has ulterior motives for the children who participate.
"It's really not just about singing," Ferrell said. "She (Bonner) wants them to have careers, goals. She wants them to be successful, but she doesn't want them to only be successful based on sports. She wants them to be informed about different careers like doctors and lawyers because it's known that the only way to be successful is to be a basketball player or a football player. But she wants these kids know about all of these other careers."
Bonner connects the kids with other people in the community to teach them about the many career paths they have available to them. She said she does this because her family did the same for her when she went to college in New Orleans. She learned to have faith in herself, and she wants to pass it on to the younger generations.
Besides connections in the community, each of the kids are taken on regular trips to colleges and universities, museums, concerts and as many things as will teach them new ways of life.
"She looks out for them, she feeds them, she travels," Brenda Robinson, the coordinator of the North Lufkin Children's Choir, said. "She gives her money, her time, anything — rehearsals, she's there. We don't have a lot of people like that in Lufkin, that support our kids in the North Lufkin area. She sponsors our trips, whatever.
"She looks out for anybody — anybody that's willing to be humble enough. We get a bad name for our area, but there are some good kids there. And she is the person that exposes our kids to the other things that their mothers and fathers cannot do. We love Dr. Bonner."
Bonner said she chose to have music as the basis for the group because of its connection to improved math skills. She'd been discussing it with a friend who is a member of the Shoshone tribe and lived in Livingston and they came up with the idea of forming a group to help kids.
"So I came back and Mrs. Pierre is a music teacher here, I told her I'd like to work with children who may be having difficulties in school, but let's make it fun," Bonner said. "Because training and learning is not always fun.
"The late Bettie Kennedy said she had a houseful of grandkids, so let's make them be a part of it. And that's how we really got started. Dragging in kids that belonged to different people."
The choir is considered a 501(c)(3) nonprofit and Bonner said the best way to help the group is to donate: pizza and chips for the kids; money, North Lufkin artifacts or skills to continue renovations on the old Masonic Lodge at 228 Leach St.; and prayers for their success.
"Also, send your children, we want them," Bonner said. "Not only do we sing, but we also talk about different things that are beneficial when they grow up."
Bonner is the Lufkin City Council member for Ward 1. Her email address is Guessippina620@gmail.com. Anyone can reach her there, she said.