I was pretty far out of my comfort zone. I'm not saying I'm a low-maintenance girl, but let's just say my biggest treat to myself is getting my hair colored every couple of months. Of course, I had heard of medical spas before, but had never stepped foot in one until earlier this summer when I visited Premier Medical Spa in Dr. Alan Bassin's office in Lufkin.
According to the American Society of Plastic Surgeons, public demand continues to grow among people who want fresher, younger skin without traditional operations, scars and downtime, and among people whose skin isn't "severe enough" to justify plastic surgery.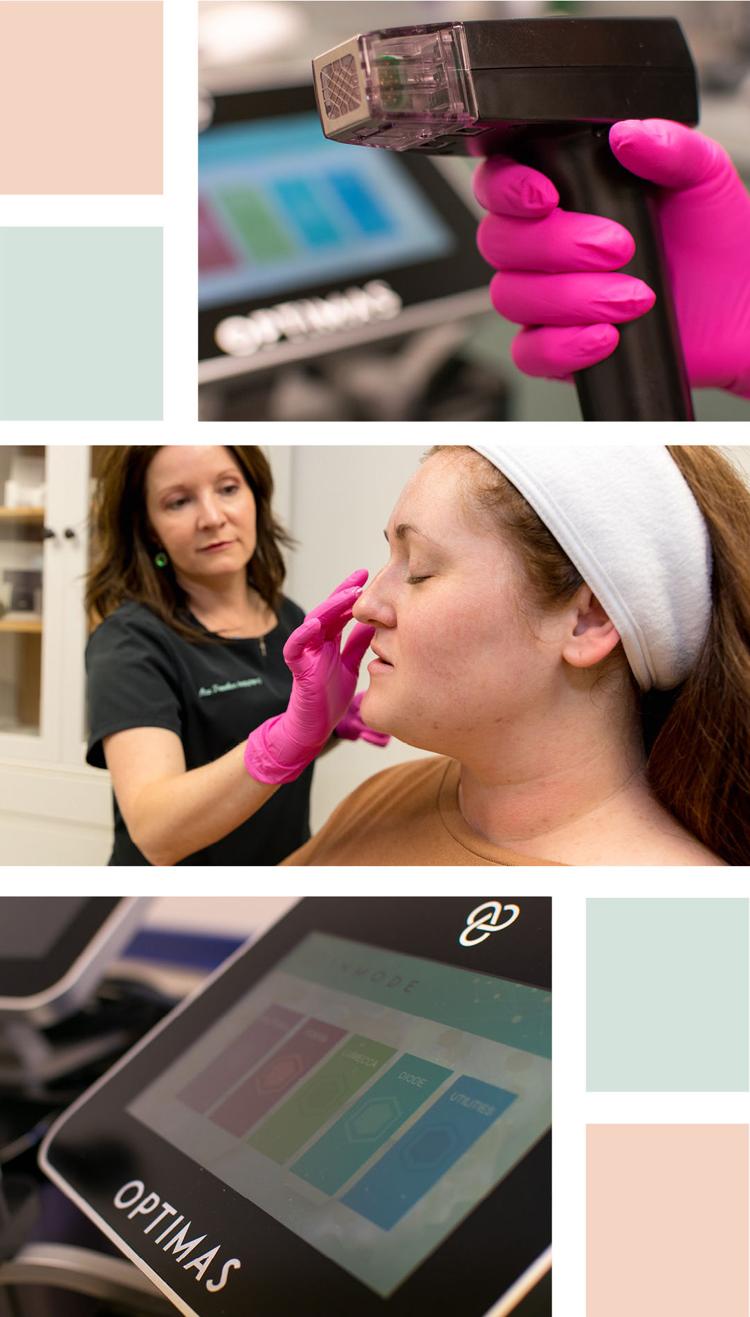 Medical spas have become the latest response to that demand. They provide professional-grade aesthetic procedures that mimic plastic surgery for a fraction of the price and virtually none of the medical downtime. Also called medi-spas or med spas, these new clinics are a hybrid between a traditional day spa and what you would expect at a doctor's office.
They essentially offer the best of both worlds — a rejuvenating experience combined with a medical professional's expertise, to treat conditions like acne, aging and sagging skin, hyperpigmentation, hair removal and others aimed at improving the skin's overall appearance.
After opening Premier Medical Spa in the fall of 2018, Bassin, a general surgeon, and nurse practitioner Ana Trevathan, along with certified aesthetician Madelyn Modisette, say they're busier than ever. Using an advanced technology called Optimus by InMode, they offer a variety of medical treatments, like the Morpheus8, which fractionally remodels and contours the face and body.
Bassin said it's the only system of its kind in the area.
"We found this platform, and it kind of did everything that we were interested in doing. The more we learned about it, the more interested we got in it. That's how we've grown to this point," Bassin said. "We're kind of partial, but we think ours is the best. The Morpheus — there's nothing like it in town. It does skin tightening and re-contouring, while being minimally invasive with minimal pain. The results that we're finding are excellent."
The Morpheus8 treatment is delivered through a handheld device that sends radiofrequency energy into the deep layers of the skin, while simultaneously blasting fat and stimulating collagen production. The result is firmer, tighter and younger looking skin.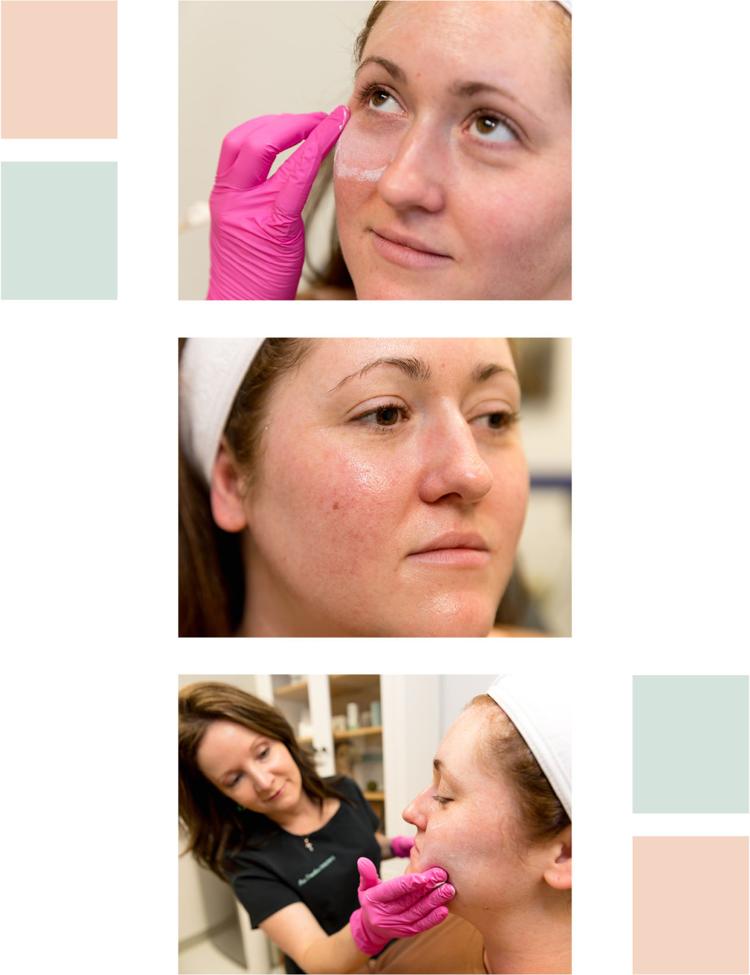 "This bridges the gap between people who are considering plastic surgery, but don't really want the downtime after," Trevathan said. "Within two to three weeks, you start noticing improvement in texture; in four to five weeks is when collagen starts producing. A lot of people notice a difference within seven days. You'll notice your face change, you'll start noticing fine lines and wrinkles are better. You will notice the majority of the difference three months after your initial treatment, but you're going to continue to get results for up to six months after."
Some people, depending on the level of correction needed, can get the results they want in just one session; however, most people experience optimal results with at least two or three sessions. After each treatment, Trevathan and Bassin evaluate the patient's progress to determine which areas need more attention.
As a general surgeon for the past 20 years, Bassin places a major emphasis on minimally and non-invasive procedures that reduce patient pain, as well as overall recovery time. He said opening a medical spa gave him the chance to try something new.
"We want to get the least amount of discomfort for the patient and the most benefit that we can. We find that the Optimus, and Morpheus in particular, really allows us to get the result that we want without causing a significant amount of discomfort for the patient," Bassin said. "I've always been a general surgeon dealing with emergencies and bigger operations, so this is a little less stressful environment and allows me to do some procedures that aren't life and death. I still get to see some benefits without having to worry about the problems patients may have later on."
For years, I've personally struggled with uneven skin tone and redness, especially on my neck and chest. When I first met Trevathan, I told her about my areas of concern, and she suggested I try the Lumecca, the industry's most powerful intense pulsed light photofacial used to significantly enhance complexion and the clarity of skin.
On the day of my appointment, Trevathan put a numbing cream on my face and neck. An hour later, over a layer of gel, Trevathan moved the device in sweeping motions across my face, neck and chest, delivering short pulses of light to my skin and pausing every so often to check how it was reacting to the treatment. The Lumecca treatment targets redness and dark spots, even the ones not yet visible.
For my first treatment, Trevathan picked a less intense setting to judge how my skin would react. Afterward, my skin was slightly red and warm, almost as if I had stayed in the sun a little too long. Trevathan told me to stay out of the heat and avoid sun exposure for the next several days.
I also didn't wear makeup for the next couple of days to give my skin time to heal. This is what Trevathan and Bassin call "social downtime." Much of the initial redness was gone by the end of the day, and within a few days, a brown spot that had been on my cheek for years was gone. Over the following weeks, I noticed my pores were smaller, my makeup went on smoother, and I wasn't as red.
We upped the intensity the next time. My cheeks and neck, where Trevathan had specifically targeted large areas of redness, were slightly swollen, but weren't painful or even all that noticeable to anyone other than myself. After my final treatment, I could tell a distinct difference from when we started.
Some moments during each treatment were more intense than others, and for that reason, Premier Medical Spa provides patient-administered Pro-Nox, otherwise known as laughing gas, which is made of 50% nitrous oxide and 50% oxygen.
"It's less strength than what the dentist gives you. Within five minutes it's out of your system, so you're free to drive afterward," Trevathan told me.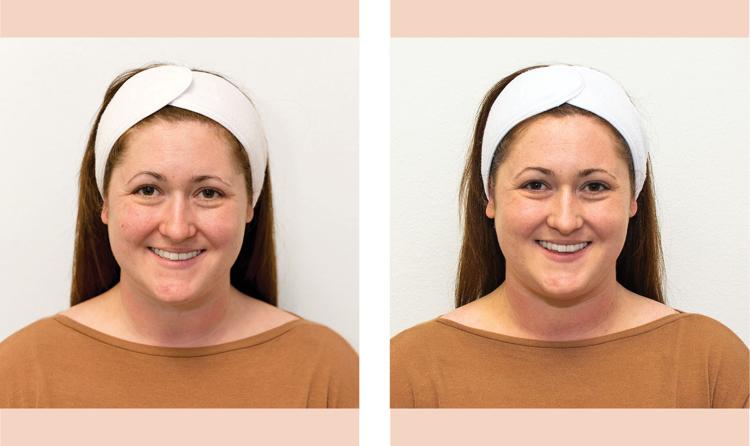 Despite being in a clinical setting, Trevathan makes the experience a relaxing one. Her enthusiastic personality is contagious, and she's easy to chat with. A few puffs of the Pro-Nox every so often, and I felt dreamy and calm throughout each procedure.
Morpheus8 and Lumecca are just two of the services offered at Premier Medical Spa.
Forma is a noninvasive facial treatment that uses radio frequency to stimulate and boost new collagen production, tighten and lift the skin and enhance elasticity. DiolazeXL is an advanced laser hair removal procedure. BodyTite is the newest procedure offered at Premier Medical Spa. It is powered by directional radiofrequency resulting in three-dimensional tissue remodeling through fat coagulation and volumetric directional heating. Essentially it is liposuction without the surgery, excisional scars or downtime, and with the added benefit of tightened skin.
Premier Medical Spa also offers customized facials, dermal fillers and Botox injections. The dermalinfusion facial is the first and only face and body skin-resurfacing treatment of its kind. It exfoliates, extracts and infuses skin with condition-specific serums for an all-inclusive treatment that leaves the skin hydrated, refreshed and radiant.
With so many different services and options, it can seem overwhelming, but the Premier Medical Spa team is incredibly helpful. Look for them in their new location by mid-September. Visit their Facebook page for details.
The American Med Spa Association defines a medical spa by four core elements:
(1) The provision of non-invasive (i.e. non-surgical) aesthetic medical services;
(2) Under the general supervision of a licensed physician;
(3) Performed by trained, experienced and qualified practitioners;
(4) With onsite supervision by a licensed health care professional.