Eddie Kupec is always working with his hands, creating handcrafted wooden bowls or special designs for ultimate pickup comfort.
"I can't be still," Kupec said. "Let's just put it this way — I'm not a couch potato."
Kupec is the owner of Tailbacker, a backrest for your tailgate. The original patented design came from Kupec's time on the ballfields when he pitched in modified softball games.

"I would sit out here on the tailgate, drinking a certain beverage or two, and I kept chasing the cooler so I would have something to lean back against," he said. "I got to thinking, it would really be neat to make something."
He tried a few different ideas that didn't work and put other ideas on the back burner when he didn't have the time or resources to pursue it to perfection.
"A few years ago when I was in the process of retiring, I thought, if you're ever going to do this, you better do it now because if you don't, you'll always wonder if it would have worked," he said.
The Tailbacker is a large piece of metal that can be moved and removed from the bed of your truck, as needed. It takes up about four inches of space and can be left in when the tailgate closes. Getting the patent on the idea and the trademark on the name was a milestone for Kupec, and he said he definitely rides around town with his tailgate down, proudly displaying that Tailbacker logo.

Kupec also tinkered with woodworking for many years, but he got serious about it when he joined the East Texas Friday Wood Turners club four or five years ago.
"I just enjoy doing it," he said. "I've always done some type of woodworking, ever since I was in high school, but I didn't get into any type of wood turning until 20 years ago."
Learning from other enthusiasts in the area and teaching newcomers is great, he said. The group has no rule other than whoever hosts the meeting must make the coffee and the sausage and biscuits.
"We go to their shop, we put a chunk of wood on a lathe, we make the biggest mess we can, and then we leave, and let him clean it up," Kupec said, laughing.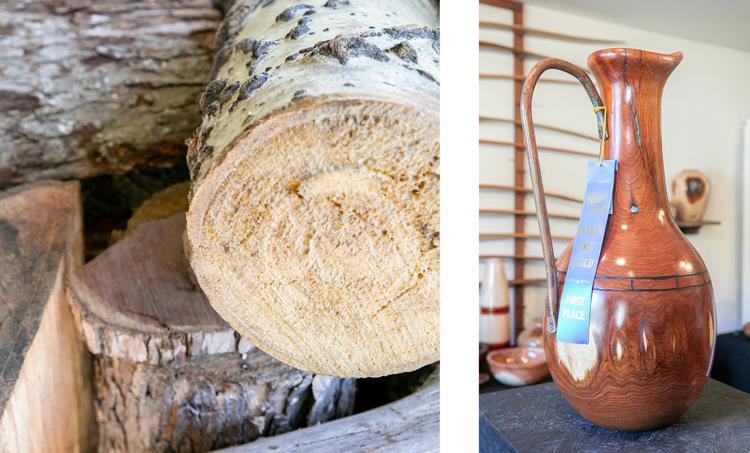 Kupec sands different types of wood and uses a variety of techniques, including stains, metal accessories and lacquers, to make his ideas come to life. Some pieces are decorative, and others are more practical, like his longbows and a hidden gun picture frame.
Sometimes he comes to the table with an idea like creating a replica of a stone vase he saw in Rome. Other times, the wood tells him what to make.
"The first thing you've got to do is make it round," Kupec said. "Then at that point, I may decide what to do with it. Other times, I look at a piece of wood and think, I'll do this with it."
Living in this part of the United States is a woodturner's dream, Kupec said.
"This is East Texas, and there is wood everywhere," he said. "All different varieties. There's only two or three pieces in here with wood that doesn't come from East Texas. The rest is homegrown."
Kupec has won awards for his works of art. His showroom displays his creations of all kinds.
"It's a kind of stress relief," Kupec said. "I feel totally mistreated if I don't get to play in my woodshop on a regular basis."
Beyond his personal enjoyment of the hobby, Kupec said he hopes that his pieces bring joy to the people who take them home.
"I have some items that my great-grandmother gave me when I was 12-years-old, and I cherish those," he said. "All of my kids have got all of this they want and then some. I would hope they keep it to hand down to their kids.
Kupec takes work on commission, and he offers appointments to view his showroom and completed works. For more information, call (936) 875-2698.