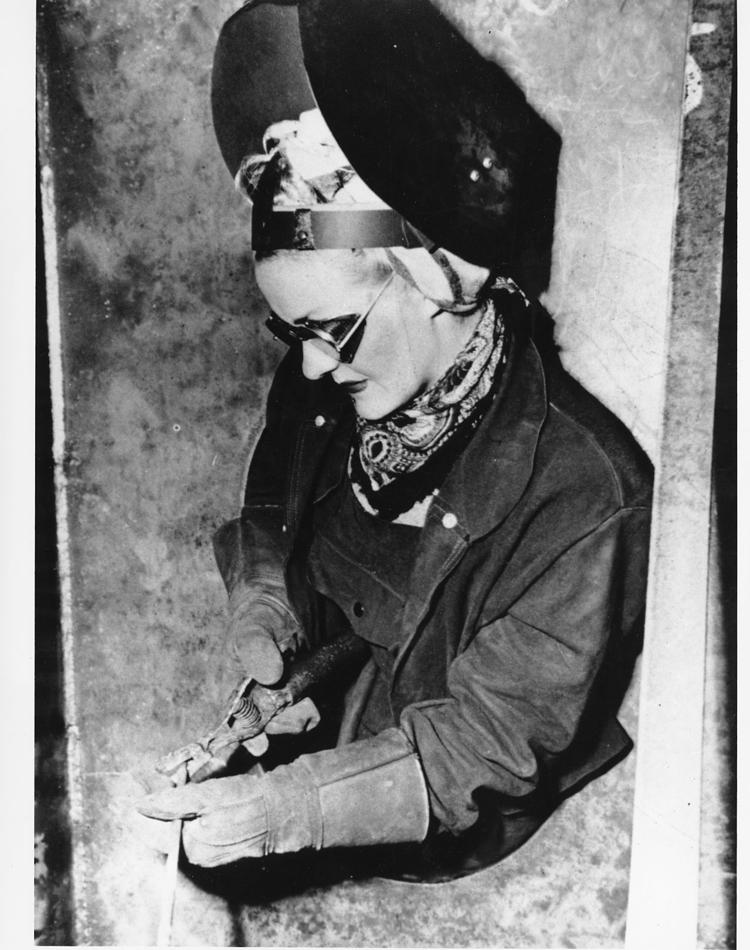 In 1941, the United States military was deployed across the world fighting in World War II.
Men across the country were drafted or joined the military en masse. This left the traditional "male" professions in the workforce to be filled.
"Everybody who wanted to work, did work," Anne Basey, of Huntington, said. "Women did what men usually did, they welded, did carpentry, everything a man used to do. There were none of them left after the young men were carried out to war."
Basey is one of a generation of women who took matters into their own hands to ensure the country would continue to function smoothly. Basey was a riveter. In 1941 she applied to work on a shipbuilding crew in Orange and was hired to help create ship parts from blueprints.
Nearly 100 years old, Basey reflected on her past in her small, cozy home in Huntington. She was born and raised just south of Zavalla in the Gibsonville community.
"I'll be 100 years old March next year. Other than that, there's not much to tell. I lived in Zavalla, just south of Zavalla, in a place called Gibsonville. There used to be so many Gibsons around there they named it Gibsonville. I was one of the Gibsons."
Basey graduated as the valedictorian from Zavalla High School. She went to Stephen F. Austin State University for two years before dropping out and becoming a nurse.
In her mid-to-late 20s she met Guy Basey, the love of her life. They were married by the time she was 28, but the marriage wouldn't last. The war reached every part of her life, and the lives of those around her. The two were separated and eventually divorced two years later, while he was in the army and she began work in the shipyard.
"After I left him I had some friends who worked at Orange. They asked if I wanted to go down there and maybe get a job and help them, that's why I was down there," Basey said. "I was interviewed for the job and they said, well according to my education I might be suitable for a job working from blueprints. That's why I was down there, it was really quite interesting, everything that went on then."
Every piece of the ships at that time were cut out individually in metal. Before they could be cut out of metal, though, they had to be perfected in wood. Basey was hired to work as the assistant to a man who would take a blueprint and determine what piece was needed, and where. She described pieces that were maybe an inch or an inch and a half that they had to cut out of plywood.
"There was this man, I was the helper, we had these blueprints that we cut them out of," Basey recalled. "There were these itty bitty pieces. When I went I didn't understand what a bulkhead or anything was, he carried me out to where the ships were and showed me. A bulkhead is just a partition, like a wall."
Basey was building the military ships to be used in the war effort. She said that while everyone would celebrate the christening after the ship was finished, she felt it was bittersweet.
"When we got a ship ready to go out and christen it on the docks, any of those who wanted to go down could," Basey said. "There was a little ceremony when they'd christen it, they'd do a bottle of wine and they'd play 'Anchors Aweigh'. To me it wasn't a ceremony, to me it was sad because I knew where they were going and what for."
Basey recalled that almost everyone in her life had something to do with the war at that point. Her mother, Annie Gibson, tracked the low-flying airplanes and reported their names and numbers to officials in the area. In Gibson's free time, she knitted socks for soldiers and sent them to the USO.
"These were some trying times for people, back then," Basey said. "Anyone could take part in the effort to do something. There were always things to do. There was no one who couldn't get a job, there was always jobs for anyone who wanted to work. When I think about it, I was there and there were some good times and some bad times."
At that time food, gas, shoes and anything that could be sent to the soldiers was rationed. Basey talked about the ration stamps they would receive, they dictated how much of anything a person could have.
"Back in those days … It's hard right now just to think … but we were all issued some kind of food stamps to buy so much of this, or so much of that. With a stamp we were limited on how much we could buy. Then, things weren't like they are now. Not everyone had their own car, they'd go by bus or walking."
At the same time she could watch the regiments training and filing out to the front lines. On Highway 69 south, miles of trucks would be making their way to the docks to be sent to war, she said.
"We would see those trucks passing, miles and miles of them. Regiments or caravans, whatever you call them. They were training over there, they call them maneuvers, they were training the soldiers to go to war."
While the work kept Basey away from her hometown, she made friends with the other women working on the shipyard. Some of which, she said, became lifelong friends. Her stories of those women made her chuckle, as she recalled them.
"We had a dorm for girls, and that's where I stayed while I worked in the yard," Basey said. "Some of us would get together in the rooms and talked and discussed things, and smoked. Some of them offered me a cigarette, I didn't smoke but they offered me a cigarette and I smoked a little bit of it. I bought two or three packs, but then thought that I wasn't going to spend my hard-earned money on cigarettes and never did smoke anymore."
When Basey moved home after the war, she had a friend who lived not too far from her in Brookeland. They kept in touch until that friend passed, just a few years ago. Besides that Basey says she doesn't exactly remember the things she did just after getting home.
"I wish I had kept a journal back then," Basey said. "But when you're young you're not thinking about things like that. It's when you get older that you wish you had done those things but it's too late."
Eventually she remarried a man named Harvey Burns and gave birth to her daughter, Peggy. They lived in the southern corner of Angelina County, and Burns passed away a little over 20 years ago. After Burns' passing she reconnected with Guy, and it reignited a spark.
"We should have been together," Basey said. "It was just one of those things that happens. He always said it was his fault. But we should have been together."
The two were together another 10 years before Guy also passed away.