Editor's note: East Texas Food Guy Jason Hardy and former Charm staff photographer Leslie Nemec spent a week visiting the romantic Texas Hill Country and historic San Antonio. Last month, Jason shared his thoughts on the vacation Leslie planned. This month, Leslie is giving her take on Jason's trip.
Following a few glorious days of sipping wine and enjoying lazy Hill Country back roads, we loaded up the Jeep and headed south for the big city in search of Jason's perfect romantic getaway. He's always wanted to stay at the historic (and reportedly haunted) Menger Hotel, so I begrudgingly surprised him with reservations. After reveling over the majestic lobby, we checked in and made our way to our second floor room. We were fitted with a cozy balcony room overlooking the beautiful and bustling Alamo Plaza. The balcony proved to be a perfect perch to people watch. We quickly dropped our bags, grabbed our cameras and appetites for margaritas, and set off to explore.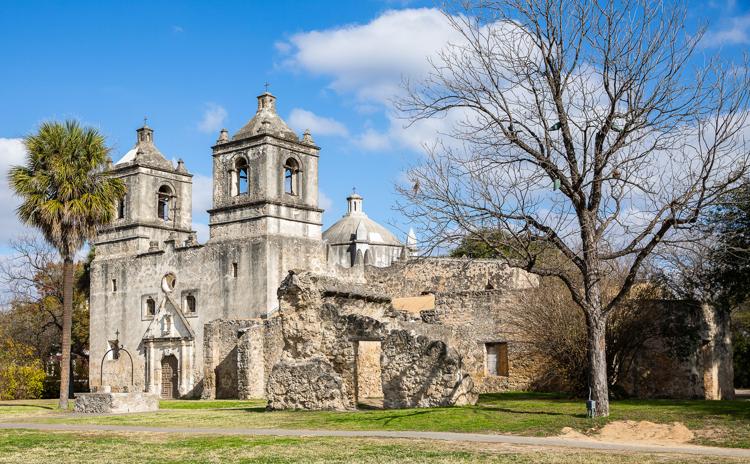 While quenching our thirst, we also drank up the sights and sounds of the River Walk. I had not been there in years, but it was just as magnificent as I remembered. Jason enjoyed showing me his favorite hang out spots, but also promised to try a few new places. Keeping this in mind, we stumbled upon an unassuming tavern that was nearly hidden by outside construction. We walked in to find patrons waiting to be seated, and after a quick glance around the space, we decided it would be worth the wait to join them. Grabbing a seat at the longest wooden bar top in Texas, we soaked up the swanky atmosphere at the River Walk's oldest bar. We were almost sad to leave our barstool roost, but our dismay quickly dissipated as we were seated on a New Orleans-style balcony overlooking the river. Darkness had crept in, but brought with it a whole layer of beautiful lights and sounds that were lost in the brightness of day. As we settled in, we were delighted to meet our waiter for the evening, Deuley. After getting a little history on the tavern and menu suggestions, we decided we couldn't pass up the opportunity to try a chicken fried Wagyu steak. At first, Jason was apprehensive to order this — after preparing this delicate steak for a previous Charm article — but ultimately concluded he had to try it. It did not disappoint! We held onto our table with a view as long as we could before deciding to turn in for the night.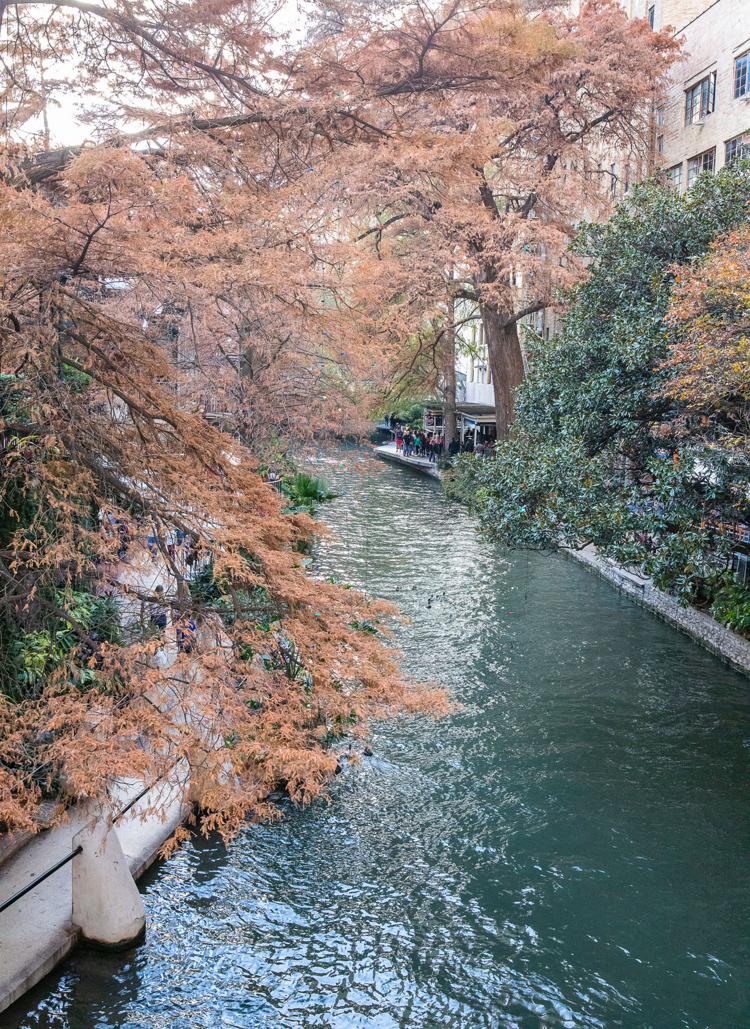 After a lazy morning, we moseyed downstairs to find ourselves greeted with a brunch fit for a king. (And, speaking of kings, the dining room lies adjacent to the hotel's King Ranch Suite, which is named for Capt. Richard King, who requested to stay there after finding out he was terminally ill. King passed away in the suite, but is said to still visit its current patrons regularly.)
As a solo guitarist strummed in the corner, we sipped mimosas and gorged ourselves on made-to-order omelets and waffles, a vast variety of fruits and vegetables from a salad bar, meats from a carving station, and any type of dessert you could imagine. The Menger knows how to host brunch. We ordered a mimosa to go, grabbed our camera gear and headed out to explore more of this charming city.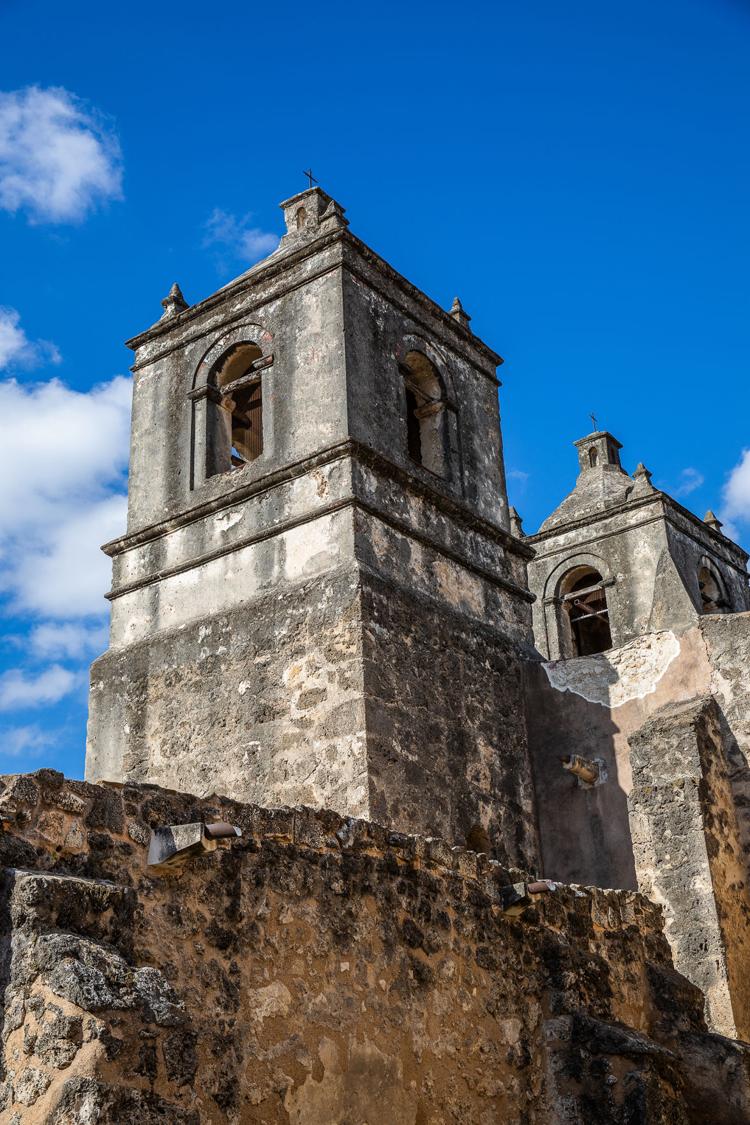 San Antonio is home to five Spanish colonial missions. After checking out our geographical neighbor, the Alamo, we set out to tour a couple more missions. The city has a Missions Trails hike and bike trail to access each of these beauties; however, we opted to take the Jeep. We didn't have much of a plan, just picked one, and let Siri navigate us there. Each mission was fascinating in its own way. Three of them were actually relocated to San Antonio from East Texas in 1731 with the purpose of converting Native American groups to Christianity. The missions are certainly a heavenly place to visit.
After grabbing a quick fish-and-chip dinner at an English pub on the River Walk, we strolled back to our hotel to look for some paranormal activity.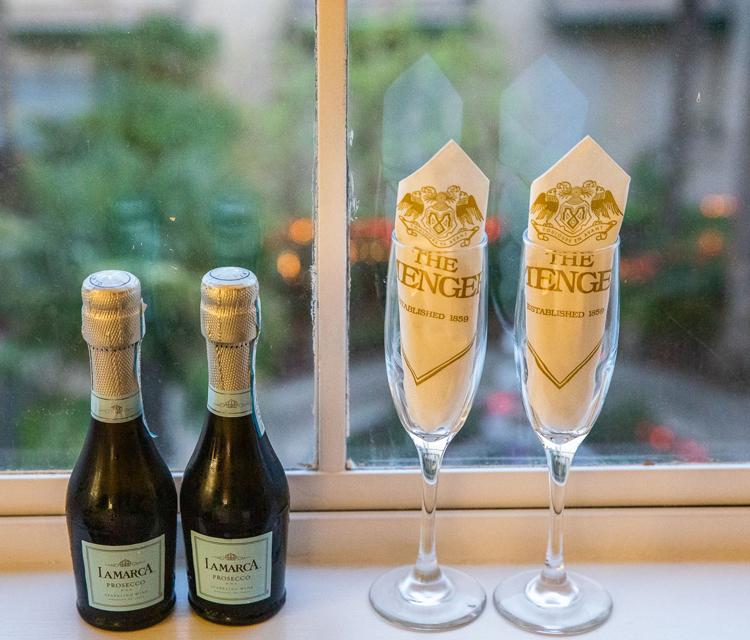 While I am not a believer in those kinds of things, Jason is intrigued with it. Since this part of our vacation was all about doing things he loved, I obliged. We curiously wandered the hallways and lobbies, only to be greeted by kind (and living) hotel patrons and staff.
We heard Teddy Roosevelt frequents the hotel bar, so we pointed ourselves in that direction. The bar was dark and filled with an ambience that immediately draws you back into a time where adventure was at everyone's doorstep. The bar boasts multiple images of our former president and a decor reminiscent of his era; however, we had no encounters with the man himself. Knowing our time here would soon come to an end, we polished off one more drink in Teddy's honor and headed upstairs for our last night in this nostalgic abode we were lucky enough to call home, if only for a few days.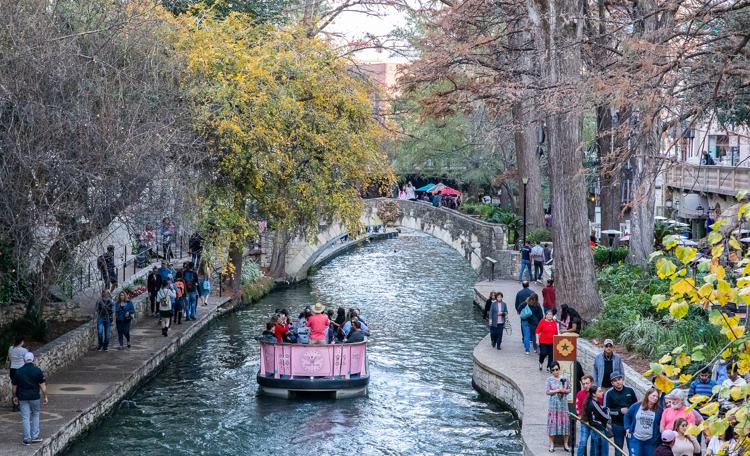 The next morning, we packed up our bags and tucked away our newly made memories. As each mile brought us closer to our brood, we got lost in conversation, reminiscing over the past few days: we hit some roadblocks, bumps and even were stopped dead in our tracks at times. But relationships and romance aren't about geographical locations, trips, or even the circumstances you find yourself in. It's about who is sitting next to you on the journey and being able to roll with it. Yes, our romantic getaway was far from anything we planned. It was better.