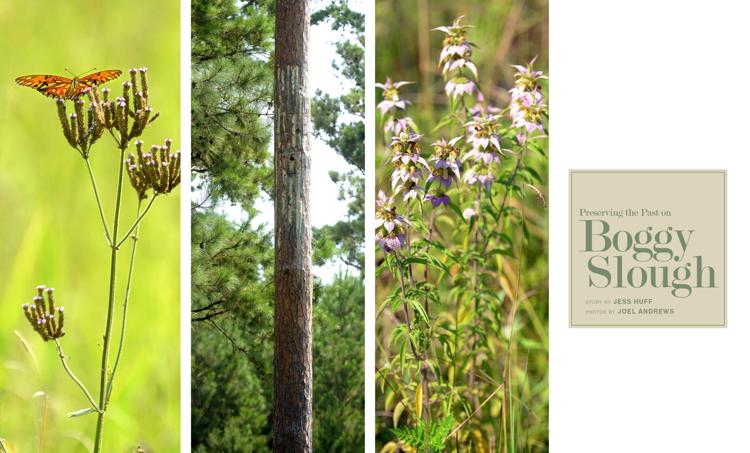 You probably wouldn't notice the private road and gate if you weren't paying attention; it's not hidden per se, but it doesn't scream "come look inside" or "hidden treasures unseen within" either.
And while most small roads in East Texas have a unique opportunity to lead into some beautiful natural sites and homesteads, Boggy Slough offers a glimpse into what Deep East Texas might have looked like for its earliest settlers. This, in large part, is thanks to the efforts of the T.L.L. Temple Foundation to preserve and rebuild the historic natural ecosystem on this 20,000-acre property.
As you drive down the first few hundred yards on the private lane, you're struck by the beautiful Black Cat Lake and are ready to spend the rest of the day there. Peeking through the trees lining the roadway, viewers can enjoy huge lily pads resting on and above the water, birds hunting and bathing and waters intermingling with tall grasses.
The driveway takes you first onto the Temple family's privately owned land. A small home, offices and outdoor pavilions take up some space, but simplicity is key. Past that are miles and miles of forested areas that house endangered species, natural grasses and trees and a variety of woodland creatures.
When T.L.L. Temple first moved into the region around 1902, he bought this tract of land and focused on the bottomlands — or the sloughs, said Steve Jack, the founding executive director for the Boggy Slough Conservation Area. The Temple family and corporation owned plenty of land throughout the area where production was key, but Boggy Slough became a sort of haven they wanted to keep as close to its natural form as possible. Over the years, the land passed hands along with the Temple company and was eventually purchased by the T.L.L. Temple Foundation to focus primarily on conservation efforts.
Eighteen miles of the Neches River flanks the property, promoting the cyclical life of a slough. A slough may not always hold water, Jack said, which is the main differentiation from a swamp.
"These are wetlands," Jack said, pointing to a large map of the property. "They're forested wetlands. You can see we've got quite a bit of that. There's a little over 5,000 acres of those bottomland and slough-type forests. And they are really different.
"That's one of those things that makes Boggy Slough unique. You have, not pristine — it's hard to find anything pristine in East Texas — but they are relatively undisturbed (bottomlands) compared to a lot of bottomland forests."
Jack and Robert Sanders' primary responsibilities as the directors of forest and wildlife management are to preserve the land from invasive species and attempt to rebuild the natural, East Texas ecosystem. This could enable them to create a sort of "guidebook" that can be used in other, similar sloughs.
"Conservation and stewardship are what we're supposed to do," Jack said. "We're going to do research and outreach as a part of that … We've started turning how the property is managed and the focus on what we do."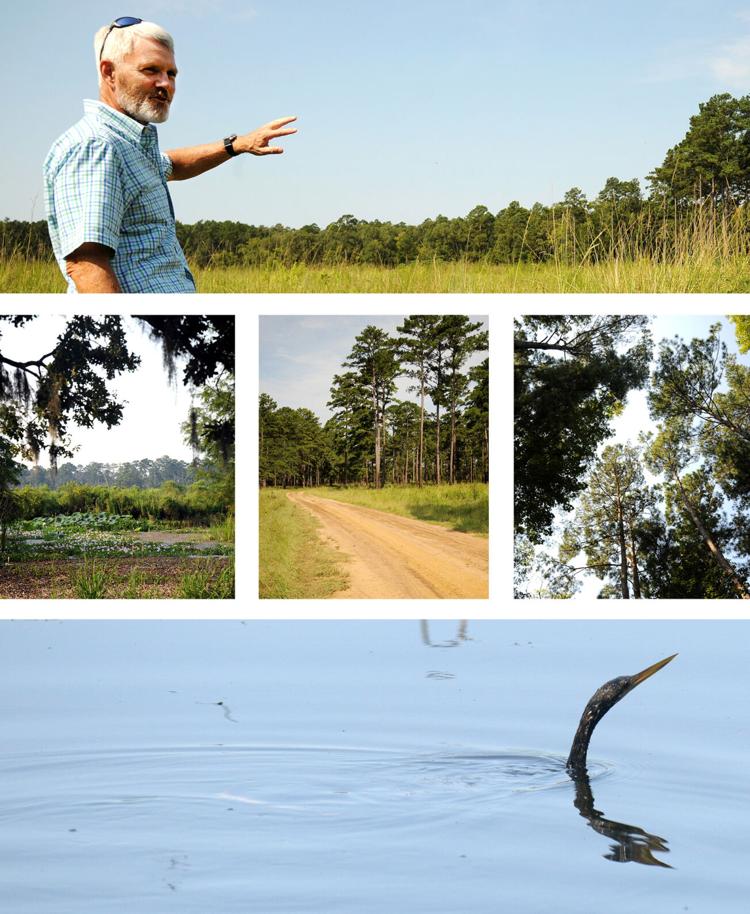 A large part of that is getting rid of invasive species, but also creating an environment that fosters proper habitats for endangered species from the area. The Red Cockaded Woodpecker population is a key aspect to the property's management, Jack said.
"Since it was first put on the endangered species list back in the 1970s, there's been a whole lot of interest in the Red Cockaded Woodpeckers," Jack said. "And they've made a dramatic recovery across the South."
The woodpecker is a robin-sized bird that has a remarkable tendency to care for its family. A breeding pair will mate for life, attempting to bring one or two newborns into the world each year. The elder siblings, especially older brothers, have been known to stay around and care for the young.
The species work for years to build safe homes in trees they've marked out for themselves. A large part of the bird's success in returning from near extinction was in someone's bright idea to build homes for them.
Now, it's common practice for conservationists to install a narrow wooden box in an older, but not quite dead tree, with as close to all the bells and whistles that the birds would create themselves. Boggy Slough has two active clusters of birds and plans to create a habitat that promotes growth in both clusters that would eventually connect them to the population in the Davy Crockett National Forest.
The native woodpeckers love fire-maintained, largely open forested areas, with plenty of space between the trees they inhabit and lots of room below to hunt.
"A loss of habitat is why they became endangered," Jack said. "Across the South, as forestry habits changed to plantations, that's not the ideal habitat for the woodpecker. So they started disappearing from the landscape."
In addition to their woodpecker conservation efforts, Boggy Slough has small plantation areas, and trees are harvested throughout the area to promote sustainable growth and improve the strength of the ecosystem. Additionally, they engage in controlled burns and very targeted pest control.
In large part, they partner with local universities to encourage further research to create the sort of road map that will help other areas learn to conserve similar ecosystems.
"There are a lot of landowners that might be interested, maybe not in everything we do, but some aspects of what we do," Jack said. "And we can actually try some things out, out here. And show them the possibilities."