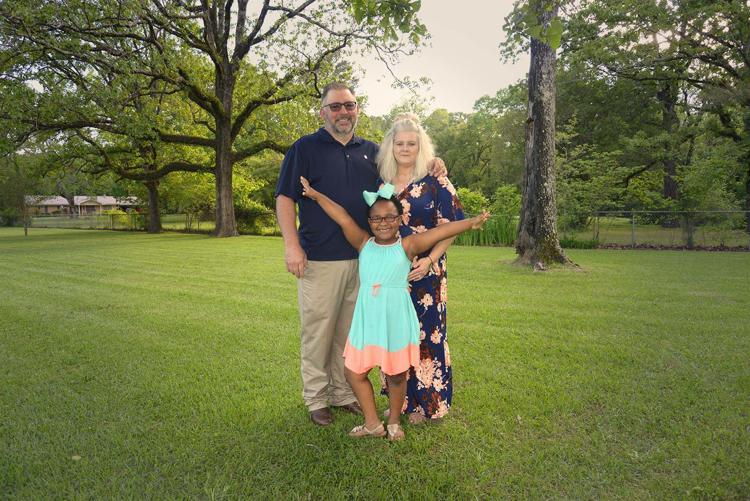 Jimmy and I started dating in February 2000. We had both been previously married and divorced. I had a beautiful, 4-year-old daughter, Mallory, from a previous relationship, but Jimmy did not have any children. We dated for three years and were married on Feb. 15, 2003. We knew right away that we wanted children together and started trying to get pregnant.
After several years of trying without any luck, we started to see specialist after specialist and tried medications, procedures and surgeries without any success. After a devastating IVF failure, we decided we were done. It was just too hard. We started foster-to-adopt classes, but knew if we ever got a baby, it would be absolutely heartbreaking to give it back.
Fast forward to 2014. We had tried to have a baby for 11 years.
We completed foster-to-adopt classes with Arrow Child and Family Ministries, but with only the home study left to do, we decided to take a break from it all and just breathe for a while.
Aug. 18, 2014, started out as an ordinary day.
Sitting at my desk, I noticed a call coming in from a local number. Normally, I wouldn't have answered, but "something" prompted me to.
That call changed our lives.
On the other end of the phone was a woman who said she was given my name and number and wanted to know if we were still interested in adopting a baby. This precious soul said she had a baby the night before. She was unable to care for the baby and was looking for a good home.
Almost speechless, I finally said yes. No questions asked, just where do I need to go.
I called my husband and asked what he thought, and he almost unenthusiastically said, "Go for it." We had been let down so many times that we were always guarding our hearts. I just knew that once I got to the hospital the mother would change her mind.
I raced to the L&D unit where the nurses and social workers were waiting for me. I immediately thought, "This might be the real deal here." Jimmy was out of town for work, so he wasn't with me, but I met the mom and explained our story to her.
After listening to me, she asked, "Well, do you want to see the baby?" "Of course," I said, and the nurse left to get the baby from the nursery. When she pushed in the bassinette, I looked in and saw the most beautiful little, brown baby girl, and my heart completely melted.
It was an instant love that I had only felt once before. She was the most perfect baby that I could have ever imagined for us. The bond that she and I created at that very moment when she looked up at me was undeniable.
The baby that I had hoped and waited for so many years was in my arms.
I immediately called family, including my daughter Mallory who was a senior in high school. I sent her a picture, and asked if she wanted to come meet her new little sister. She was in shock. I sent Jimmy a picture, and he said, "She's beautiful."
As family started arriving at the hospital including Jimmy's mother and later Jimmy, they instantly fell in love with her. As her Daddy was holding her in his arms, she fell asleep. The nursery nurse said that was the first time she had fallen asleep. It was a priceless moment that I will never forget. Forty-eight hours after she was born, Maddox Leigh came home with us.
She is the light of our lives, and she keeps us on our toes. We never planned on being parents at 40-plus years of age, but it what God had planned for her and for us. It was all in His timing. He had the perfect child picked out for us. We can't imagine our lives without her. Maddie, as we call her, is 5 years old and just started kindergarten this year. She is on the Little Mermaids cheer team at Academy of Gymnastics and Dance, and loves basketball, softball, her family and friends.