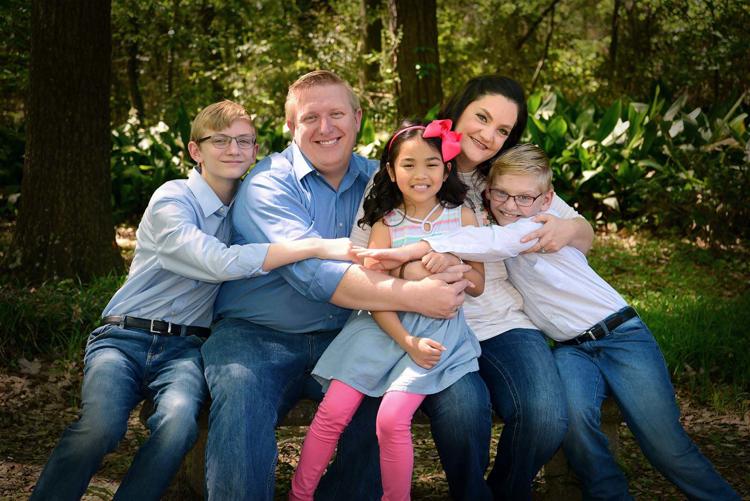 Adoption has always been a big part of my life. I, myself, was adopted when I was 3 days old by my wonderful family, the Wojasinskis. They had a biological son, Michael, and an adopted daughter, Laura. I grew up knowing I was adopted and that adoption was a wonderful gift. My mom always made adoption something that was so normal in our household.
I had always dreamed of adopting a child and told my husband, Derek, about it before we were married. We had planned to adopt; however, life initially took us down another path. We had two beautiful sons, and we thought we were done. Unexpectedly, we were given an amazing opportunity to foster-to-adopt a 7-year-old girl, Maylasia, through Buckner services in Lufkin. What followed was a whirlwind path of training, classes, CPR and first aid certifications, as well as home studies and inspections.
When you adopt an older child, it takes some time for their true self to come out. Maylasia is a sweet, funny, smart and artistic little girl. She fits right into our large, chaotic, noisy family. We love being together as a family, whether it's movie night, going for walks or cooking an evening meal together. She loves to be right in the middle of whatever is going on, and we are discovering she has many special talents.
Maylasia was adopted on Nov. 7, 2019.
On the day of her adoption, she came up to me, grabbed my hand and asked, "Mom, does this mean I get to stay with you?" I answered her, "Yes, your ours."
The adoption process was made simple by the wonderful caseworkers, our extended family's support, and our attorney and friend, Dawn Shapaka. Fostering and adopting are both wonderful things. In fact, my husband and I are already fostering another child.