On most fair weather days, East Texan Lacy Jones usually can be found zipping by on her motorcycle, preparing for an upcoming competition or just out for a joy ride. The quiet sounds of nature are silenced under the roar of the engine. Winding through wooded trails, dodging fallen tree limbs, expecting the unexpected, Lacy feels right at home.
Lacy started riding at the age of 5 and took the world by storm when she competed with the U.S. women's team in the International Six Day Enduro competition in 2007, in the first year of the Women's Cup.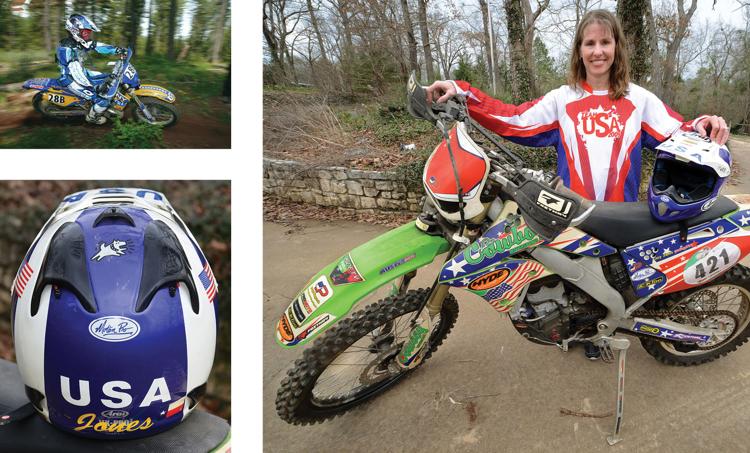 Two hundred miles per day, for six days straight, hosted in a different country each year, the International Six Day Enduro is a battle of endurance. ISDE is the oldest off-road motorcycle event on the International Motorcycling Federation's calendar and is known as the "Olympics of Motorcycling."
This race was not something Lacy had dreamed about since childhood, assuming it was out of reach, but when she met a group of friends who regularly attended the worldwide race, she started training.
"I thought, maybe I could actually do it," she said. "I tried to qualify. I rode in New Zealand first, and I didn't finish. I rode three days, three-and-a-half days? It rained and rained, and it was horrible. It was so bad, I could not stay upright. Going down the trail, it was like a river gushing along a solid mud pit."
But she didn't stop there.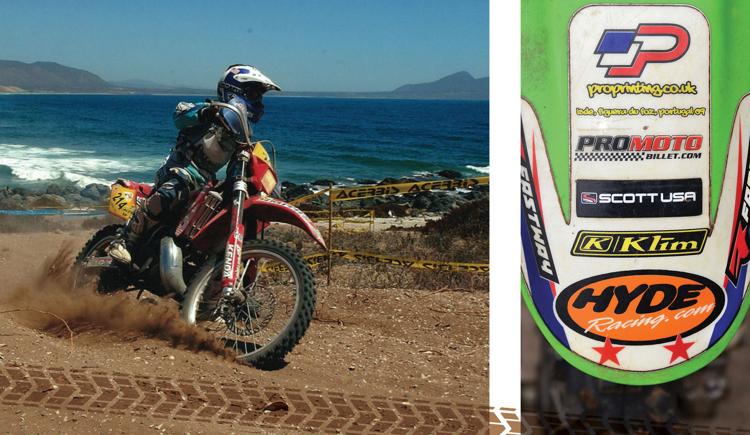 In 2007, she and teammates, Nicole Bradford and Amanda Mastin, competed at the Chili World Championship in the first, true Women's Cup.
And won.
Traditionally, the U.S. would send a women's team to compete, but they were riding with the men, not competing for their own title.
"I wouldn't trade it for the world," Lacy said. "You do it once, and it's horrible. You get done, and you're beat, exhausted. But by the time you've finished, you feel very accomplished. It's just like, I'm a girl, I finished this, and half the guys didn't finish."
The last cup she competed in was in 2009 in Portugal. In addition to learning new cultures and seeing beautiful countries on the international races, she said the camaraderie among the riders, who might not even speak the same language, was amazing.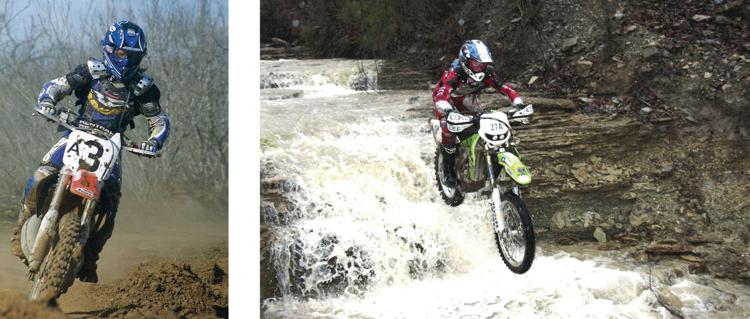 "If you can communicate or not, you can communicate enough, and you help each other," she said. "The girls are really good about helping each other, even though you're competing against each other."
The obstacles are intense, and they can knock a rider out, she said. The championship in Chile was at stake when Lacy crashed with her motorcycle landing on top of her.
"I had fallen on this hill. You couldn't see the top, it was so dusty. You're riding, and there's these rocks. You can't see, but you have to go. You can't just wait. There's never going to be a clear space. So you just have to wing it. … I rolled over one that you couldn't see, and it stopped my momentum. So I stopped, I spun and I was stuck. Then I fell over, downside and the motorcycle fell on me, and I couldn't move, I couldn't wiggle out. I've never been stuck like that."
Another rider stopped and pulled the bike off her.
The rocky terrain was so intense that there was an earthquake during the race in Chile, and Lacy said she and the other racers didn't even feel it.

It takes physical stamina and mental focus to compete for the hours on the road. After a day of racing, your entire body is sore, she said.
"You lose so much weight, and my hands after this last race — your knuckles swell, and it took six months for them to get back to normal," she said. "It's long, and you're standing up the whole time. Your body is an extension of the suspension to absorb big crashes and (stay balanced) while you leap off things and jump over things."
Getting distracted or letting your mind wander almost certainly ends in a crash or losing pace, Lacy said.
Both of Lacy's parents rode and raced motorcycles, starting in the late 1960s with street trail bikes.
In college, Lacy raced locally and then moved on to national competitions. What really put her on a path to success was when her boyfriend at the time said, "You're good for a girl."
"I was like, excuse me? That right there was what set me on I'm going to be fast, and I'm going to be fast, period. I'm not going to be fast for a girl," Lacy said. "I don't want to be a guy by any means, but don't tell me I can't be as fast."
She calls the bike she has now the "culmination of her career" in racing. The 2008 Kawasaki 250F was the first real four-stroke bike Lacy owned.
In order to ride in the Enduro, she had to know her bike inside and out because she was the only one allowed to work on it during the entire six days.
"Beforehand, it's a free for all, but when the race starts, it's you and the bike. Period," she said. "You've got 10 minutes in the morning to work, and you have 15 minutes at the end, and that's it. During the day, if you can squeeze in working on it on the trail, great."
One of the best things about riding is it's just you and the terrain, she said.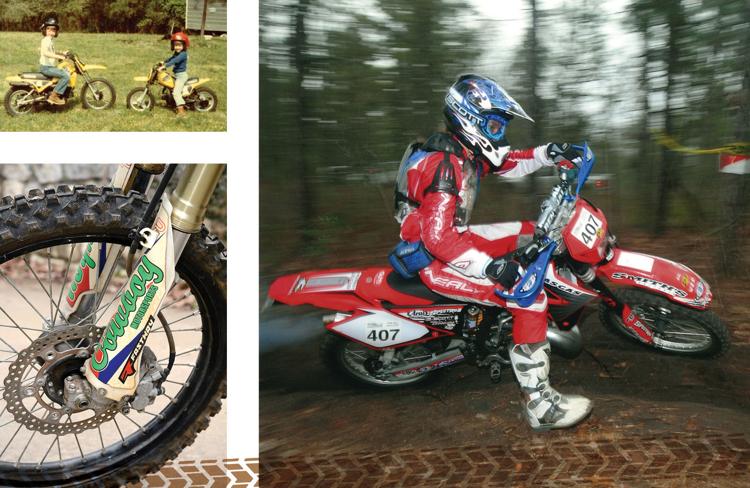 "You start competing, and you say, 'how can I do this faster? How can I get better?'" she said. "Then when you beat one of the guys, it's just fun. They either love you or they hate you. You're cool until you're in their class and their friends are making fun of them because they got beat by a girl."
There's nothing like the feeling of riding free with the air on your face, going where a car can't quite reach, Lacy said.
"I'm in that transition where I can't say I won't ever race again — because once it's in your blood — but now I have friends who do it a lot. I just watch and live through my buddies," Lacy said. "We still belong to Cyclelans, and we'll go out and ride every once and awhile, but I have a 1-year-old now, and it's just now getting to the point where I can leave him. … The focus is on raising the kids, teaching them everything I know and go riding as a family."
Nowadays, you can probably see Lacy's 8-year-old daughter Larissa on her smaller bike taking the same roads she's seen her mom drive countless times before, carrying on the family tradition.