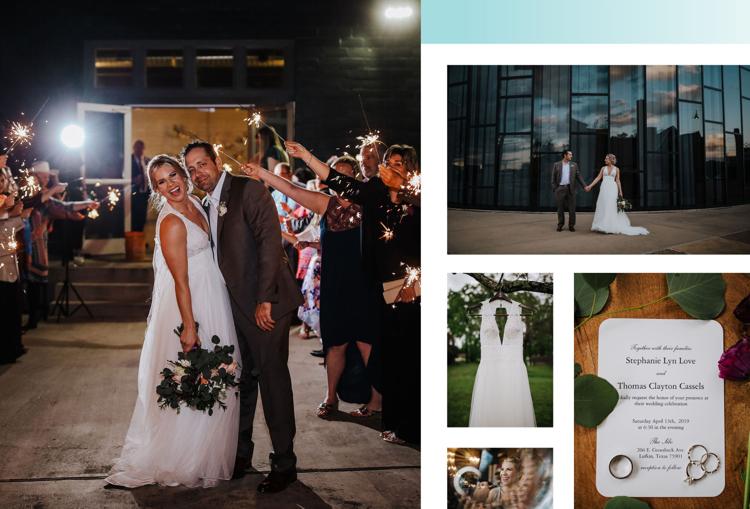 Thomas & Stephanie Cassels
Simple and somewhat non-traditional, Thomas and Stephanie Cassels were married on April 13, 2019.
They were joined in marriage by family friend Clyde Herrington at a ceremony at The Silo in Lufkin. As a backdrop for the ceremony, fresh flowers were added to hanging golden rings. The reception took place at the same venue, in accordance with Stephanie's insistence on keeping things simple.
What started as an out-of-town blind date set-up, Stephanie and Thomas began dating off-and-on for the next year before making it official in October 2016. Thomas popped the question in October 2018, giving them six months to plan the wedding.
"It was everything I wanted. I wanted people to come and feel comfortable. I wanted to eat, drink and dance. We did all those things. Just all the hustle and bustle of the proper things that people do in weddings intimidated me. I thought, 'I can't do that.' I didn't want to be concerned or worried about things. I just wanted it to be simple. And it was. It was a dream weekend. In a million years, I would have never wanted anything different."
Stephanie's dress, with its plunging, lacy V-neck, gauzy skirt and open back, came from Ventura's Bridal Fashion in Houston. The bride's cake, groom's cake and cupcakes all came from H-E-B Bakery. The Silo catered a fajita and taco bar for family and the couple's closest friends.
"It's funny. I didn't know what I wanted through this whole wedding process, but I knew what I didn't want," Stephanie said. "We just wanted it to be simple."
Stephanie said they used what they had for the reception décor, including Thomas' deer antlers and moss she had collected from the lake.
"Eggplant was really the only splash of color that we had. I wanted it to be somewhat whimsical, but also woodsy because Thomas is a hunter, and I wanted to incorporate him in it," Stephanie said.
Emcee and DJ: Jimmy Hughes
Photo Booth: Texas Sized Selfie
Coordinator: Tiffany Arnold
Hair: Kate Love, sister-in-law of the bride
Makeup: Ashley Conlon
---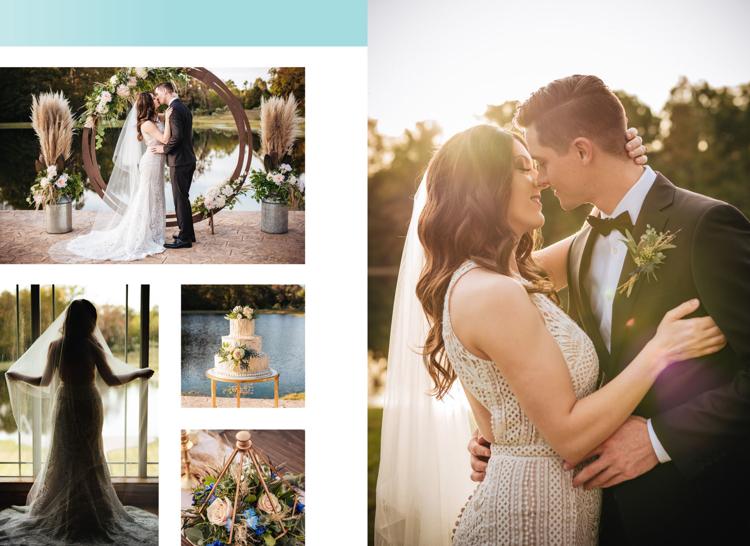 Seth & Hannah Thompson
eing the best friend of someone who is launching a new photography business can have its perks. Seth and Hannah Thompson, of Lufkin, were married three-and-a-half years ago, but when photographer Sabrina Guerrero decided to style a wedding shoot, the couple jumped at the chance to recreate one of the best days of their lives.
"Because of everything that they've been through, it was nice to do this for them," Guerrero said. "It meant something different to them this time. Even though it wasn't an actual wedding, seeing each other dressed up like that it was like getting to re-live their wedding day."
The Thompsons met while working at the Lufkin Police Department — he is a police officer, and she was a dispatcher. In 2017, Seth was diagnosed with testicular cancer. The following year, Hannah was diagnosed with breast cancer. And in May 2019, while on duty, Seth was hit by a car.
"It was something crazy every year."
With a modern and whimsical feel, the cake was provided by Grandough Baking Company and the flowers and decorations were provided by Liza's Garden of Huntington. Hannah wore two different dresses, both from Rubie & Jane, and the photos were taken at Shelton's Place. Summer Murray, of Chireno, did Hannah's makeup.
Cakes: Grandough Baking Company
Flowers: Liza's Garden
location: Shelton's Place
Dress: Rubie & Jane
Makeup: Summer Murray
---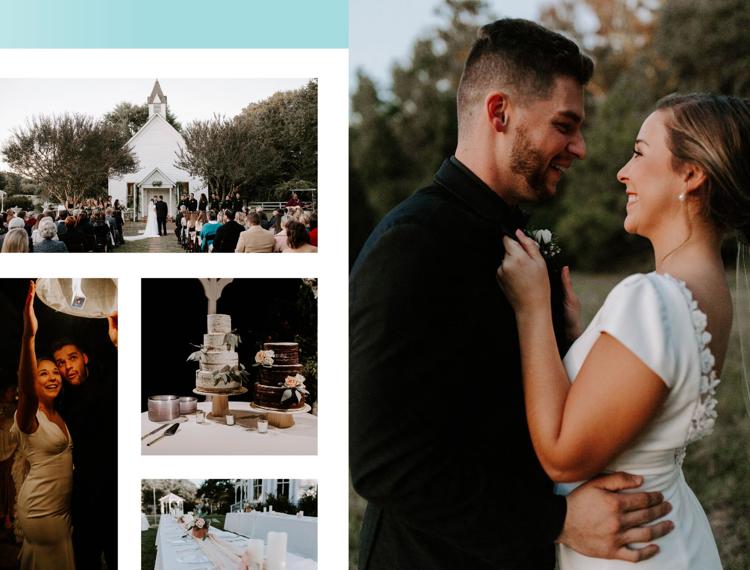 Eric & Hannah Willis
Eric and Hannah Willis met at Stephen F. Austin State University, where they worked as campus tour guides. They were married on Nov. 2, 2019.
During their four-month engagement, the couple designed an intimate, outdoor fall wedding using a variety of local vendors.
"We were really eager to plan a wedding that utilized the talents of our friends, family and, specifically, local businesses. We value creative freedom and were excited to extend that to our vendors, which left us wildly impressed by what everyone created and contributed," Hannah said. "Keeping things close to our home felt so special."
The ceremony and reception took place at Millard's Crossing Historic Village in Nacogdoches.
"We loved that this site was historic and offered an outdoor option. Not to mention how affordable it is to rent out. They are a cooperative and adaptable bunch," Hannah said. "We appreciate their help and their willingness to let us basically take over their venue."
They chose a muted desert/sunset palette with dusty oranges, peachy-pink tones and subtle neutrals, such as white, tan and creams.
Hannah designed the invitations and a few other printed items, which were produced at SFA's graphic shop. She also hand-dyed the table runners and various linens and hand lettered the seating chart using paint samples on a sheet of plywood.
A pizza and breadstick bar, catered by Macy Smith with Reverie Catering, included various pastas and Italian margaritas, an inspiration from the couple's favorite date night spot, Auntie Pasta's. Guests ended the night enjoying a cup of Java Jacks coffee.
The couple exited under a parade of floating lanterns.
Cakes: Cassie Grayson
Flowers: The Perennial Co. by Morgan Neighbors , sister of the bride
Rentals: University Rentals
Dress: BHLDN Haven Gown
Hair: Morgan Neighbors
Makeup: Sarah Love, sister of the bride
Accommodations: Mockingbird Suites