I was first struck by the beauty of Lake Charles, Louisiana, when I glimpsed the town from the top of the West Lake Bridge headed east.
I usually wish my boyfriend was with me on these trips, but never moreso when I couldn't stop to photograph that impeccable view. We'll count this as a lesson learned for everyone else — it's important to take a friend when visiting Lake Charles.
I joined the crew of travelling writers — as is usual for me, a day late — just after breakfast at The Bekery. My new companions informed me that it was fantastic, and I most definitely missed out.
After a quick greeting, we quickly loaded up in our tour van with local historian, Adley Cormier. While I typically avoid your large, cliche tours through easily researched older cities, Cormier gave us insights into some of Lake Charles' most beautiful and historic buildings that I don't think we could have learned otherwise.
Maybe the trick to interesting tours is to bring along a local historian who is ready to talk your ears off.
My favorite spot he took us to was the Sallier Oak tree, which was just outside the Imperial Calcasieu Museum.
I would 100% recommend stopping at the Sallier Oak. The tree limbs cover the largest part of the courtyard it is housed at and offers an intricate design of light and shadow in the grassy lawn.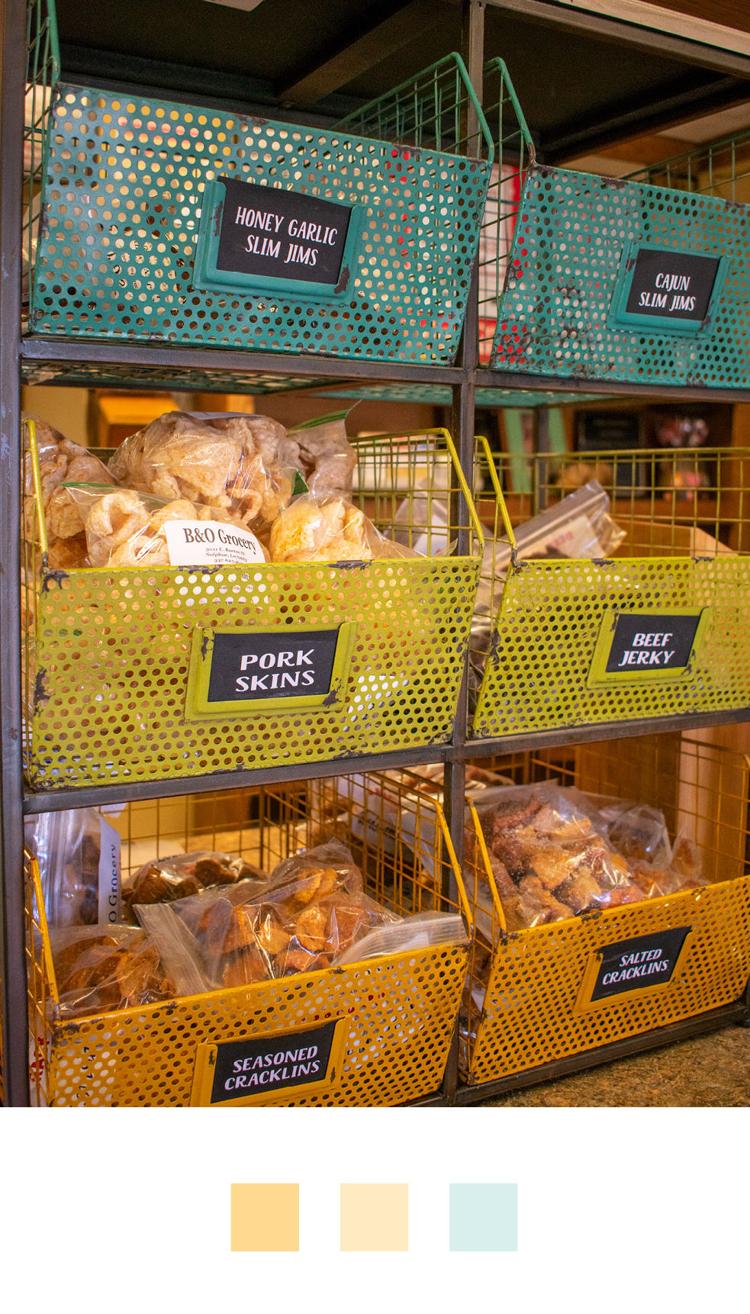 The 375-year-old live oak has weathered some of the worst storms in the town's history and was once split in half by a lighting strike. While half the tree was removed because rot set in, the chains used to try to heal the massive tree can still be seen.
We followed our tree visit with a trip through the Mardi Gras Museum of Imperial Calcasieu at the Central School Arts and Humanities Center, which is home to one of the largest costume displays in the world. I took around 100 photos (of which only maybe 30% were decent) in this museum.
I am a Mardi Gras newbie, so, of course, I was awed by the sheer magnitude of some of these costumes. According to our tour guide, there were pieces that men wore on their shoulders, and they were taller than I am.
I was thrilled to learn about the Courir de Mardi Gras, a tradition in many southern Louisiana districts where people set a chicken or rooster free and proceed to chase it. The museum has an entire section dedicated to this event and the history of it.
I may or may not be making a trip back to Lake Charles this year just to participate.
Also, if you have the time after you've gone through the Mardi Gras museum, I recommend heading down the hallway to look at their other exhibits. I enjoyed many truly amazing pieces by local artists that I would personally love to see supported.
After our Mardi Gras history lesson, we were ready for a drink and thankful that the next stop was at the Crying Eagle Brewing Co. for a tour, lunch and beer.
The tour was worthwhile, but was completely overtaken by the appearance of Tom Petty — the brewery cat. He is a fat orange-and-white rescue they adopted from a shelter.
He works as a mouser and the guys at the brewery (and his chubby belly) say he does a very good job.
The brewery is also notable because they try to eliminate as much waste as humanly possible to reduce their environmental impact. To do so, they sell the leftover barley to local farmers to feed their cows and use recyclable, plastic six-pack holders that are impossible for an animal to get stuck on or in.
After our beer-sesh, we made a quick trip to Acadian Coffee Roasters to taste some of their organically grown, fair trade coffee. They will do tours if you ask and give enough notice, but it's worth it just to walk into the front lobby, buy some coffee and smell the deliciousness.
Nancy Holmes and Nancy Kirby first began roasting coffee 12 years ago just for themselves, but fell in love with the process and decided to pursue it further after a printing company they worked for shuttered its doors.
I absolutely love, love, love, love black coffee but am a total lightweight with caffeine. So, while I was thrilled to taste it, I was nervous about staying awake all night knowing that day two was still ahead of me.
Thankfully, I was tired after the first day of travel and was able to enjoy the coffee with no consequences.
We finished the night with some appetizers and mixed drinks at Luna Bar & Grill, which is a super neat bar/restaurant plastered wall-to-wall with concert posters. The owner is a music junkie and a bit of a trippy chef, but everything he made hit the mark. After meeting the man, it's clear that his restaurant is the exact artist's representation of who he is.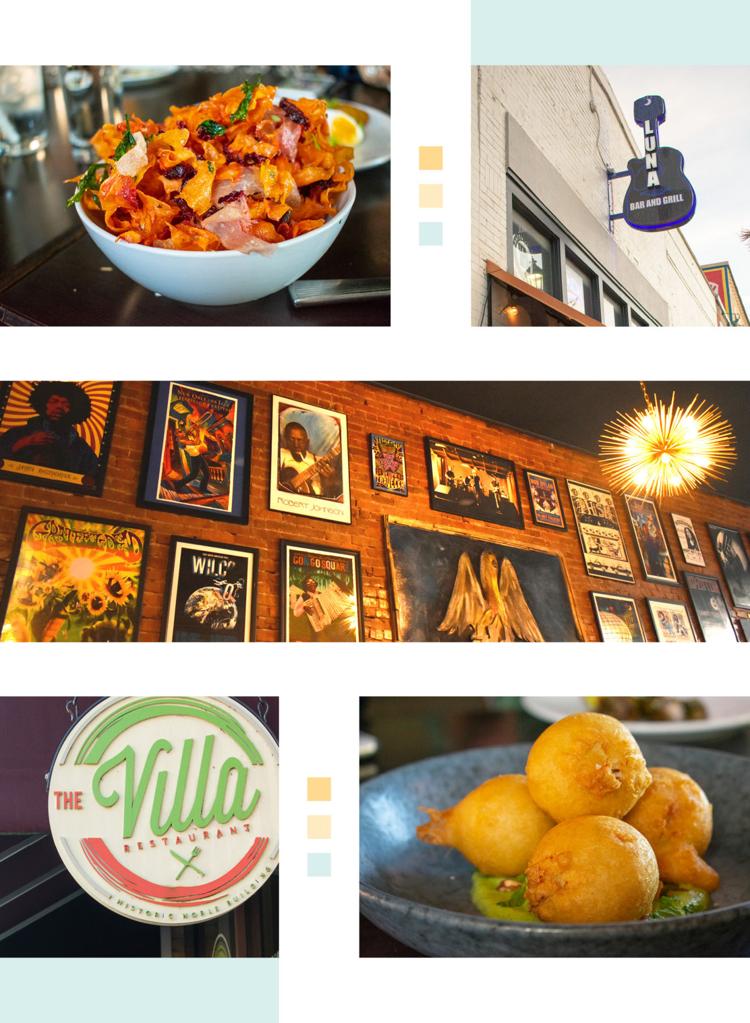 We spent the rest of our evening and a majority of Saturday at the Southern Cast Iron Cook-Off at the Lake Charles Civic Center.
While this was the inaugural cook-off, they hope to hold the event annually.
If you don't mind the wait until next fall, or want to make two trips this year, it was a blast to watch these amazing chefs prove their salt! I particularly loved the entertainment they had for both nights.
Rockin' Dopsie Jr & The Zydeco Twisters made up our entertainment Friday night and had the whole crowd swinging to some Zydeco music. Craig Morgan headlined Saturday. Listening to some of my favorite childhood songs and watching the sun go down over the lake is easily one of my best memories now.
We started Saturday morning by munching on LeBleu's Landing/The Sausage Link's boudin. I'm pretty sure that while everything was delicious, my favorite was the Pepper Jack cheese-filled boudin egg rolls (that had absolutely no egg in them). My mouth is quite literally watering as I write this now.
We followed our stop with a quick trip to the Creole Nature Trail Adventure Point. Now, this is where I got a bit confused, because I thought we were going on a hike. However, this was just the first step before hitting the trails.
There was an entire interactive set-up that was kid-friendly and very informative. My favorite part was playing the zydeco instruments with the other writers. We took great pleasure in pretending to be a part of a band.
I can promise that I'll be back to walk the trail, and I think it would be the best idea to stop by LeBleu's for some boudin before I go.
Saturday ended with dinner and drinks at Restaurant Calla. I got to try my first ever Moscow Mule, and promptly called my boyfriend to tell him what supplies we would need to make our own at home.
And as far as food goes, I have just one thing to say.
Brussels sprouts.
You won't regret it.
I already like Brussels sprouts but these guys brought their A-game. I don't know how I will enjoy my own rendition anymore, but it was worth it.
Sunday was far more relaxed, which was good because I think we were all a bit worn out.
We enjoyed a late morning brunch at Villa Harlequin where I had the Monte Cristo sandwich and a few mimosas. The food was superb, but the presentation made it even better, and the quiet aesthetic fit my mood perfectly.
I would have happily spent the day in our little corner of the eatery with a book, munching on my sandwich and downing mimosas.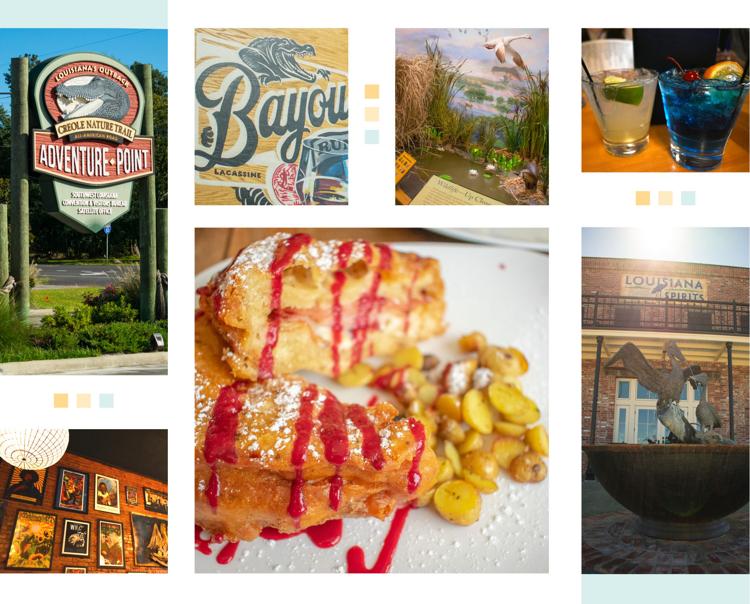 But instead we headed to the Bayou Rum Distillery. The neat thing about this distillery is that the owners realized how ridiculous it was that Louisiana produces so much sugar, but not much rum. So they pooled the money together and began working on a system.
Just like with caffeine, I'm a bit of a lightweight, and to be completely honest, I haven't been able to drink hard liquor since Halloween 2016. So I was more than a bit nervous about the rum tasting, but my compadres were ready for it.
My favorite was the coffee flavored liquor (shocker), and I seriously considered buying a handle. If I drank more I very well might have. It was super smooth, and I was ready for another taste. It didn't feel like drinking liquor, even though it wasn't cut with anything.
We were planning to hit up Mama Reta's for a quick bite to eat, but the line was out the door. So we stopped at a sports bar a few buildings down. No one was really in the mood to eat because of the large brunch we had consumed that morning, so we headed to the hotel for a much deserved nap.
That evening was probably the biggest shock of the entire trip.
I am a conscientious dresser. I may not always dress for the occasion, but I try to put some effort in. Well, here we come rolling up to the Golden Nugget Casino Sunday evening, and I'm rocking leggings, hiking boots and a sweater. Not fancy whatsoever.
We walk into this big, beautiful, shiny building and proceed into Chart House restaurant, a place that I pictured Frank Sinatra chilling at over the holidays. At the entrance is a massive fireplace with a bull's head over the top of it.
The waiters were dressed in black and white suits and brought us fancy wines and cocktails — this place was high end, and here I am in my muddy boots and leggings.
I ordered the crab legs (surprisingly, not the most expensive item on the menu) and enjoyed them thoroughly. Although I was disappointed because I didn't get to crack the legs open myself, but I guess that's part of what you pay for.
I'd mostly recommend this restaurant if you're a total foodie and willing to foot the bill for something high end and unique. And while a cocktail dress may not be required, maybe heels at least.
Lake Charles was a total surprise for me in all that they offered from laidback breweries to upscale casino restaurants. The food was incredible, and I can't wait to go back. Next time I think I will let my boyfriend tag along.