Order your groceries online? There's an app for that. Learn how to French braid hair? There's an app for that. Meet complete strangers — whether it's to make friends or to start an online relationship? There's an app for that. In fact, there's an app for almost anything you can imagine. What's scarier is that your child probably knows more about these apps than you do.
At the touch of a button, our children can interact with people from all across the globe through a variety of mediums — smart phones, tablets, smart TVs and even video game consoles come equipped with the ability to download thousands of apps providing different goods and services. Some of these are specifically designed to bring people with common interests together on a single platform. We call it social media.
How many social media apps do you think you could list? Five? Ten? Twenty?
As I began researching for this article, the sheer volume of live chat, social media, dating and "hook up'' apps that are available amazed me. It's hard to keep up as more are created daily.
Most of us could say we have a pretty basic knowledge or have at least heard about the most well known social media sites like Facebook, Instagram, Twitter, Snapchat, Pinterest or even Foursquare and Tumblr. But what about Monkey, HOLLA, Wishbone or After School? All of these apps promote a "safe, fun and friendly" way to make new friends or connect with old ones, but can also create a hotbed of issues for vulnerable preteens and teens.
Other apps like DOWN, Pure, Spotafriend, MeetMe, Grindr and UpLive are directed specifically toward meeting someone to date or hook up with, mostly with complete strangers. The majority of these apps boast a promise to provide users with privacy and complete anonymity. Unfortunately, anonymity on the internet is nothing but a façade.
What's scarier are the presumably innocent gaming and entertainment apps that include hidden chat rooms and access to inappropriate content, like Animal Jam, GIPHY, Music.ly, Ask.fm, live.ly and Roblox.
That last one still gives me nightmares.
Roblox is a global platform that brings people together through play. Users can play millions of free games on their smartphone, tablet, computer, video game consoles and more. Kids create their own avatar and interact with other players in what game makers describe as "immersive 3D worlds."
Three years ago, I watched my then 10-year-old stepdaughter play a few of the games on this particular app. So had her mother and her father. They were cute, brightly colored, and featured animals and animated characters. In our naivety, it seemed innocent enough. I had even seen Roblox toys and action figures sold in a local store, and there were Facebook stories about creating "family nights" where everyone plays Roblox together. How bad could it be, we thought?
Months after she began playing, we discovered she also had been chatting with a boy, four years her senior (or so he claimed), on her Roblox account, oftentimes well into the early morning hours. Despite our best intentions and conversations about not sharing personal information with anyone on the Internet, she admitted to telling this boy where she lived, where she went to school, and her parents' and siblings' names. We were horrified, to say the least.
We never believed something like this would happen to us. We were wrong.
"The chat function poses a real danger to children playing this popular game," explains ySafe psychologist Jordan Foster, a leading cyber expert at Family Zone, an Australian-operated technology company focused on the cyber safety market. "With limited safety measures embedded within the game, children are open prey for predators to communicate with. Consider it similar to sending a child out into a real room filled with strangers, with no barriers in place to stop people being able to talk to whomever they like."
Her mom, dad and I immediately restricted all access, which turned into months of turmoil for everyone involved. She missed her "friend," and she didn't understand why we wouldn't let her talk to him. She told us she knew him, and he understood her. We tried to explain that she really had no idea who she was talking to. That honesty is only an illusion on the Internet. Because as adults, we knew that in the online gaming world, predators lurk wherever games are marketed to children. Like any online multiplayer game, there is little to no control over the types of people or age limits of those playing the game. It was something she couldn't understand, and she hated us for it.
We were lucky. Naive, yes. But so very lucky. I think of what could have happened and how much more she could have been exposed to.
A couple of years ago, a father from England took to social media when he received sexually suggestive messages from strangers while logged into his young son's Roblox account. He said other players invited him into a bedroom of the virtual house and asked him to perform sex acts. Similarly, a North Carolina mother was shocked when she saw her 7-year-old daughter's avatar on Roblox being sexually assaulted by three other players, both situations according to an article on websafety.com.
Looking back, there are so many things we could have done differently. And there were so many things we changed once she was allowed to use electronic devices again. I recently sat down and talked to her about what had happened three years ago. She said she realizes now the implications of what could have happened and understands why we were so concerned, but at the time, she just wanted someone to talk to.
We routinely check our daughter's phone now. We remind her we aren't trying to invade her privacy — just trying to keep her safe. She isn't allowed to have her phone in her bedroom at night. We deleted any Internet browsing sites and paid better attention to what she was doing on her phone. The best thing we did was to restrict her access from downloading any apps without our permission. Now we know exactly what's on her device.
Most smartphones now come with robust parental controls. With a few simple clicks, you can manage your child's access and length of time spent in front of their tiny screen. The restrictions vary — you can select all types of content you want to block, including in-app purchases, your child's ability to install apps without your permission, adult websites, explicit language, location sharing and much more.
The conversation about cyber security is now just as important as talking to your kids about "stranger danger" or the "birds and the bees." The Internet is so easily accessible now, and while it can be used as a tool for education and lighthearted fun, there is also a serious potential for harm. As parents, it's important to remain positively engaged with our children's online habits. In 2010, President Barack Obama partnered with the Department of Homeland Security to create Stop. Think. Connect., a national public awareness campaign that "increases the understanding of cyber threats and empowers the American public to be safer and more secure online."
According to the DHS website, "Stop.Think.Connect. is part of an unprecedented effort among federal and state governments, industry and nonprofit organizations to promote safe online behavior and practices. It is a unique public-private partnership, implemented in coordination with the National Cyber Security Alliance. More and more, Americans are using new technologies and spending more time online. Our growing dependence on technology, coupled with the increasing threat of cyber attacks, demands greater security in our online world. This presents the need for simple, easy-to-understand resources and tips to help ensure their safety and security. The campaign provides access to these types of resources to give Americans the tools they need to make more informed decisions when using the Internet." Visit dhs.gov/stopthinkconnect to learn more.
Before giving your children access to the Internet, sit them down and discuss your rules and expectations. Create an open dialogue. Let them know how important cyber safety is, but don't scare them. The Internet has a major presence in each of our lives and it's not going anywhere. It's our responsibility to make sure their experience is a positive and safe one.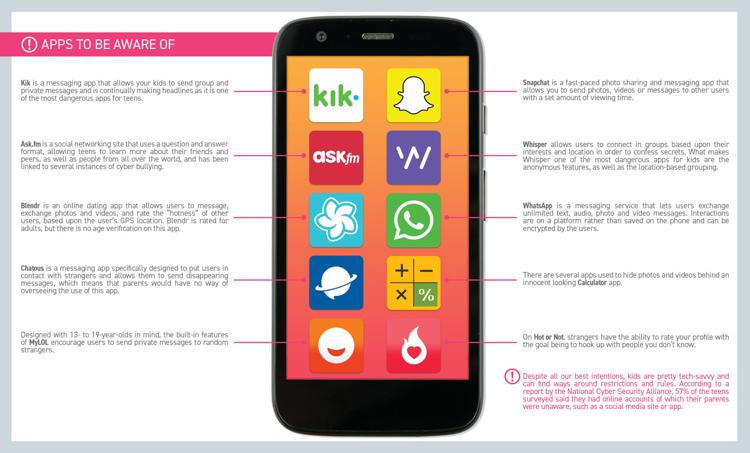 Kik is a messaging app that allows your kids to send group and private messages and is continually making headlines as it is one of the most dangerous apps for teens.
Ask.fm is a social networking site that uses a question and answer format, allowing teens to learn more about their friends and peers, as well as people from all over the world, and has been linked to several instances of cyber bullying.
Blendr is an online dating app that allows users to message, exchange photos and videos, and rate the "hotness" of other users, based upon the user's GPS location. Blendr is rated for adults, but there is no age verification on this app.
Chatous is a messaging app specifically designed to put users in contact with strangers and allows them to send disappearing messages, which means that parents would have no way of overseeing the use of this app.
Designed with 13- to 19-year-olds in mind, the built-in features of MyLOL encourage users to send private messages to random strangers.
Snapchat is a fast-paced photo sharing and messaging app that allows you to send photos, videos or messages to other users with a set amount of viewing time.
Whisper allows users to connect in groups based upon their interests and location in order to confess secrets. What makes Whisper one of the most dangerous apps for kids are the anonymous features, as well as the location-based grouping.
WhatsApp is a messaging service that lets users exchange unlimited text, audio, photo and video messages. Interactions are on a platform rather than saved on the phone and can be encrypted by the users.
There are several apps used to hide photos and videos behind an innocent looking Calculator app.
On Hot or Not, strangers have the ability to rate your profile with the goal being to hook up with people you don't know.
Despite all our best intentions, kids are pretty tech-savvy and can find ways around restrictions and rules. According to a report by the National Cyber Security Alliance, 57% of the teens surveyed said they had online accounts of which their parents were unaware, such as a social media site or app.