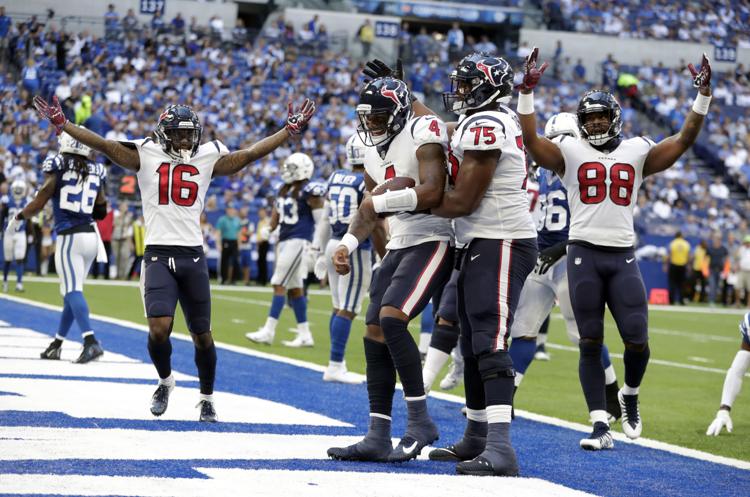 Before Keke Coutee was one of the brightest young receivers in the NFL, he was a star for the Lufkin Panthers that simply had "it."
Playing in a school known for big-time receivers, Coutee was never the biggest receiver on the field. However, when the Friday Night Lights turned on, he was the one with the wow factor.
"When you're looking for a football player, he just has it," Lufkin head coach Todd Quick said after his first year as a head coach, which also coincided with Coutee's first season as a varsity member of the Panthers. "He's not the biggest kid on the field, or even the biggest receiver. It doesn't matter. You want Keke on your side."
Those comments came as Coutee was wrapping up his sophomore season, a year in which he caught 60 passes for 864 yards and five touchdowns from soon-to-be Texas A&M standout pitcher Tyler Stubblefield. That was just a start as he surpassed those totals both as a junior and senior despite playing in two fewer games.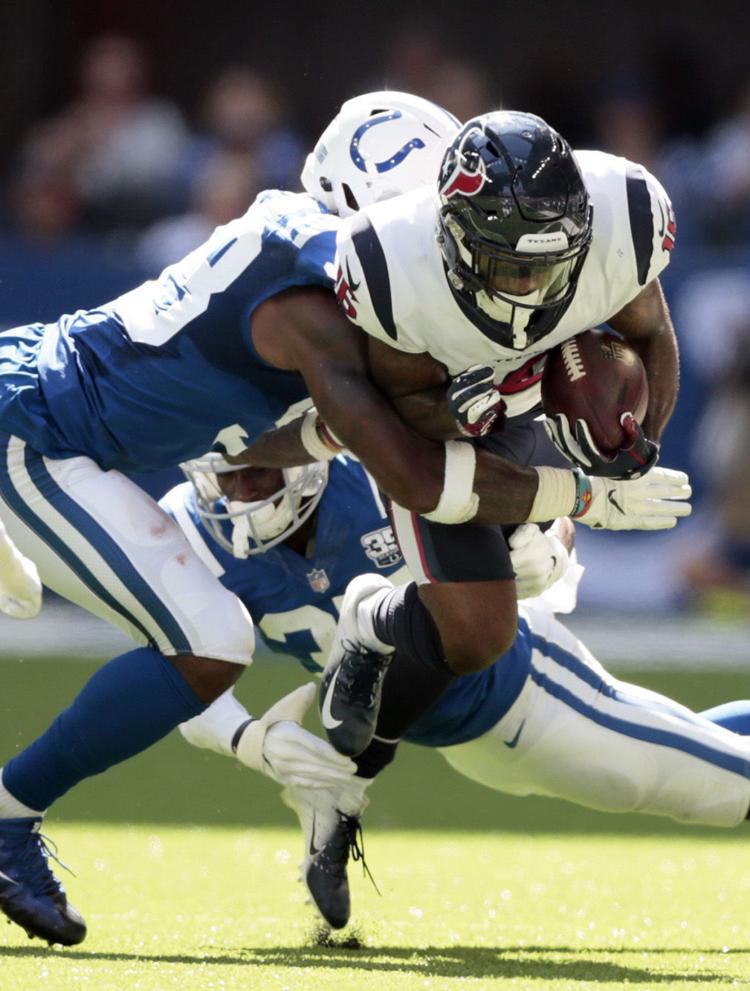 His work as a junior and senior came with Trey Cumbie, a former Houston Cougar and a current Minor Leaguer in the Tampa Bay Rays' organization playing quarterback.
Fast forward to 2018 and the spotlight has brightened, but the results have stayed the same.
When Coutee was on the field, not many rookies were better. In his career debut, he hauled in 11 passes for 109 yards. His 11 receptions were the most by a player in their debut since the AFL/NFL merger.
The following week, he caught his first career touchdown pass, a 1-yarder from Deshaun Watson, in a win over the Dallas Cowboys.
It wasn't overly surprising that the Texans' first two wins came after Coutee made his debut in the Texans' lineup after a hamstring injury kept him sidelined early.
Along the way, he continued to draw the attention of another former Panther — Dez Bryant.
"Alright Lufkin Tx. Keke ... turn up!" the former human highlight reel for the Panthers tweeted following Coutee's debut.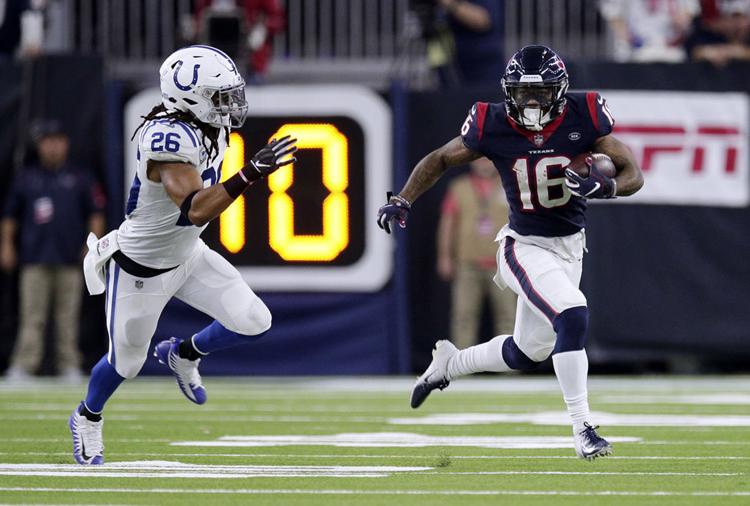 As Coutee's Texans were getting past Bryant's former Cowboys the following week, Dez tweeted out "Keke Lufkin finest!!!!!"
Bryant didn't back down from his tweet as he continued to support Lufkin's latest shining star at receiver.
It's easy to see why.
As a member of the Panthers, Dez did quite a job in rewriting the record books for Lufkin receivers.
Coutee wasn't quite in middle school by the time Bryant graduated from Lufkin after helping lead the team to national prominence.
However, when it comes to Lufkin's career record book, Coutee didn't take a back seat to anyone, including Bryant.
Coutee finished his career with 195 receptions and 2,739 yards, both Lufkin school records. His 26 career touchdowns are second only to Bryant.
"When he was playing at Lufkin, I watched him a lot," Coutee said in a Houston Chronicle interview prior to the Texans/Cowboys matchup. "Growing up, all the kids wanted to be like Dez. Him being around for some part of my life is good."
The relationship between Coutee and Bryant is a nice story, but Keke's accomplishments stand on their own.
Following his sophomore season in which he played a pivotal role in leading the Panthers into the third round of the playoffs in Quick's first season as head coach, he put up two of the best seasons in Lufkin history.
As a junior, he had 77 catches for 1,034 yards and nine touchdowns. That included an eight catch, 194-yard night against Longview.
The following season, he had 58 catches for 841 yards and 12 scores.
Colleges took notice. After committing to Texas prior to his senior season, he eventually decommitted due to the Longhorns' change in coaching staff after Mack Brown left.
He instead chose to join the "Air Raid offense" under Kliff Kingsbury. He was one of five Panthers to make their commitment that day. Teammate Erik McCoy, who committed to Texas A&M, should be joining Coutee in the NFL later this year.
"I'm ready to go all out for Texas Tech," Coutee said on National Signing Day. "It's exciting for this day to be here and to make this all official. I can't wait to get out there and be a Red Raider."
As it turns out, his high school coach knew exactly what type of player would eventually be headed to the Texans with a three-year stop in Lubbock along the way.
"I think it's perfect for Tech and perfect for Keke," Quick said. "They've made a living with guys that are about Keke's size, guys that are still playing in the NFL. We'll be turning on the TV and seeing him making plays."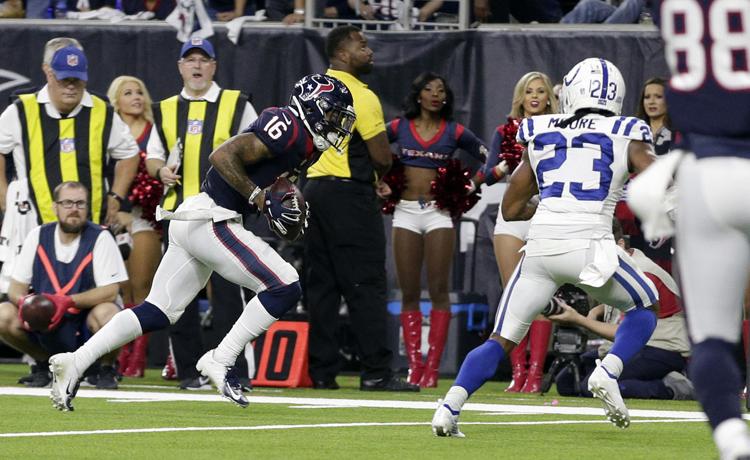 Even Texas Tech had to be somewhat surprised with exactly the caliber of player it was getting.
Playing for an offense that prides itself in big numbers, Coutee was in a class of his own. It certainly didn't hurt to have future NFL MVP Patrick Mahomes calling the shots.
As a sophomore, he finished the season as Texas Tech's leading receiver with 890 yards to go along with 55 receptions and seven touchdowns.
Even after Mahomes graduated, Coutee put up one of the biggest seasons in school history. As a junior, he finished with 93 catches for 1,429 yards and 10 touchdowns. That yardage total ranks only behind Michael Crabtree's mark of 1,962 that was set in 2007.
It was time for Coutee to head to the next level. However, even with a career that included 159 catches for 2,424 yards, 17 touchdowns and All-Big 12 accolades, the questions still remained.
Was he simply a product of the system? Was he big enough to become an elite NFL talent?
"It's a stereotype, but the reality is we know how to run routes there and we have an extended route tree, so you feel like you have enough experience to be able to handle NFL playbooks and the complexity of those," Coutee said in an interview with the Fort Worth Star Telegram in the days leading up to the 2018 NFL Draft. "We're constantly showing scouts that we're not system guys."
As it turns out, Coutee didn't have to go far to find the right fit.
The former Panther and Red Raider was staying close to home as the Texans selected Coutee in the fourth round of the 2017 NFL Draft.
Joining a star receiver like DeAndre Hopkins with a dynamic quarterback like Deshaun Watson meant the sky was the limit.
"He's a guy that's versatile," Watson said in an interview with the Houston Chronicle. "He can do a lot of things in the slot position. A lot of guys are going to really have to be on their toes to cover him.
"He's very instinctive and a smart guy, a guy that learns quickly and understands what the defense is doing to him. He just finds openings and he's a guy that snatches the ball out there. It's going to be a great addition for us."
Just like every quarterback he has worked with, Coutee was quickly one of the first options for Watson.
That was nothing new for a receiver that caught passes from a pair of future Minor League pitchers while playing at John Outlaw Memorial Field at Abe Martin Stadium.
And it's also not a surprise when he shows up on a Friday night or comes into the high school to mentor Lufkin students and athletes.
Whether it's on the field or away from it, Coutee has aced every test along the way.
Now as he gets ready for his second season, the Texans are ready to take their place among the NFL elite.
For those that haven't taken notice of the East Texas product yet, it certainly won't be long.
"From the time he was here, you just knew there was something different about Keke," Quick said. "He doesn't look like Dez when he's out on the field. They're completely different guys, but nobody was stopping either one of them. We're certainly proud to call him a Lufkin Panther."