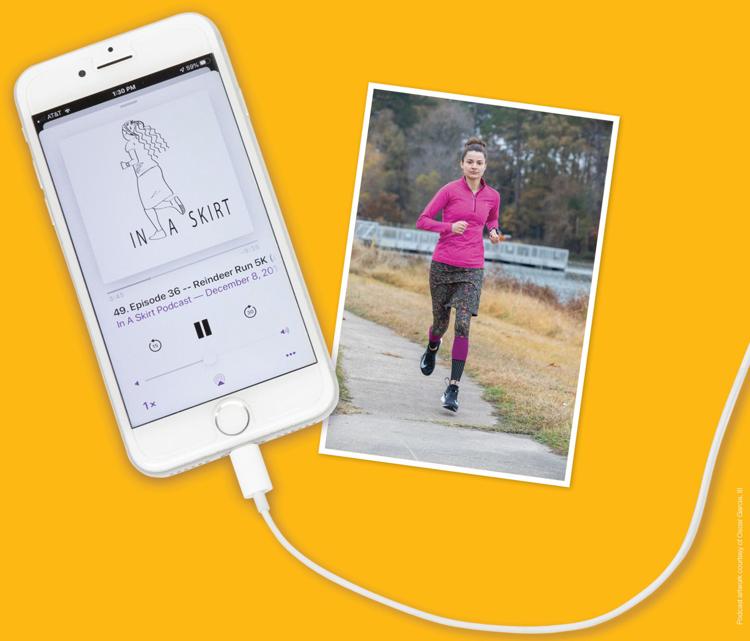 The alarm comes alive with a jarring noise. It would be easier to roll over and go to sleep, but she knows it won't make her feel any better. So she drags herself out of bed, knowing that across town her friend is doing the same and will be waiting on her. A quick ponytail and brush of her teeth, and she climbs into the car. The clock on the dash reads 4:30 a.m. as she notices the quiet, empty streets of the Brookhollow subdivision in Lufkin. When she pulls up to a home, another woman is waiting in the driveway. It's time to run.
Krystal Riley is the mother of two boys and one adopted toddler girl, a wife and an attorney at Skelton Slusher Barnhill Watkins Wells law firm. Seven years ago, she realized she needed some "me time."
"I didn't have anything I did for myself. My oldest was six and my youngest was three. I felt unhealthy, always tired and drained," Riley said. "I thought I needed to exercise, and to me, the most you could get out of a short period of time was running. You could burn the most calories and get the biggest workout. Plus, it was cheap."
Riley was raised in the Pentecostal church, a devout denomination of Christians who maintain a strict dress code, which includes women wearing skirts instead of pants or shorts. As a child, Riley said she often avoided athletic activities because of her attire.
"There was never anything to wear for active clothing when I was young. Nothing. My mom was always trying to make me stuff or there was a lot of stuff I just didn't do because I didn't know what to wear."
Despite being self-conscious of her atypical workout gear, that included a skirt over her leggings, Riley began running in October 2012. But always alone. Always in the dark, early morning hours. Always a three-mile stretch.
Four years later, her brother asked if she would run a half-marathon with him. She told him she couldn't.
"He asked me, 'How do you know? Have you ever tried to run more than three miles a day?' I said, 'No, I just assumed I couldn't.' He said, 'Why would you say you couldn't do something if you haven't even tried?' It bugged me when I thought about it later," Riley said. "Why did I automatically assume I couldn't do something? Where did I come up with this completely arbitrary excuse or limit on myself?"
So she downloaded a half-marathon training guide.
"I tried it, and I loved it. I laugh about it now because I hate the first three miles of any run, but after three miles, I feel like I could go forever. So for four years I stuck this arbitrary limit on myself that I was going to stop at three miles, and I stopped right at the point where I hated it, not knowing that right past three miles was a whole other feeling."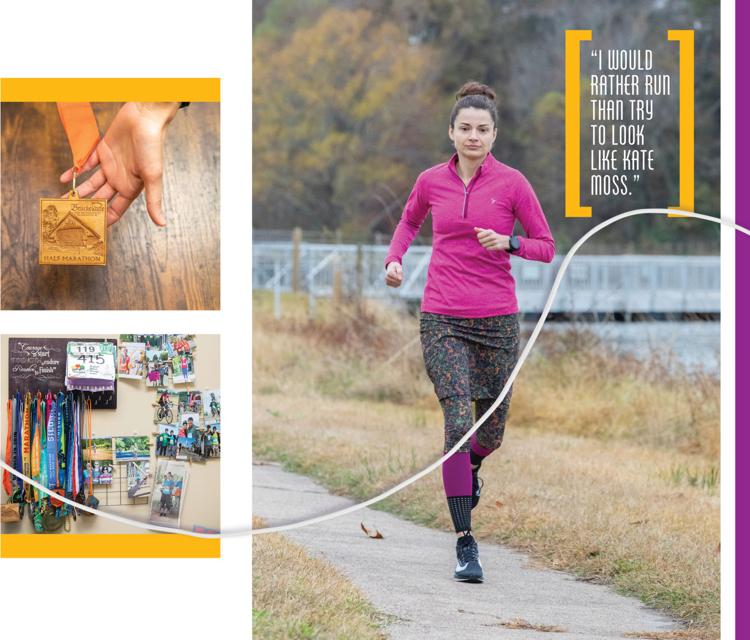 Still apprehensive of showing up in her running skirt, Riley ran her first race in Michigan.
"I wanted to go somewhere where no one knew me. I ran for four years before I ever ran in the daylight or ran at a race. But then I learned nobody cared."
Last year, Riley saw a story about an Orthodox Jewish mother of five children who has completed and won numerous marathons all while wearing a skirt.
"She dresses like I do. And she's standing there on the podium in a skirt," Riley said.
With the words "in a skirt" stuck in her head and some help from her tech-savvy husband, the self-proclaimed "podcast junkie," started her own show, aptly named, "In a Skirt."
"I may not be your stereotypical athlete, but that's OK. I'm going to celebrate the fact that I'm doing this differently or in an unconventional way."
During her shows, Riley introduces listeners to people like Leah Brasher, an ultra-runner who applies the Couch to 5K philosophy to complete 100-mile races, and Ken Johnson, 78, from Huntsville, who has run 1,100 races and yet claims to hate running.
She also uses her podcast, social media accounts and website to inspire others and promote modest active wear companies she has found over the years.
"I think a lot of people set these arbitrary limits on what they can and cannot do, not knowing that if they pushed themselves a little bit, they'll find out they're capable of so much more," Riley said. "It doesn't matter how you do it, what you're wearing, how old you are or how you're doing it. None of that matters."
Riley admits she suffered from body image issues and restrictive eating when she first began running. When she was diagnosed with stress fractures in her pelvis from a lack of nutrition, she knew she had to change her negative mindset.
"By that point running had become so precious to me that it was a huge wake up call about how I needed to eat. I would rather run than try to look like Kate Moss."
She now calls running "her friend."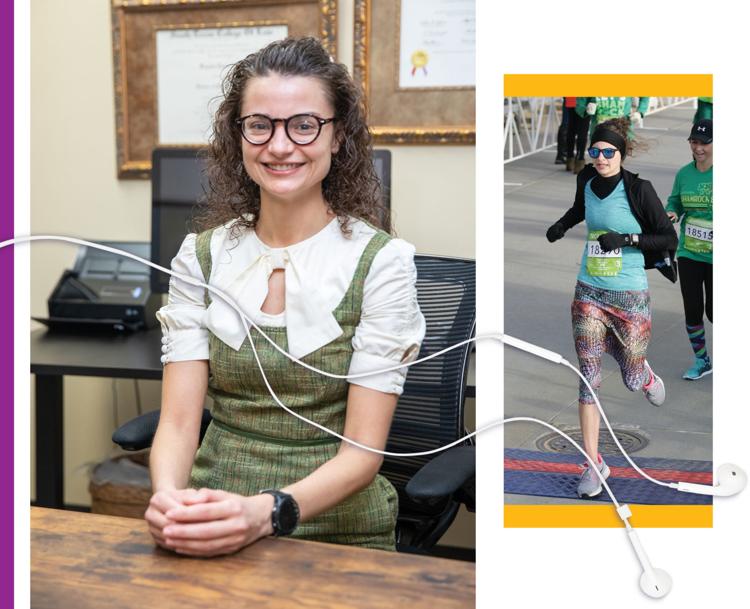 "After a few years, I realized I really liked it. I didn't care about the exercise part, and I don't care about the calories part anymore," Riley said. "I just eventually fell in love with it. It's a big deliberate pause in your day, where it's just you and your thoughts."
Since 2016, Riley has participated in two 25K races, seven half-marathons, several 5K races and two full marathons. She hopes to earn her third marathon medal this month.
Her immediate goal is to qualify for the Boston Marathon and eventually go on "run-cations" to participate in various races around the world.
"I would like to be that old lady, and say I've been running for 50 years. I love it. It's brought me lots of happiness and other relationships. It's given me something to talk about with other people and encourage them to do. It's given me a community that I feel like I may not have had before."
To listen to Riley's podcast, download the app on your smart device. You can also check out her website at InASkirt.com.