After a short trip down the Jonesville Cutoff Road, just north of Interstate 20, you'll find a rundown cotton gin, a former railroad depot and the T.C. Lindsey & Co. General Store — the only one of the three structures still operating. It has continually been in business since 1847, serving the small community of Jonesville and the many pilgrims who make this trek just to visit this historical gem.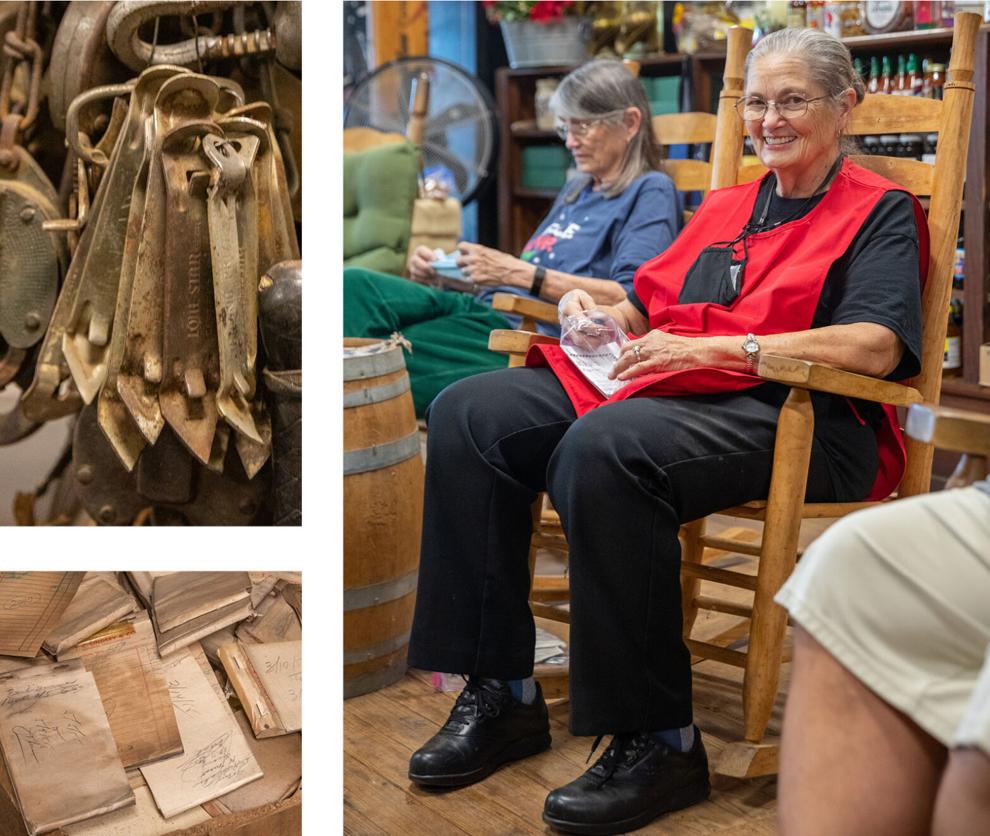 The store, originally opened as a trading post, was purchased in 1870 by Dr. Samuel Floyd Vaughan, the great-grandfather of its present owners. In 1900, his son-in-law (and its namesake) T.C. Lindsey bought it. Lindsey's nephew, Sam Vaughan, worked at the store as a bookkeeper before becoming a co-owner in 1938. Sam's brother Tom came home to join his brother in the cotton gin and store business. T.C. Lindsey died in 1948, leaving Sam and Tom as the principle business owners.
The family lineage of store ownership continues with Tom's daughters Marty Vaughan, Ellen Vaughan Miller and Lelia Vaughan serving as the current owners. Ellen's son, Jon Miller, is the store manager and her grandson, Raymond Gutierrez, can often be found working behind the counter.
"I vaguely remember when T.C. Lindsey was still alive,'' Marty said. ''He was the brother-in-law of my grandfather and we called him Tommo. I remember coming in the front door of the store and right to the left was the candy counter. I'd come in and say, 'Tommo, I'd like a piece of candy,' and he'd reach back there and give me a penny piece of candy."
The store was originally built about a mile away from where it now stands. It relocated in 1922, when the Pacific Railroad established a depot next to the store's current location.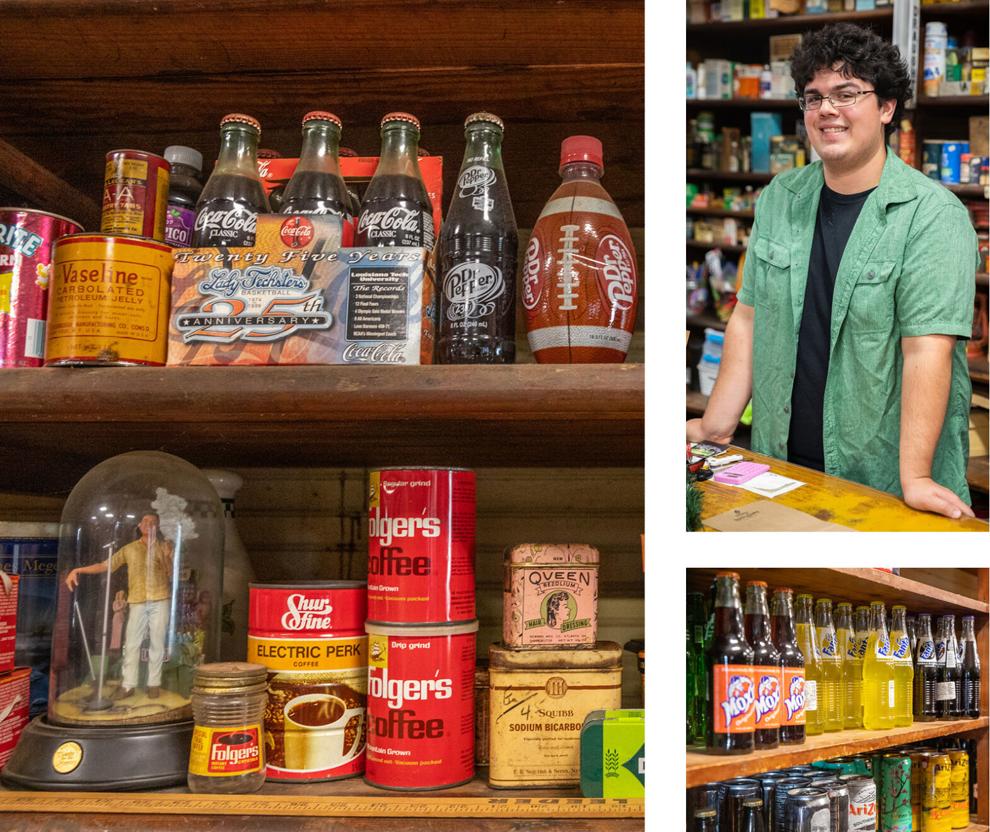 When the Jonesville Cotton Gin was operating, the store served as the hub of the local community. Local farmers came and charged their family groceries, clothing, medicines and shoes. The general store still has ledgers from these times that date back to the 1880s. It also housed the Jonesville Post Office, which has since moved across the street.
"This, I guess, was the Walmart of its day," Marty said. "As a kid, we still sold wagons. People could buy appliances here. Feed. Seed. There would be sacks of things piled up and as little kids, we'd like to come and jump on them until my dad or uncle would get onto us."
Pulling into the parking lot, you're instantly transformed to days of yore. Its front porch, lined with red benches, beckons you to sit and burn daylight. The old screen doors that guard its entry (and many tales that this structure holds) stand patiently, keeping the flies out and waiting to be entered.
Stepping through the threshold does not disappoint. Its menagerie of items lining the floor-to-ceiling shelves instantly draws you in for further exploration. From pottery to bonnets, walking canes to puzzles, overalls to oil lamps, the T.C. Lindsey & Co. General Store has it all. It triggers a combustion of nostalgia like straight adrenaline to all of your senses.
The store also serves as somewhat of a historic museum with items on display (but not for sale) including old butter churns, seed forks, old medicines, side saddles, pea shellers, corn shuckers and other antique farming equipment. There is a clothing section, complete with a full shoe section of vintage kicks, dresses and hats.
"There's a lot of history here," Marty said. "We've had attempted break-ins where people tried to come in through the floor to get inside back when we were selling guns. Lots of old pictures. Lots of memories. If these walls could talk, they'd have a lot of tales."
One night, Marty, who serves with the volunteer fire department, was called out after a bad storm. "As I approached the store, the roof was gone," Marty said.
With the roof damage, the extensive overall collection they carry had gotten wet. "That next day, we strung rope from the front of this building to the front of the other building to the back of this building and we hung the overalls up to dry. We had another big pair of overalls and we raised it up the flagpole," Marty laughs. People were coming by and asking, 'Do y'all have a sale on overalls?' We said, 'We'd be glad to sell you some, but they're drying out right now."

The fact that the store has not changed much over the years has landed it on the big screen, several times. It has been featured in movies including ''Bayou Boy,'' ''Stroke of Murder,'' ''The Pond,'' ''The Evictors,'' ''The Long Hot Summer,'' ''Big Bad John'' and ''Renfroe's Christmas.''
"Have you heard of Lead Belly," Jon asks? "He's buried here. His grave is four or five miles up the road. He played here in front of my grandfather in the '40s."
If you find yourself wanting a snack while you're there, no problem. The general store touts a vast collection of bottled drinks, ginger cakes, pecans, meats and hoop cheese that you can purchase and enjoy straight off the century-plus-year-old cutter.
Former first lady Lady Bird Johnson even stopped by the store for snacks.
"She was from up by Karnack. Her dad's name was Taylor and he had a general store, too," Ellen said. "She would come in our store and get Cracker Jacks because her dad didn't have Cracker Jacks."
The Vaughan daughters recently found a photo documenting one of her visits. "We had heard that story all our lives, but my uncle was a good storyteller. We didn't exactly know what was true or fictional," she said with a laugh.
The store continues to carry items the community needs and is still the heart of the tiny community it supports. Locals stop in to shop, socialize and swap stories. On any given day, you can find locals and tourist alike soaking in the shelf-lined walls while rocking in the rocking chairs. They provide a perfect front-row seat to immerse yourself in the history the store holds.
"There was some people here from Oklahoma last weekend," Ellen said. "They got in these rocking chairs and stayed for hours. They just visited. It was like it was a family reunion," she said.
T.C. Lindsey's General Store has that effect on people.
You can find out more information on T.C. Lindsey's General Store on their Facebook page or visit them at 2293 FM 134 Jonesville, TX 75659. The store is open from 10 a.m. to 4 p.m. Tuesday-Saturday. The phone number is (903) 687-3382.