As the days get cooler and autumn gets closer, there are many things to look forward to: football, bonfires, falling leaves and, for many East Texans, hunting season.
Individuals with physical disabilities also can look forward to hunting season thanks to the Angelina Wheelin' Sportsman Event, a two-day whitetail or hog hunt.
"For me personally, this event was a no-brainer when introduced by our forest supervisor, Eddie Taylor," Mandy Chumley, administrative support assistant for the Forest Service, said. "I have a passion for hunting and enjoying the outdoors but more than that, I have a passion for people. So being a part of an event like this, seeing the excitement on the faces of our hunters, is worth hosting the event and continuing to make it bigger and better year after year."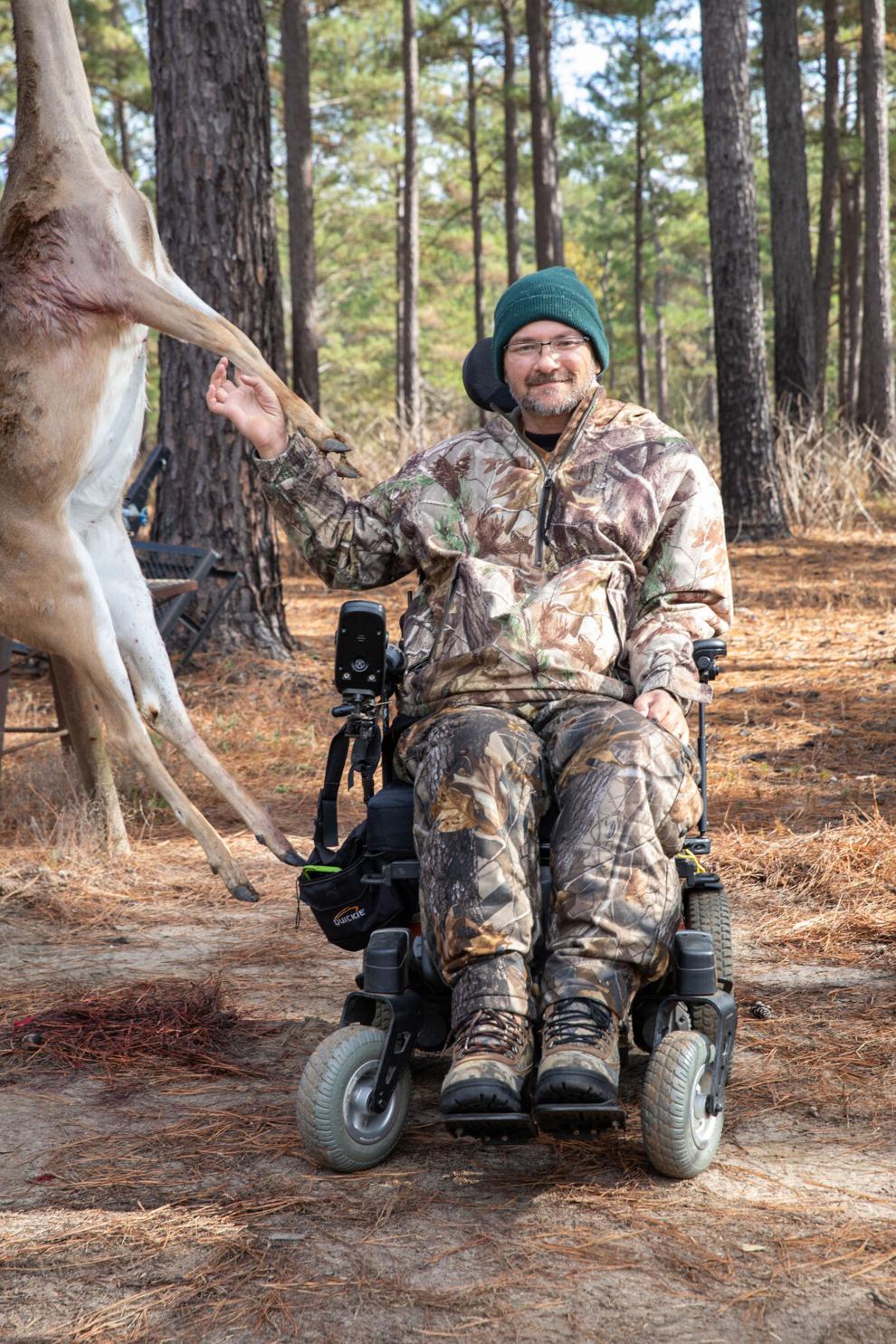 The Wheelin' Sportsman Event started more than a decade ago and is the result of a cooperative effort between the National Forests and Grasslands in Texas, the National Wild Turkey Federation, the Stephen F. Austin Experimental Forest and Winston Land & Cattle.
Participants provide their own weapon, transportation, lodging and a valid Texas hunting license. Volunteers and instructors provide participants with everything else they need, from helping them get into the hunting blinds to cleaning the animals if the hunters are lucky enough to catch one.
"Hunting is more than harvesting an animal. For many, it's a way to provide for their families, an opportunity to visit and meet like-minded individuals who love wildlife and just being one with nature," Mandy said. "Although this event has grown over the past 12 years, it's no longer 'just a whitetail deer/hog hunt,' it's more than that; it's a time where individuals with the same types of challenges can meet and visit, creating a network/friendship to last a lifetime."
Paul Wood, ranch manager for Winston Land & Cattle, said the Tree Farm between Lufkin and Nacogdoches has an open-gate policy, and they want everyone to be able to enjoy it.
"When this came along, the Winstons were adamant that we would not only take this on, but that we would host the entire event at our property," he said. "The same three properties have been continued to be used pretty much every year for the hunting itself, and that's Winston, Alazan and the SFA Experimental Forest. We've been involved since the beginning because the Winstons want to help anybody they can."
The event begins with a Friday evening hunt followed by a dinner provided by the Pineywoods NWTF Chapter in Lufkin. Saturday morning starts with another hunt followed by lunch provided by the April AWOL NWTF Chapter from Nacogdoches. A Saturday evening hunt closes the day.
A committee from the four host organizations reviews hunting applications each year. Accessibility and availability determine which participants are invited to hunt. There were 55 applications for the most recent Wheelin' Sportsman Event; 28 were able to participate.
Ed Tharp, who participated in the Wheelin' Sportsman Event in 2017 and 2018, said before he was paralyzed, he had been on deer leases, and even managed one.
"I was paralyzed eight years ago; I walked into St. Luke's hospital and never walked out, which was a life-changing event," he said. "To me, it was like the end of the world as far as hunting and fishing, because I thought I would never be able to do any of that; I am confined to a motorized wheelchair that weighs 450 pounds, and both my shoulders are shot. It was devastating not to hunt."
Ed said he saw a post on Facebook about the event and put in his application to participate.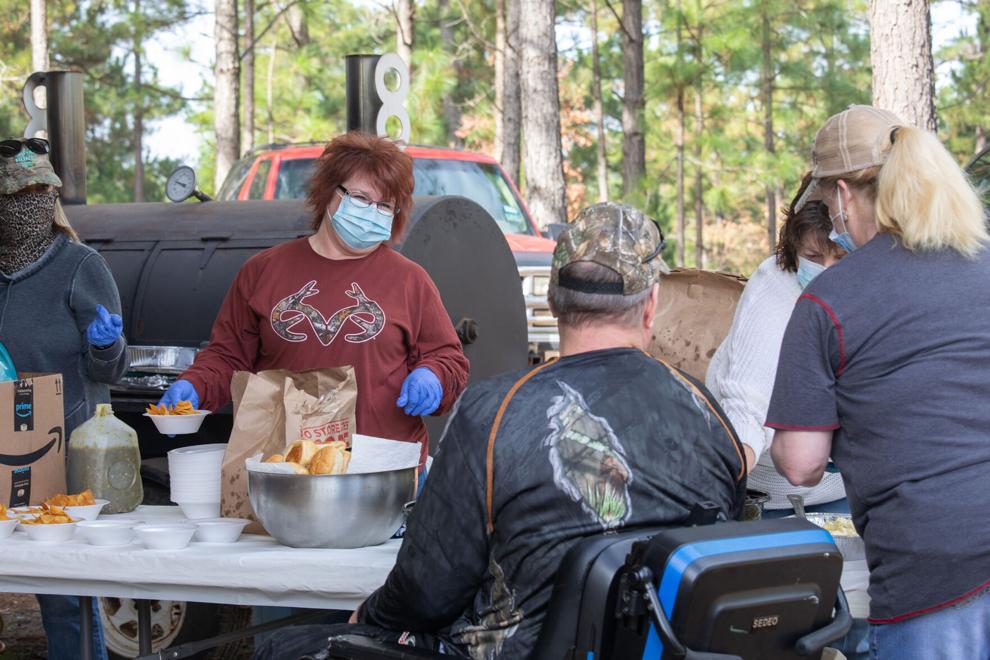 "I was immediately fired up and excited beyond belief," he said. "I had given all of my rifles to my son-in-law for safe keeping, and after turning in the application, I was so excited I had him bring them over so I could see which ones I could lift. I couldn't wait 'til I was told that my name was drawn."
Ed said when he actually went on a hunt, the whole process was fabulous and very well-done.
"I was lucky enough to shoot a deer," he said. "It is amazing what the Wheelin' Sportsmen do. It's something that you look forward to so much for a handicapped person. Praise the Lord for the work they do."
Jim Redd, who has been an avid hunter all his life, said he heard about it through some friends, one of whom encouraged him to give it a shot.
"I've been in a wheelchair for about 10 years; I was missing that part," he said. "I couldn't get out and hunt as I had done in the past, so when he told me about it, I thought, 'This is great, this is wonderful.'''
Jim was chosen to participate in 2016 and has been lucky enough to participate in every year's hunt since.
"It's been the most wonderful thing I've ever been able to participate in," he said. "As a handicapped hunter, those challenges sometimes are kind of overwhelming. To be able to go and have everything be taken care of, in a beautiful place, is so wonderful."
Mandy said she loves showing participants that although they may have some limitations in life, their life does not have to be limited.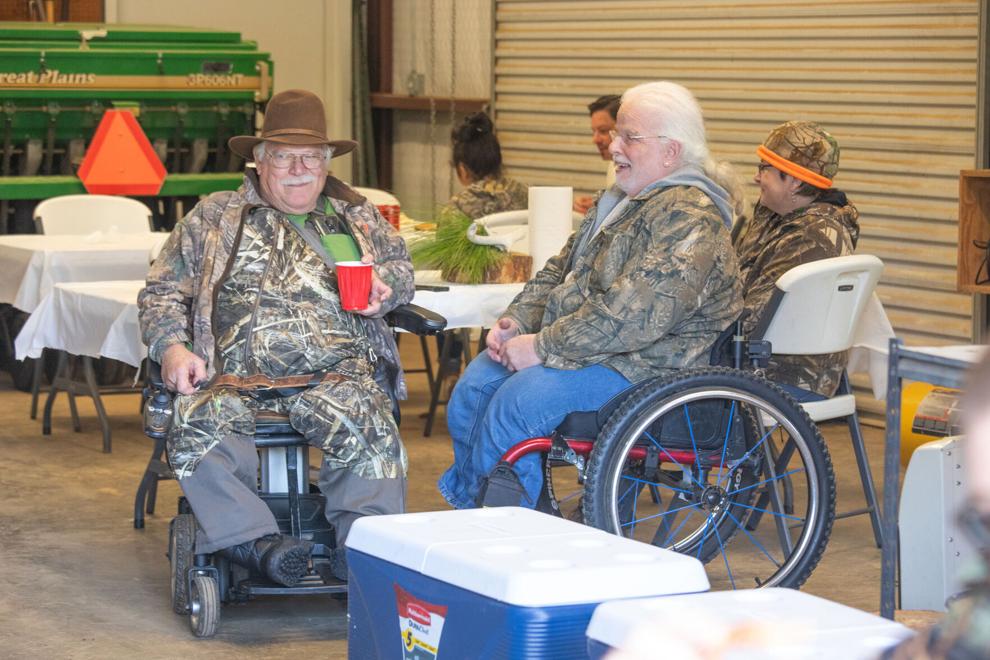 "Through the years, meeting the hunters, becoming friends/family if you will, visiting with the families and learning just how much this event means to them, seeing how it has allowed many to get back outdoors and enjoy a pastime they once loved, their thought was it was not possible any longer; we provide this opportunity," she said. "We are also introducing some to the outdoors for the first time, a truly life-changing experience for me. This is near and dear to my heart. I have a passion for people, equality and the outdoors."
At this time, the 2021 NWTF Angelina Wheelin' Sportsman event has not been scheduled. However, interested applicants are encouraged to contact the Angelina National Forest office for further information on the event's status.