Jefferson, Texas, was built by a log jam.
The colossal log jam, or the "Great Raft," as the people of Jefferson called it, was more than 100 miles long and disrupted the flow of the Red River, allowing Caddo Lake, and subsequently Big Cypress Bayou, to swell. The Caddo Indians, who yielded the land for the fledgling town, said the raft had always been there.
Jefferson was founded about 1841 when the swollen waterways made riverboat travel from the Mississippi River possible. By 1845, Jefferson had become one of the most important ports in Texas. People began to travel and trade there from St. Louis, New Orleans and Mississippi. It was soon a full-fledged riverboat town, complete with hotels, cotton warehouses, bars and brothels, catering to the men who worked on the river.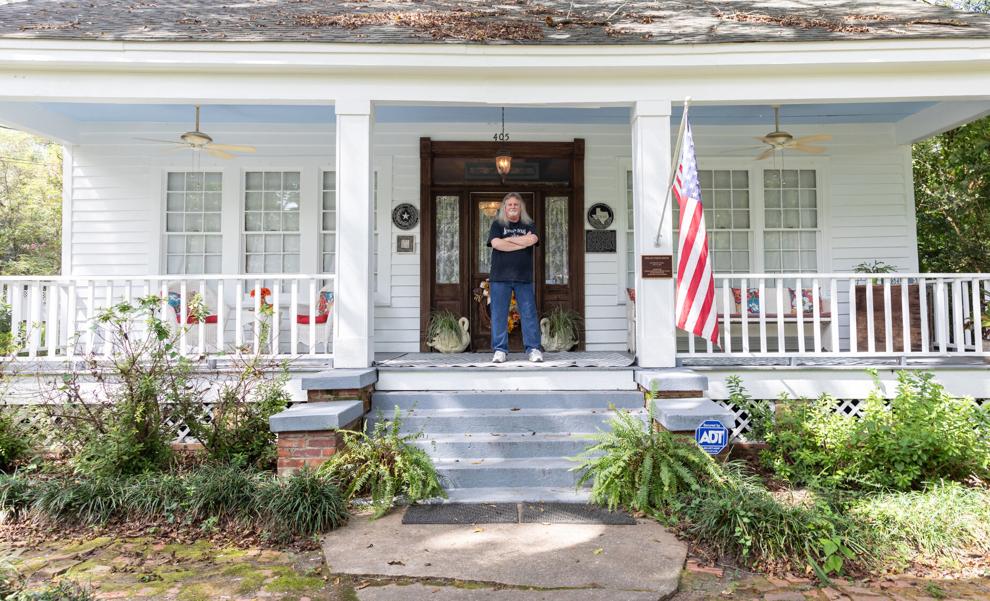 The population was more than 30,000 at its peak. In 1873, the Army Corps of Engineers was able to clear the log jam using nitroglycerin. This caused the river levels to fall, along with Caddo Lake and Big Cypress Bayou, making riverboat travel to Jefferson impossible.
Soon after, the population shrank to a mere 3,000. This left the once booming port nearly a ghost town. Ironically, this also is why some people make it a travel destination — ghosts.
Today, Jefferson is a busy tourist destination known for its historic and haunted old buildings. It's said that almost every structure in downtown has a historical marker and a ghost story. Some people believe that maybe some holdouts from its rough-and-tough river port days are still causing mischief.
Leslie and I were lucky enough to spend a couple days in Jefferson. We chose Jefferson because we both enjoy history and I like the spine-prickling ghost tales of the past. Neither disappointed in Jefferson.
The history, along with the perfectly preserved and sometimes repurposed structures, makes it one of the most charming towns I have had the opportunity to visit.
While Jefferson is known for its history and its hauntings, the people of Jefferson are what make the town special. Everyone is extraordinarily friendly and welcoming. The feeling went beyond store owners catering to tourists; it was as if we were family.
We stayed in a beautiful Victorian-style bed and breakfast called the Azalea Inn. Our room, off the side porch, was decorated with a mix of comfort as well as period items from days past. The grounds were beautiful and the breakfast was to die for. We did not encounter any scary guests but were befriended by a neighborhood cat, who would greet us for coffee on the porch every morning.
Sightings of Bigfoot are reported all over East Texas. In fact, Jefferson considers itself the ''Official Bigfoot Capitol of Texas.'' You can find cutouts of him all around town.
At the Port Jefferson History and Nature Center, there is a large Bigfoot statue at the entrance to the trails and four more hidden between the entrance and the train bridge.
Additionally, there is a shop downtown, just off the main square, called The Front Porch. It has unique gifts and items, some paying homage to the big guy himself, some just fun and whimsical.
The owners are welcoming, friendly and knowledgable about the area. They were happy to share stories and even a ride on their golf cart when we decided we wanted to rent one for the day (which is the way to see downtown Jefferson and the surrounding neighborhoods).
We stumbled upon this gem and were glad to have spent some time in a store that, according to them, is where Bigfoot shops.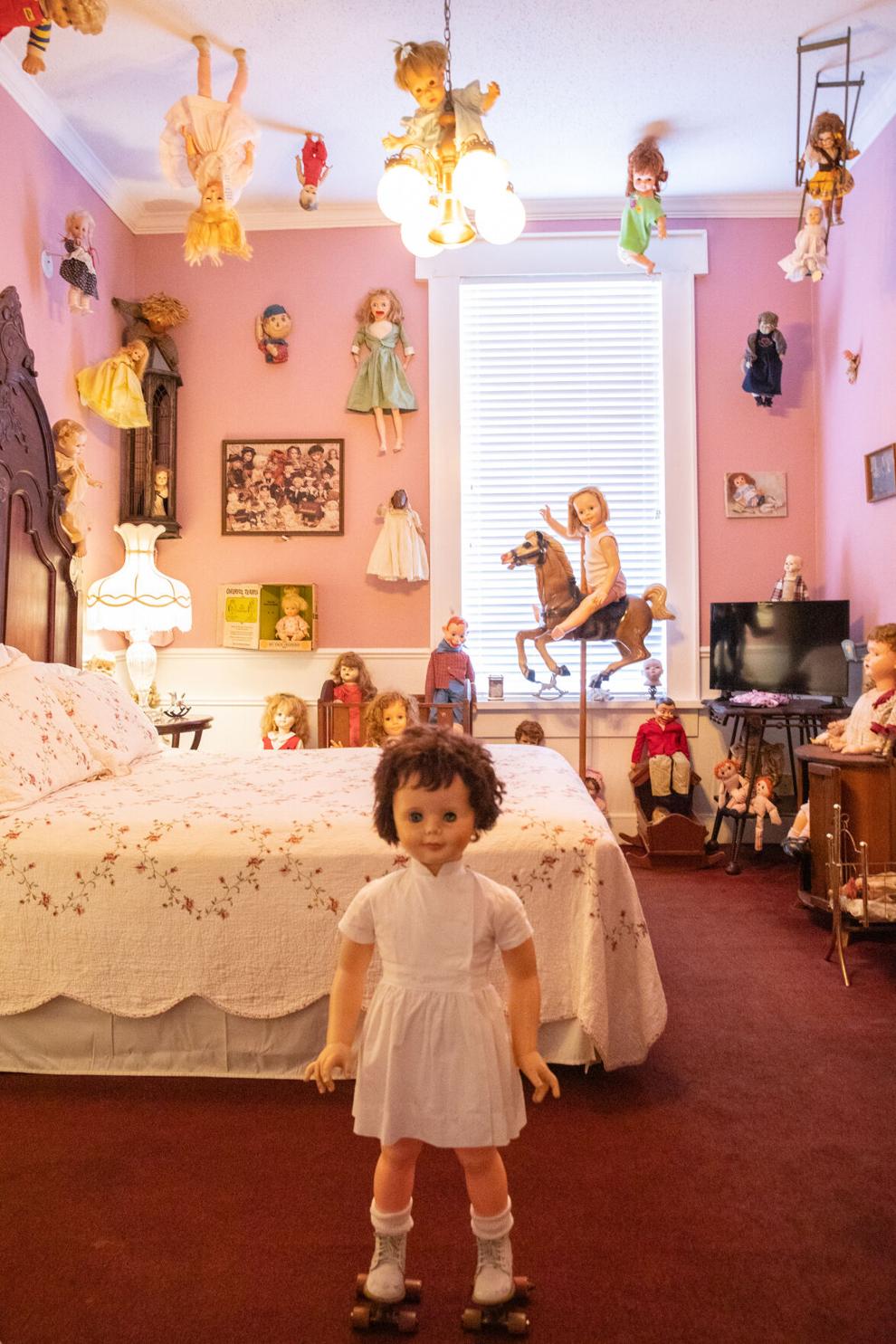 McGarity's Restaurant and Saloon originally was a Masonic Lodge built around 1850. It was then reportedly used as a place to house slaves before they went to auction. Later, it was used as a saloon, then a brothel. It was a community theater for youth for a brief period before becoming a restaurant and saloon (again) with a bed and breakfast upstairs.
The building itself is long and narrow and decorated with photos of its past lives as well as other pub-style décor, complete with an antique bar.
McGarity's touts an extensive drink menu, cold beer and friendly service. The restaurant itself is surprisingly far from bar food. The menu ranges from traditional Irish fare such as cottage pie to filet mignon. The quail medallions are delicious, and I highly recommend the Black Angus Ribeye. The only spirits we witnessed were the alcoholic beverages the patrons were enjoying. However, employees have witnessed a figure in the restroom area and a young girl in the kitchen.
Auntie Skinner's Riverboat Club is a large dance hall and restaurant enjoyed by both locals and tourists. It supports great live entertainment and fun karaoke nights. There is a full bar, pool tables and friendly staff. It is unclear when the structure was built, however, it was presumably a cotton storage facility; it has since been either a restaurant or bar. According to longtime employee Shawna Sattler, there is a ghost who doesn't like being called by the wrong name as well as a lady who walks around with a clipboard.
Owner Michelle Fox-Davis said there is a young girl who pushes you down the stairs and a ghost who stacks nickels in the registers. The only thing supernatural we saw were a few of the locals belting out songs like they should have been on ''American Idol.''
The Jefferson Hotel was originally a cotton storage facility, however, sometime after the Civil War, it became a hotel before becoming a speakeasy. It has changed hands over the years and been used as a brothel or hotel. It was bought by its current owner last year.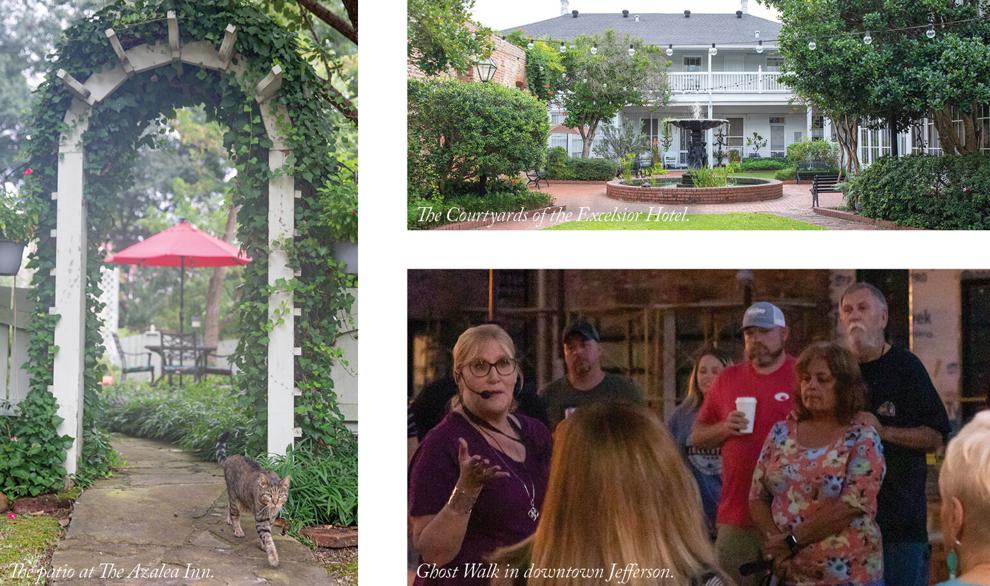 The stately old hotel is now outfitted with a totally different type of antique décor and outlandishly themed rooms. The décor is just as beautiful as it is creepy and is displayed in chaotic perfection. Displays include an original Fiji mermaid, a Chucky doll, shrunken heads and 400-year-old African statues that will send an angry spirit after you if you break a deal. Walking through the upstairs hall you will feel as if you are in a P.T. Barnum side show.
As far as rooms go, you can stay in one of the elegant rooms downstairs or one of the themed rooms upstairs. Themes range from baby dolls to mirrors to a freak show and even a room sporting a bed that a jilted bride hung herself from.
Owner Jeromy Jones also is the owner of Paranologies, a company that builds ghost-hunting equipment. You can rent equipment during your stay. The only strange things we experienced were all the unique pieces and oddities that fill this anything-but-common space.
The Grove House gained its name from the grove of pecan trees in which it was built. It's also known as the Stilley-Young House, named for the builder of the home and its longest-tenured residents.
The house was built in 1861 for Frank and Minerva Stilley as a gift from Minerva's father. Their family inhabited the home for about 20 years when Minerva died. It was then sold to a bridge builder who left when the raft was cleared, then to a family who only lived there for a couple of months, reportedly stating they could "not live in the house." It was purchased by Charlie and Daphne Young, freed slaves who met in Jefferson when they were children. The Young family occupied the home until the last Young heir died in 1983.
The house, then in slight disrepair, changed ownership a few more times until it was purchased by Mitchel and Tami Whitington. Mitchel is an author, specializing in historic and haunting publications, largely from East Texas. The Whitingtons share the same love of the home as the former owners, who they believe still inhabit the home, including Minerva and Charlie.
Visitors have experienced seeing a lady in a white dress strolling the property and a playful entity who haunts the room adjoining the once-removed kitchen from the rest of the home. Mitchel gives tours of the home sharing its rich history on the weekends. During our informational tour, we felt connected to all the owners of this spectacular home.
Jefferson is a place where things just slow down, people talk on the town square and church bells ring on Sunday morning. It is historic, haunted and altogether enchanting. The architecture and the surroundings make you feel as if you stepped back in time to a simpler way of life.
We came looking for a ghostly experience but what we actually experienced was a warm and heartfelt kindness from a town and its residents (not sure about past, but certainly present) that we have never experienced before.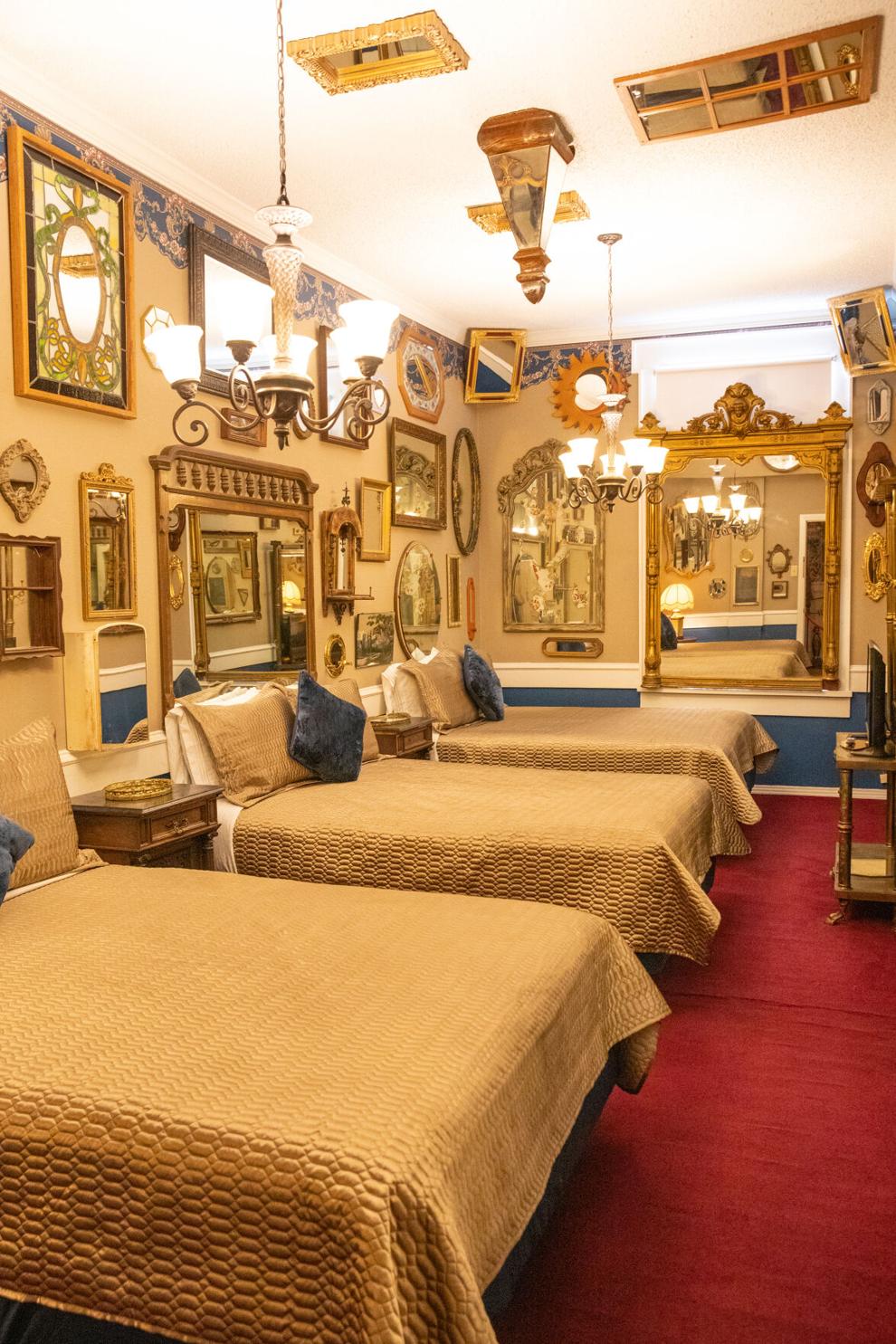 Other resources for a scary good time in Jefferson:
† Rent a golf cart for the day. There are several outfitters around town and it is the best way to tour downtown and the surrounding neighborhoods.
† Do the ghost walk. It's a fun way to tour downtown at night while learning about Jefferson's history.
† Visit Oakwood Cemetery to check out some unique headstones.
† Step back in time at the Jefferson General Store for a scoop of ice cream, souvenirs, candy and sodas.
† Take a bayou tour by boat to learn about the steamboat business from Jefferson to New Orleans as well as bayou flora and wildlife.
facebook.com/thefrontporchonpolk